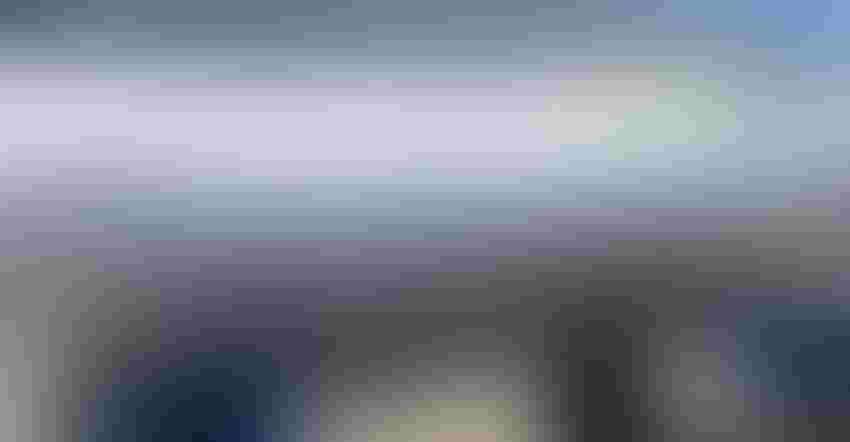 COST SQUEEZE: Anhydrous ammonia going to the field this year is far more expensive than in recent years. Experts suggest scrutinizing application rates carefully.
Tom J. Bechman
The law of diminishing returns can be hard to grasp if you're programmed for top yields. However, with nitrogen prices at all-time highs, Purdue Extension specialists suggest applying the law of diminishing returns to maximize profits in '22.
"As more increments of nitrogen are applied, the increase in grain yield becomes smaller," explains Bob Nielsen, an Extension corn specialist. "Eventually, maximum yield occurs, and applying more nitrogen does not increase yield any further."
Nielsen and Jim Camberato, Purdue Extension soil fertility specialist, have observed this concept in yield trials at Purdue ag centers and on Indiana farms since 2006. Their findings are summarized in Nitrogen Management Guidelines for Corn in Indiana.
Agronomic vs. economic rates
"Maximum yield regarding nitrogen fertilization does not produce maximum profit," Nielsen says. "Profit from N application is maximized when value of additional grain produced is just greater than cost of additional nitrogen applied."
That's also the definition of the law of diminishing returns in a nutshell. At some point, the next unit of N costs more than it returns in extra corn. Any additional N cuts into profit because you get less money back than you spend.
The quest is finding that point. With variations in soil, weather and other factors, it varies from year to year, farm to farm and field to field.
After summarizing nitrogen trials, Nielsen and Camberato broke the state into three regions based on nitrogen response. They calculated the economic optimum nitrogen rate (EONR) and agronomic optimum nitrogen rate (AONR) in each region. The economic optimum varies based upon cost of nitrogen and corn price. Find the tables online. Here are some examples:
Central Indiana. This example assumes corn following soybeans on medium and fine-textured soils, Camberato notes. If corn is $5 per bushel and nitrogen is 90 cents per pound, the EONR is 184 pounds per acre.
The agronomic maximum based on trials in this region is 232 pounds per acre. With nitrogen at 90 cents per pound, you would spend another $43.20 above the EONR of 184 pounds to reach that rate. Based on trial results, Camberato says you may harvest 4 fewer bushels applying the EONR, but if you apply the AONR instead, you could lose $23.20 per acre with corn at $5.
Northeast and east-central Indiana. Based on 37 trials, the specialists recommend applying 201 pounds of N per acre if corn is $5 per bushel and N is 90 cents per pound. It takes about 254 pounds of N per acre to maximize yields, or another $47.70 at 90-cent N. Applying the AONR could boost yields 5 bushels on average, but net profit slips $22.70 per acre, Camberato says.
North-central, northwest, south-central, southeast, southwest and west-central Indiana, plus sandy non-irrigated fields statewide. With the same assumptions, you could reach economic optimum if corn is $5 and N 90 cents per pound at 164 pounds per acre. The AONR in this region is 211 pounds per acre. Applying the extra 47 pounds above the EONR would cost $42.30. Camberato notes that you stand to pick up about 4 bushels but lose $22.30 per acre vs. applying the EONR.
Subscribe to receive top agriculture news
Be informed daily with these free e-newsletters
You May Also Like
---