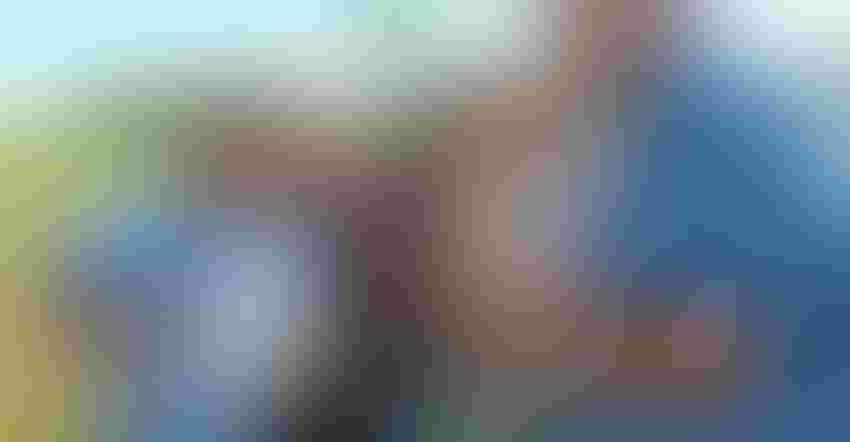 INTERNATIONAL INTEREST: Doug Shelmidine (far right) shares with Russian scientists the effectiveness of nematodes first experimented with on his Adams, N.Y., farm.
Kara Lynn Dunn
A one-application, $28-an-acre treatment of biocontrol nematodes developed in New York has whipped alfalfa snout beetles. Now, field trials with the same nematodes in New Mexico, Texas, Ohio and Michigan are showing promise results with other insects. The soil-borne nematodes attack eggs and larvae also in the soil.
Last summer, New Mexico-based researchers established a biocontrol nematode test plot in an alfalfa field infested with white fringe beetle. It's an insect similar to alfalfa snout beetle and isn't controlled by conventional pesticide treatment.
In West Texas, near Dalhart, a biocontrol nematode trial was established in May 2017 in a cornfield with severe corn rootworm populations. Rootworm populations in the area are suspected of becoming resistant to the various Bt-rootworm corn varieties.
Elson Shields, the Cornell University entomologist who pioneered the biocontrol nematode solution to combat alfalfa snout beetle, says, "We didn't expect positive results from the West Texas trial until 2018. But the biocontrol nematodes reduced the rootworm feeding damage by two-thirds compared to conventional corn planted without soil insecticide."
Soil samples showed the nematode populations had dramatically increased. The nematodes performed beyond expectations under the extremely heavy pressure.
Shields and colleagues in Ohio and Michigan are testing the same nematodes against corn rootworm larvae in those states. And, the New York Farm Viability Institute is funding biocontrol nematode trials against white grubs and other pests in corn, sod, apples, strawberries and greenhouse crops in the Finger Lakes, Hudson Valley and other regions of New York.
Dunn writes from her farm at Mannsville, N.Y.
Subscribe to receive top agriculture news
Be informed daily with these free e-newsletters
You May Also Like
---