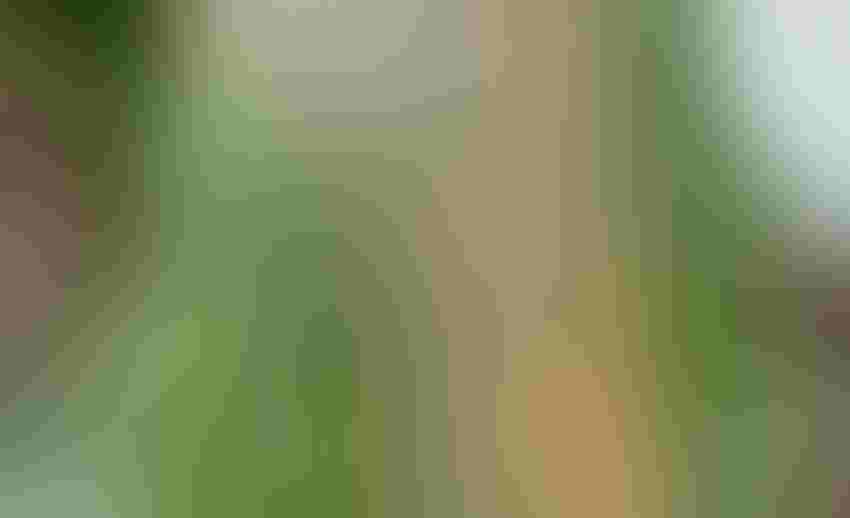 Often confused with rust disease by corn growers, Extension specialists believe that this disease symptom is abiotic in origin but is not rust. This picture was taken June 27 in Jackson County, Fla.
Bob Kemerait
Row crops are under relentless attack from diseases. The intensity of this attack becomes increasingly evident from July until harvest.  Much of my time now is spent answering questions and providing recommendations. 
"What is it?" 
"Should I spray?" 
"When is my crop safe?"
"Why didn't my fungicide program work?"
"What can I spray now?"
"Will it hurt my yield?"
"What is the best fungicide program?"
Some questions have simple answers.  Diseases that affect our corn, cotton, peanuts, and soybeans are often easily identified, and the question is less about what and more about what now.  This is not always the case. There are symptoms that I struggle to identify.  A prime example is cotton leafroll disease caused by the cotton leafroll dwarf viru).  Symptoms of this disease are highly variable and, when presented with a symptomatic plant, I often reply, "Well, it could be the leafroll disease…"  Perhaps a more important question for the cotton leafroll dwarf disease is, "Will we care about it two years from now?"
Science and Art
Symptoms associated with sudden death syndrome and taproot decline of soybeans, an unusual leaf spot now occurring on corn in the southern US, and any number of nondescript blotches and mottles and streaks on any crop can confuse me.
Answers to questions are founded in science but recommendations also require art that is founded in experience.  For example, "Should you spray to protect your crop?" can be a complicated question.  For some diseases, like leaf spot on peanut, the answer is typically yes, as this disease-complex affects nearly all of our peanuts and yield loss is inevitable where the crop is not protected. 
Other diseases, such as southern corn rust and soybean rust, can cause significant yield loss, but not always.  The decision to spray, or not to spray, is based upon many factors to include presence of disease, environmental conditions, growth stage of the crop, and the grower's tolerance to risk. 
Finally, for diseases like northern corn leaf blight and target spot discovering a spot here and there in a corn or cotton field is interesting, but perhaps not cause for action.  The art is knowing when to pull the trigger on a costly fungicide application. Diseases are much more difficult to control once they are established in a field.
"When is my crop safe?", that is, "When can I quit worrying about making another fungicide application?" is another common question. In general, no further fungicides are needed when the crop has reached a stage of development where there is not enough time left in the season for meaningful losses to occur. Fungicides are also not recommended when disease has progressed to a point where any additional use of fungicides is useless. "Art" is required because an exact answer for such questions may not exist.
In my recommendations, peanuts should be protected until within two to three weeks ahead of digging. Corn should be protected until between hard-dough and black-layer. Soybeans until R6 (full seed), and cotton until about the sixth week of bloom.  But commodity prices, weather, and other factors can affect these targeted stages.
Most Asked
"What is the best fungicide to use?" is the MOST frequently asked question.  When growers sense that I am uncomfortable answering, it is quickly rephrased to, "Bob, if this was your crop, what would YOU spray?" There are many reasons why such a question is difficult.
A significant part of my career has been spent assessing fungicide efficacy.  There are clearly some fungicides that can be better than others in controlling one disease or another.  The art is in the "can be."  When disease pressure is low, or when applications are made preventatively, there may be little difference in control among "good" products. In such cases, differences in yield between treatments may be small and less expensive products may be "best."  Under greater pressure or where disease already exists in a field, "best" products may be the ones with greatest activity, regardless of cost. 
Different Questions
Questions like these have new urgency for me. If I may, I will take an aside for the last part of this column.
Since the end of May, I have been helping a mother in the Philippines (as have some of you) to find medical advice and treatment for her 10-year-old daughter recently diagnosed with acute lymphoblastic leukemia. 
With little formal education and limited financial means, Josiphine is shy and so it is left for me to ask the doctor, via e-mail, the questions constantly on my mind:
What is the prognosis?  What do the test results show? What is the best treatment? How long will treatments continue?" and "What are the side effects and how can we protect the child from further infections?" 
As I realize how much "art" is needed to answer questions to protect a peanut crop; it is unnerving to think about the need for "art" when the life of a sweet child hangs in the balance.
Subscribe to receive top agriculture news
Be informed daily with these free e-newsletters
You May Also Like
---