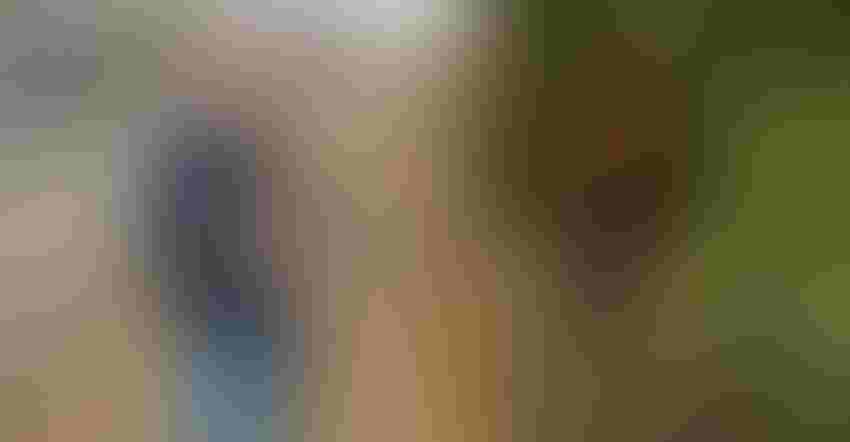 Perry Edwards, left, and Andy Moir, check commercial citrus groves in central California for signs of huanglongbing. New technology that Edwards developed allows for early detection of the disease in trees – before regulatory thresholds are met and discovered through PCR testing. The technology allows growers to make timely management decisions in their groves.
Todd Fitchette
Citrus farmers trying to stay ahead of huanglongbing (HLB), the fatal tree disease spreading like wildfire through residential trees in southern California, have a new tool that could help them manage their fresh fruit production.
In their battle against the Asian citrus psyllid (ACP), the tiny insect responsible for vectoring HLB, commercial growers have only had the lab-based PCR test to rely upon for disease confirmation. Those tests take weeks to confirm and can come with costly quarantine issues for growers if a commercial tree tests positive. One problem with those tests is finding the right plant sample to test as the bacterium does not spread evenly through the tree once infected.
As of late January, no commercial citrus tree in California has tested positive by state officials for HLB. Meanwhile, nearly 3,000 residential citrus trees have been removed by the state since 2012 under rules designed to slow the disease's spread into commercial groves.
A new early detection tool developed by Croptix, a Pennsylvania company, allows commercial growers to sample their trees for possible HLB issues, well ahead of when a PCR test would reveal disease. Because the testing is done by a private company and does not have a regulatory attachment, test results are private – between the grower and the company.
Perry Edwards, president, and chief executive officer of Croptix, developed a handheld device that samples leaves with light spectrum technology. The machine samples new-growth leaves for symptoms from the bacterial infection that causes HLB. These internal indicators can be sampled by the machine before visible signs appear on the leaves and well before the bacterial infection leads to misshapen and bitter fruit.
"We've been working with growers already," Edwards said.
How it works
Edwards says the technology can detect physiological changes in the tree relative to the existence of the Candidatus Liberibacter asiaticus bacterium. It is not RNA or DNA technology; rather, it detects pre symptomatic things happening in the tree.
Any Moir, director of business development for Croptix, likens it to a fingerprint. There are certain tell-tale signs that the bacterium creates. The light spectrum technology can detect these "fingerprints" to suggest evidence of the HLB disease. The technology also works with other citrus diseases, such as stubborn and citrus tristeza virus.
The Croptix program is a service-based business model, meaning Edwards and his company provide the equipment and testing protocols. This streamlines the service to growers in that they don't need to buy another piece of equipment and learn how to use it. Instead, Croptix does the work, and within 48 hours, a grower has a map of his or her grove, along with results from the sampling.
Moir says eight leaves per tree are sampled, two from each quadrant on the tree. Young leaves, about four to six weeks after flush, are scanned in a small device. With two people, one tree can be sampled in about a minute. Crews will tend to focus on trees along the outer edge of a grove, Edwards said.
Because there is no regulatory attachment to the service, growers are free to use the information provided as they will. Trees that show a likelihood of having HLB can be immediately removed and destroyed by the grower without the addition of a state quarantine.
Edwards says testing of the technology in Florida, where HLB is rampant across all commercial growing regions, has been correlated with PCR testing. In California, growers are said to be reluctant to employ PCR testing because of the regulatory implications that come with it. No grower wants to risk an HLB determination through state testing, which would then open them up to a quarantine. A positive test under the Croptix system does not trigger a regulatory report or response.
"That's what growers like about our system," Moir said.
Early detection
As California citrus farmers continue to proactively work to control ACP populations to hold back the disease from their commercial groves, Joel Nelsen, a consultant with decades of experience in the citrus industry, says this is the first example of an early detection tool that he is aware of growers can easily employ.
Early research on the technology, and its ultimate refinement through work with growers, lead the USDA to tacitly agree that it could work, without the agency going so far as to endorse it, Nelsen said.
What it also seems to reveal is that the efforts of the California citrus industry appear to be working to hold back HLB by keeping ACP numbers in commercial groves to a minimal level, Nelsen continued.
Information on Croptix and how to contact them for a consultation is available online.
Subscribe to receive top agriculture news
Be informed daily with these free e-newsletters
You May Also Like
---