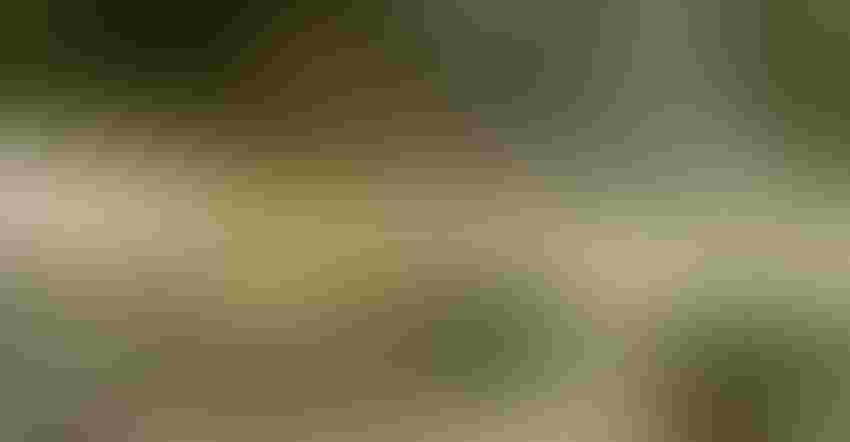 RIGHT CONDITIONS: Vulnerable varieties and a mild winter offered prime conditions for southern corn leaf blight to land in Minnesota corn fields 50 years ago.
Clemson University - USDA Cooperative Extension Slide Series, Bugwood.org
This July marks the 50th anniversary for the appearance of southern corn leaf blight (SCLB) in Minnesota.
It is memorable in that it was somewhat unexpected, although it had been observed in the southern states back in 1968. Where it occurred in Minnesota, on about 15% of the corn acreage, it brought significant yield declines and monetary losses for farmers.
SCLB is a fungal disease of maize. When infection occurs, it appears as lesions on the leaves, sheaths, husks, ears, cobs and stalks. If the infection occurs early enough, the ears may be killed and drop off.
The susceptibility of corn hybrids to this disease back in 1970 was greater because of the narrower range of maize cytoplasm that was used in breeding programs back then. Much of the corn planted in the Corn Belt in 1970 was vulnerable to this disease. Another factor was a relatively mild winter that preceded the 1970 growing season, allowing SCLB fungus spores to survive on corn residue from the 1969 harvest season left on the soil surface.
In addition, the central portions of the growing season of 1970, especially June and July, were warmer and wetter than normal, with frequent doses of high humidity — all environmental factors that favor disease infection.
The circumstances thus produced a growing season that saw an unprecedented epidemic of SCLB across the Corn Belt states that took at least a billion dollars out of corn farmer's pockets in lost yields. SCLB struck its blow in Minnesota during late July and early August of that year.
The climatological data gathered across Minnesota's chief corn growing counties in 1970 clearly show the right kind of favorable conditions for producing an outbreak of SCLB by late July and early August.
Many areas of the state reported 14 to 17 inches of rainfall during the May-July period, well above normal. In many counties, half of the days brought measurable rainfall, a very high frequency of rain that left plant canopies wet for much of the time.
The wetness was further amplified by episodes of very high dew points (a measurement of water vapor in the atmosphere) in the 70s [degrees F] on several days during June and July. Temperature conditions during June and July averaged 2 degrees to 3 degrees warmer than normal and on some days, the afternoon highs climbed into the 90s.
Combined with the high dew points, Heat Index Values ranged 100 degrees to 110 degrees. According to plant pathologists, these conditions allowed SCLU spores to germinate and infect corn plants in as short as 6 to 8 hours.
Since 1970, Minnesota has not been revisited by SCLB with any significance. This is a significant achievement in the context that several growing seasons in recent years have brought environmental conditions that favor diseases like SCLB.
However, the genetic base for the corn hybrids used in our region has diversified and incorporated resistance traits. Better crop residue management and crop rotations have helped reduce any threat of overwintering fungi and pathogens. Thus, both husbandry and science have reduced the risk of such diseases for us.
For this, Minnesota corn farmers should be very proud and grateful.
Seeley is professor emeritus of climatology, University of Minnesota.
Subscribe to receive top agriculture news
Be informed daily with these free e-newsletters
You May Also Like
---