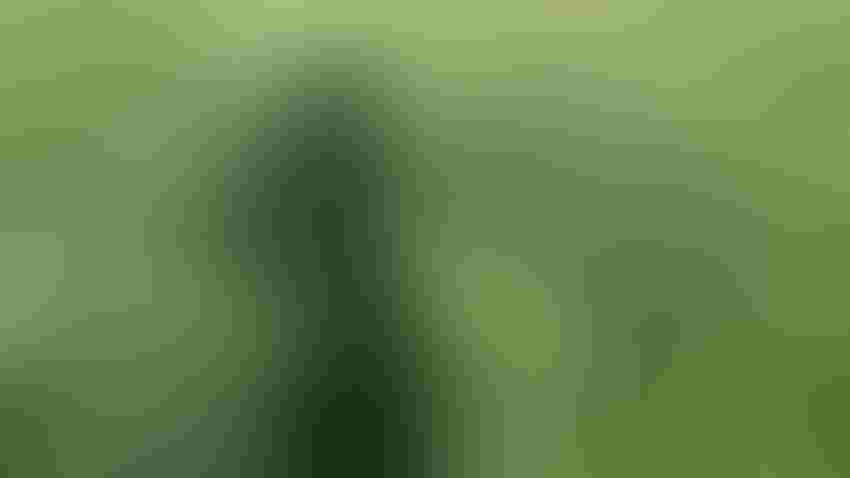 SEE THE DIFFERENCE: This is variety not stated cereal rye on the left vs. Elbon cereal rye on the right. This photo was taken the week of April 19 at Byron Seeds test plots in Parke County, Ind.
Don Donovan
by Don Donovan and Amanda Kautz
Now is the time to finalize your planting plan for cover crops and order seed. Selection can get scarce if you wait. Ordering early will be your key to both better prices and selection.
Many farmers in Indiana use cereal rye as their cover crop of choice due to its long planting window and multiple termination options. Much of the cereal rye planted is "variety not stated," or VNS, seed. However, it may be to your advantage to consider a variety-specific cereal rye to get the best return on investment.
VNS seed can have multiple varieties within a seed lot, or may contain seed that was not high enough quality to sell as a specific variety. This means your cover crop might have several different maturity rates and could be a variety of heights, which is challenging at termination time — especially if you're planning to roller-crimp cereal rye. Rye must be pollinating for crimping to be effective. If some of the rye is not pollinating at the time of crimping, it will not be terminated.
A cereal rye variety gaining popularity in Indiana is Elbon. It tends to have larger and more hollow stems, making it a great candidate for termination with a roller crimper. The traditional thought with VNS cereal rye is that waiting on rye to mature will make cash crop planting dates later. Elbon reaches pollination 10 days to two weeks ahead of VNS cereal rye, meaning cash crops can still be planted earlier, even when roller-crimping. Elbon has more seeds per pound than VNS, meaning it may be more cost effective than VNS rye to get the same amount of biomass.
Make cover crop choice
So how should you choose between VNS and Elbon? Both VNS and Elbon may have their place, depending on your goals and next cash crop. Elbon takes off quickly in the spring. This is useful before soybeans, producing a lot of high-carbon biomass to keep the soil covered and suppress weeds.
However, this may not be the best option if you have the cereal rye in a cover crop mix. Elbon tends to dominate sunlight, making it harder for other species to get as much early spring growth. If you've got a cover crop mix with nitrogen producers, such as hairy vetch or clover before corn, VNS may be the better option. It is slower to take off in the spring, allowing more light to reach other species. This will give these species the best chance of maximum nitrogen production before termination. If you want to use Elbon in a mix, you may want to reduce seeding rate to keep it from dominating.
Whatever cover crop you choose to plant, make your plan early and have a backup plan. The most important step to getting good return on investment with your cover crops is picking the species and variety that will best fit your goals and operation.
Donovan is a district conservationist with the Natural Resources Conservation Service in Indiana. Kautz is the Indiana NRCS state soil health specialist. Both write on behalf of the Indiana Conservation Partnership.
Subscribe to receive top agriculture news
Be informed daily with these free e-newsletters
You May Also Like
---