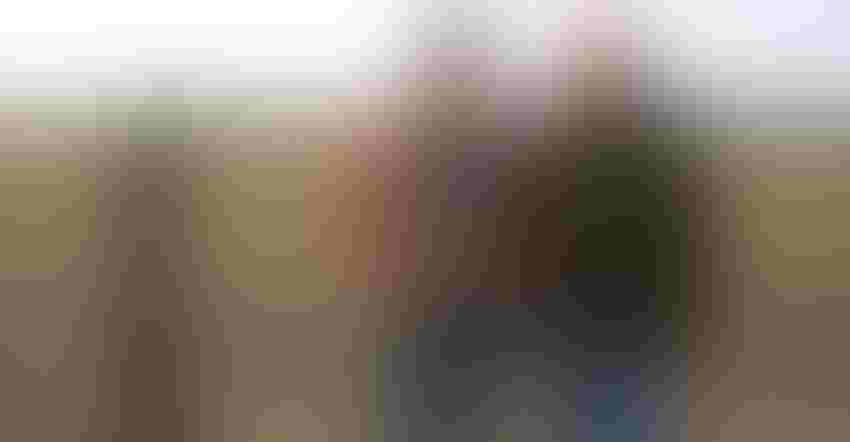 MAXIMIZING RETURNS: Cattle and cover crops help Max (left) and Chris Miller reduce costs while adding value to their organic acres.
Farmer and Illinois Rep. Chris Miller, R-Oakland, has been no-tilling since 1997. He transitioned from a conventional system when he could no longer afford his hired help. Since then, he's focused on generating more value on the acres he has by reducing input costs.
Chris and his son Max have 80 cow-calf pairs, and for a month starting in mid-March, the cows are enlisted to strip-graze 140 acres of cereal rye. They harvest some seed from the cereal rye for the next growing season themselves and sell around a dozen steers as freezer beef each year.
"I would say our total cost to drill the cover crops is somewhere around $1,000. We don't run that many cattle, but minus that, we're saving $3,500 in a matter of a month with a reduced hay bill," Max says. "Plus, I did the math, and they're spreading about 500 pounds of manure per acre."
Max moves grazing posts and wire using a four-wheeler. He says the strip-grazing method makes managing the "manure spreaders" efficient and gives the 100-acre, subdivided pasture time to grow. He turns cattle on the pasture over the winter to spread their own manure as they eat hay and haylage, so giving that land more time to recover in April is all the more crucial, he says.
"We try to hay as few acres as possible just because it takes so much out of the soil, and if you graze it, you're returning a lot of it rather than taking it all off," Max says. "You're importing nutrients onto your farm when you're buying hay. Eighty percent of what a cow eats comes out the other end as nutrients for the soil."
Cover crops and manure help the Millers add value to their row crops. They grow organic soybeans, corn and wheat.
"So far, we're spraying to kill the cover crops. Next spring, we'd like to buy a cover crop roller, and then terminate the cover crops that way," Max says.
"In nature, there's a lot of diversity," he adds. "In agriculture, especially around here, there's zero diversity. Corn, beans. Corn, beans. So now we're having trouble with insects, pests, fungus, weeds, you name it. We need to try to bring some more diversity to the farm to try to break up those things in a natural manner."
Max says cereal rye has helped keep weeds in soybeans at bay, as even dead biomass covers the ground and helps prevent weed seeds from germinating.
"It's just another way to save on inputs," he concludes.
About the Author(s) Associate Editor, Prairie Farmer
Austin Keating is the newest addition to the Farm Progress editorial team working as an associate editor for Prairie Farmer magazine. Austin was born and raised in Mattoon and graduated from the University of Illinois at Urbana-Champaign with a degree in journalism. Following graduation in 2016, he worked as a science writer and videographer for the university's supercomputing center. In June 2018, Austin obtained a master's degree from the Medill School of Journalism at Northwestern University, where he was the campus correspondent for Planet Forward and a Comer scholar.
Austin is passionate about distilling agricultural science as a service for readers and creating engaging content for viewers. During his time at UI, he won two best feature story awards from the student organization JAMS — Journalism Advertising and Media Students — as well as a best news story award.
Austin lives in Charleston. He can sometimes be found at his family's restaurant the Alamo Steakhouse and Saloon in Mattoon, or on the Embarrass River kayaking. Austin is also a 3D printing and modeling hobbyist.
Subscribe to receive top agriculture news
Be informed daily with these free e-newsletters
You May Also Like
---