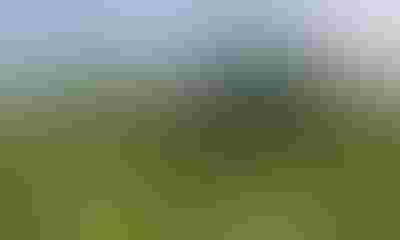 The advent of high-clearance sprayers has brought more to the table than just using a self-propelled sprayer to kill weeds. Now it can also be an application tool for nutrients. So far most people have used high-clearance equipment in the nutrient arena for applying liquid nitrogen either as a rescue treatment on corn where nitrogen is short, or as a planned late-season application before tasseling.
Corn Illustrated 7/25: 7 steps to late-season scouting that could pay dividends

FEED CORN IN-SEASON: Indiana farmer Mike Starkey supplies nutrients to some of his corn through a foliar feeding application in July.
Mike Starkey, Brownsburg, Ind., applied nitrogen in several fields when corn was waist-high or taller with his John Deere sprayer. It's equipped with 360 Yield Center Y-Drops. The Y-Drop concept allows N to be placed on the surface just a couple of inches from the corn plant.
However, Starkey didn't stop there. He used his same sprayer and came back in some fields with a foliar feeding application a couple of weeks later. That's not yet a mainstream practice, but Starkey believes it could boost yield and more than pay for the cost of the products and application trip.
Add nutrients
Starkey never worries if what he is doing is a mainstream practice or not. He only cares about whether it will work in his operation. Although he farms a large amount of poorly drained or somewhat poorly drained soil, he is a successful no-tiller. Over the past several years, he's added cover crops to his program.
"It's all about improving soil health," he says. "No-till is a big step in that direction, but so are cover crops. We have dug pits on the farm and noticed how deep cover crops go in the spring, and how deep crop roots go during the season, especially in a dry year. We're convinced it works."
That brings him to his latest attempt to fine-tune his system: foliar feeding. "We're applying several things at the same time in fields where we are trying this," he says. "The liquid mixture contains micronutrients that should help the corn crop. We know some of our soils are borderline on potassium, so we're also applying potassium as another nutrient in the mix."
The tank also includes at least one product that's not technically a nutrient. Starkey is incorporating a biological product that's designed to promote plant growth.
If a product could improve yields, as long as it delivers more yield than it costs, Starkey is willing to try it. He has also left check strips in various fields where he didn't make the foliar application so he can get an idea of whether the foliar application trip pays or not. 
Spray details
To make the foliar application effective, you need to get coverage on the corn leaves, Starkey believes. He uses a device available for the 360 Yield Center Y-Drop system called an undercover. There is one on each metal support rod for the Y-Drop tubes. The undercover is usually positioned about halfway up the tube.
Each undercover sports three spray nozzles. The nozzles are positioned to spray at different angles to the corn leaves as the unit passes through the field.
Corn Illustrated 7/18: Technology makes on-farm testing almost seamless
"What I'm after is good coverage on the plant leaves with the foliar mixture," Starkey says. "With three nozzles spraying material, it creates a fog over the leaves and allows for good coverage."
Subscribe to receive top agriculture news
Be informed daily with these free e-newsletters
You May Also Like
---