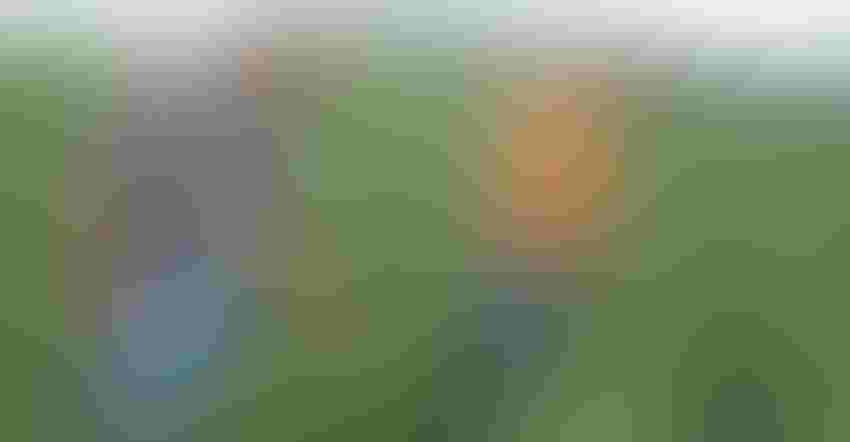 PLANTING PROGRESS: Ross (left) and Levi Brown check the progress of a soybean field on their Trent, S.D., farm. They plant both soybeans and corn into rye stubble. They no-till the beans and strip-till the rye.
Janelle Atyeo, NRCS
By Janelle Atyeo
Brothers Ross and Levi Brown, of Trent, S.D., try to plant rye after every cash crop. That means seeding some as late as mid-October after soybean harvest. Even when planted that late, the rye grows several inches tall before frost hits and picks up again in the spring, bringing several benefits for the soil.
Planting rye before corn isn't usually recommended since both are grasses and rye tends to tie up nitrogen needed for corn. The Browns make it work by strip tilling before corn planting, which helps handle residue left from the rye crop. In recent years, the brothers have also experimented with drilling soybeans into living rye.
They plant rye after chopping corn for silage.
Ross says his first idea for planting rye was to save money on feed by baling it for his cattle. But the endeavor evolved pretty quickly into a soil health builder as well.
The first benefit Ross noticed was that his fields could handle those heavy rains like that graduation day soaker. Rye does a great job using excess moisture. Coupling it with a minimal tillage helps build soil aggregates and structure.
"When we have improved soil structure, we have enhanced the opportunity to get the water to infiltrate and, in turn, be stored," says Rhonda Nelson, Natural Resources Conservation Service (NRCS) district conservationist in Moody County.
REMAINING RESIDUE: Ross Brown pulls back the maturing soybean plants to see the residue left from the previous year's corn and rye cover crop. There's not much on the surface, which indicates that the biological life in the soil is very high.
On years the Browns apply manure to the field, rye helps capture some of the nutrients before they can be lost to leaching or runoff. Once the rye is terminated, the biomass stays behind, protecting the soil and returning the nutrients as it breaks down.
The Browns typically seed 40 pounds of rye seed per acre. If they plant later in the season they use a higher population, so there's a better chance the rye will take hold and grow a good cover. NRCS recommends 90 pounds of seed per acre when broadcasted or aerial seeded for good spring weed control or if producers plan to graze the crop. If planting early — before mid-September — South Dakota NRCS granted a statewide variance in 2018 allowing the rate to be lowered to 40 pounds per acre.
Time after time, the Browns are surprised at how the rye comes through for them.
ADDING COVER CROPS: NRCS district conservationist Rhonda Nelson (center) help Ross (left) and Levi Brown add cover crops to their production practices. The cover crops help use up excess monitor in the spring and after heavy summer rains.
The first year they planted it, they were sure they had made a mistake. They turned cattle out to graze it in the fall and caught a heavy rain that turned the field to slop. The brothers thought they had lost all of the rye, but in the spring every bit of it grew, Levi says.
"It's just hard to beat that stuff," both brothers claim.
For more information on growing rye or cover crops, contact your local technical staff or visit bit.ly/SDCoverCrops for a free downloadable chart outlining a large variety of cover crops species, their value for your farming objectives.
Atyeo writes for the South Dakota USDA NRCS.
Subscribe to receive top agriculture news
Be informed daily with these free e-newsletters
You May Also Like
---