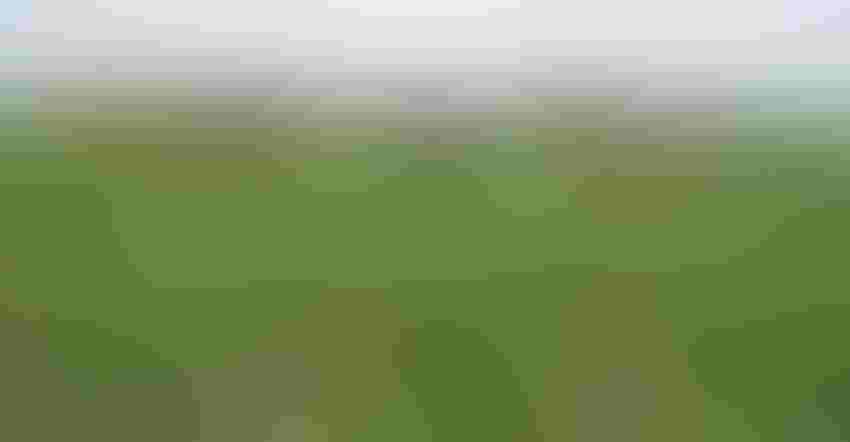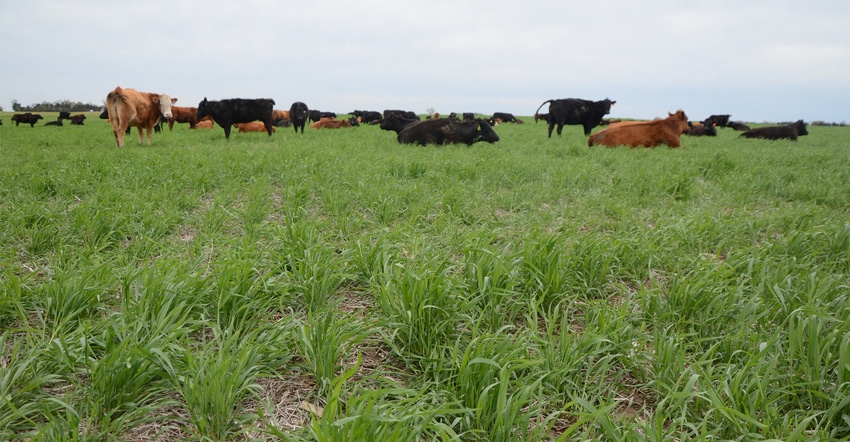 LIVESTOCK IN MIX: When livestock are added to the mix, net returns from cover crops before corn and soybeans typically increase.
Tyler Harris
While the benefits of cover crops for soil health are well-documented, the economic benefits and yield impact on the subsequent cash crop are largely anecdotal — and highly variable.
Alejandro Plastina, Iowa State University associate professor and Extension economist, recently outlined the results of several studies on cover crop adoption and economic considerations as part of an Iowa Learning Farms conservation webinar.
While the adoption rate for cover crops in Iowa went from 1% in 2012 to about 4% in 2017 based on the USDA Census of Agriculture, Plastina noted the adoption rate is still low. The question is why?
"I think the rate of adoption is so low because in crop-only production systems, cover crops are not profitable for most farmers — not for all farmers, but for most farmers. Cost-share payments make returns less negative among program participants, but only a few experience positive profits when we compare the entire population of cover-croppers," he says. "The situation is different when we consider livestock, because in mixed production systems, cover crops can be profitable under the right conditions."
Plastina outlined several ISU analyses that evaluate the economic feasibility of cover crops.
Running the numbers
In a 2016 project funded by North Central Sustainable Agriculture Research and Education (SARE), ISU partnered with Practical Farmers of Iowa, using partial budgets comparing the profitability of cash crops after cover crops and the profitability of cash crops after no cover crop. Fifteen growers in Iowa, Illinois and Minnesota shared cost and revenue information to help calculate net returns.
The study found that:
Cover crops increased costs on average by $43.10 per acre.

Planting and seed costs made up the biggest portion of added costs.

Responses averaged a 10-cent-per-acre reduction in cost with cover crop adoption.

Average increase in herbicide costs for terminating cover crops was $2.50 per acre.

Farmers received an average of $11.70 per acre in cost-share.

Farmers saw an average yield increase valued at $9 per acre.
"On average, the increase in revenue associated with cover crops was $21.40," Plastina says. "That leaves a net return, comparing the increase in revenue with the increase in costs, of negative $21.70. If we assume no feed cost savings, the total return is lower. If we subtract cost-share payments, the average farmer in this group would lose $34.10 per acre. That's not negligible."
Broader perspective
ISU again partnered with PFI and North Central SARE in 2017 to survey a bigger group of farmers in Iowa, Minnesota, Illinois and North Dakota. This survey had 79 responses, and found:
average cost of planting cover crops ranged from $35 to $37 per acre

average payments from cost-share programs ranged from $25 to $28

average yield loss of 2 bushels per acre on corn, compared to a 3-bushel yield increase in soybeans

average net return reduction of $21 per acre for cover crops before corn, compared to a $25 increase in net return for soybeans
"Even in these slightly more positive scenarios, if we exclude the cost-share payments, both cover crops before corn and before soybeans are associated with losses of $46 per acre preceding corn and $3 per acre preceding soybeans," Plastina says.
For an even bigger sample size, ISU partnered with the Center for Agriculture and Rural Development for a statewide survey in Iowa in 2017. This survey received 674 responses, and focused on median values (middle of the sample results), rather than averages, and found:
median added costs for corn and soybeans at $34 to $35 per acre

median cost-share payment at $15 to $20

median yields similar to no cover crops

Median net returns, including cost-share payments, at a $15-per-acre decline for cover crops before corn, and a $19 decline for cover crops before soybeans
"When we add livestock into the analysis, [with] the possibility of grazing or harvesting cover crop biomass, net returns become positive," Plastina adds. "We have a positive net return of $7 per acre preceding corn, and a $1 positive net return for cover crops preceding soybeans. That's much more positive."
The bottom line
The common theme is that the net returns are most often negative without cost-share support and without livestock grazing the cover crops.
However, Plastina encourages growers to create their own partial budgets to determine net returns from cover crops on their own farms. ISU has two online tools available to help. The "Net Returns Calculator for Cover Crops Terminated With Herbicides," available on ISU's CARD website, allows users to adjust for different cash crops, tillage methods, cover crop mixes and locations, as well as prices and costs. The other is a downloadable spreadsheet, "The Economics of Cover Crops," available on ISU's Ag Decision Maker website.
"Much of the analysis behind cover crops is based on the conditions being right. When we talk about whether cover crops generate positive benefits for farmers or society, people tend to think they are a great tool under the right conditions. We have to remind ourselves that cover crops are still crops, and they can fail," Plastina says. "With little or no biomass, there's no benefit from cover crops to producers and there's no benefit from cover crops to society."
Subscribe to receive top agriculture news
Be informed daily with these free e-newsletters
You May Also Like
---