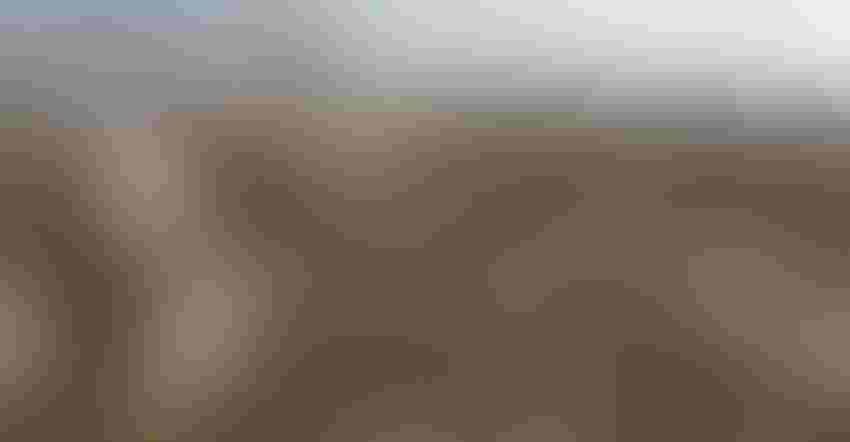 Cover crops are credited for reducing erosion, increasing nutrient absorption and adding organic material to the soil. Reducing the seeding rate is one way producers can reduce input costs.
Shelley E. Huguley
Cover crops are credited for reducing erosion, increasing nutrient absorption and adding organic material to soil. But in regions with sandy soils, supplemental irrigation and a rainfall deficit, they may not be the best solution every year.   
"Our research has shown that in an environment where you have sandier soils with limited irrigation capacity, you may see a yield decrease when you implement a cover crop," says Texas A&M AgriLife Research and Extension Soil Scientist Katie Lewis. 
"Some of the data we've seen over the past five years, where we're monitoring soil moisture to about three feet deep in the profile, is that we do have a deficit in soil moisture because of the cover crop." However, long-term, "When we have a timely rainfall event or irrigation, that deficit is able to be made up because we've improved the overall quality of our soil through the use of cover crops and reduced tillage." 
See, Cover crops benefit cotton 
Lewis is quick to add that the benefits of a cover crop take time, "there's not an immediate change," but they do occur over the long-term, she says. 
At Home 
Southwest of Lubbock in Terry County, Lewis and her husband Clay, farm dryland and irrigated cotton. As of November, the Lewis' had only received five inches of rainfall for the year. Normally, Clay utilizes cover crops in his operation but with the drought forecasted to continue into 2021, Katie says Clay is unsure if he will plant a cover this year.  
"That's a conversation we're having often, whether or not he wants to run the risk of not getting any rainfall. If we have another year like we did this year, he's concerned about planting a cover crop and the moisture that cover is going to use moving into next year's cotton crop." 
Determining whether the soil can support a cover crop along with a spring crop is dependent on soil moisture depth. "It goes back to how deep is your soil moisture, what's the texture you're working in? It will take less to fill the pores in a clay soil versus a sandy soil." 
For producers with sufficient irrigation, Lewis says cover crops are worth considering. "Cover crops can improve the ability of the soil to capture and store moisture. You reduce evaporation losses where the residue is covering the soil surface, which is something to consider moving into these drier periods. But we also need to consider the moisture it's going to be utilizing. In a more limited environment, especially in a dryland setting, I would be hesitant to implement a cover crop coming out of a dry year and going into a dry year like they're predicting." 
Benefits 
The benefits of cover crops are endless, Lewis says, and particularly effective in a semi-arid environment, such as the Texas High Plains where soil erosion is common, specifically wind erosion.  
"Cover crops hold soil in place. I joke that they keep you from sharing your nutrients with your neighbor. When that soil moves, it's taking with it the organic matter, and the nutrients and the fertilizer you've already applied." 
A cover crop also has chemical benefits. "It increases our cation exchange capacity, which allows the soil to hold onto more of those nutrients, keeping them from leaching. If we have a four to five-inch rain event, it keeps the nutrients from leaching deeper into the profile out of the rooting zone." 
A cover also adds organic material to the soil. "It's enhancing microbial activity, which then influences the chemical and physical aspects of the soil in a positive way." 
Seeding Rate
What about the economics of a cover crop? Lewis says at their field trial in Lamesa they've compared conventional till to no-till with a rye cover crop and conventional till and no-till with a mixed species cover crop. 
"With a mixed species cover crop, our input costs are about $70 more per acre compared to the no-till with a rye cover crop. Adding the hairy vetch, radish and the winter pea to the mix really ups the cost. But when we think about the gross margins, the potential profits from these systems, it's about $20 less per acre with either of the no-till cover crop systems compared to the conventional tillage." 
See, Oklahoma producer begins cotton harvest, diversifies with new crop
One way to reduce input costs is by reducing the seeding rate. Lewis and Research Weed Scientist Wayne Keeling, along with a graduate student, Ray White, are working on a three-year project, comparing wheat cover versus rye cover and either a 30-pound seeding rate per acre or a 60-pound seeding rate. 
"We don't see any increase in biomass production with the 60-pound seeding rate compared to the 30-pound seeding rate," Lewis says. "You can get just as much biomass cutting your seeding rate in half compared to doubling your costs with a 60-pound seeding rate." 
Within this same study, she says they also researched termination timing. "Where we've seen the greatest yield hit is where we extend termination timing. If we base our termination timing on six to eight weeks prior to planting cotton, which is what NRCS recommends for the Lamesa area, we don't see a yield reduction compared to that conventional tillage. However, if we extend that by two weeks, we increase our biomass protection and we see a major yield drop." 
Lewis recommends not planting cotton into green cover. "In our semi-arid environment, that can be detrimental if you don't allow a sufficient amount of time for the cover crop residue to start breaking down and also to make up the moisture deficit I mentioned earlier. That's when you can start to see  yield reductions." 
As the amount of water available from the Ogallala Aquifer continues to decrease, Lewis says, "Now is the time to work towards improving soil health or soil quality, so that once we do potentially reach the point where we have to turn wells off, the soil is in a better state, functioning at a higher level because we've implemented cover crops and additional residue into the system." 
Subscribe to receive top agriculture news
Be informed daily with these free e-newsletters
You May Also Like
---