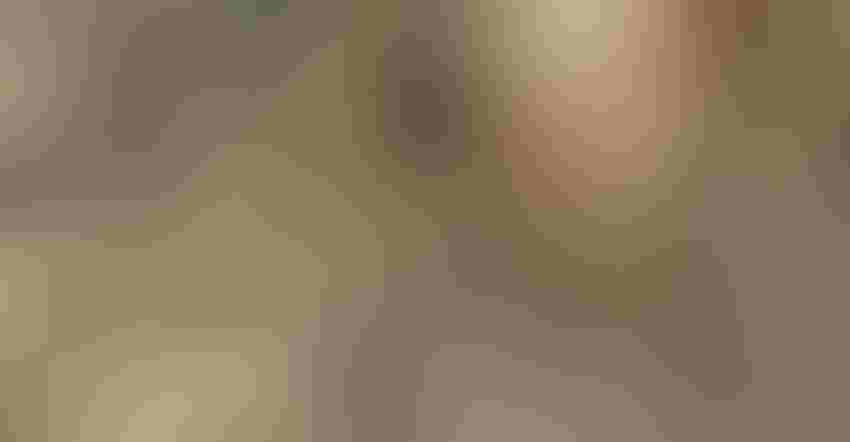 SEARCHING FOR COVER: It is tough to see the green stems of rye through the corn stubble. Cover crops had a tough fall in Missouri. Delayed harvest and dry conditions caused emergence issues for both cereal and root crops in east-central counties of the state.
Harvest 2017 dragged on. Whether it was the late planting start, full elevators at harvest or long lines at the river terminal, crops in some areas of the state did not make it out of the field in a timely fashion.
University of Missouri Extension agronomist Rusty Lee says those delays pushed back cover crop planting. Couple delays with drought conditions, and farmers are facing emergence problems and ultimately, soil health concerns.
"We had a little later planting, then we were drier than normal — and now we are colder than we've been," he points out. "Anything that could have a negative impact occurred."
Field concerns
Some farmers broadcasted rye in late October, only to return to the field in early December to see the seed still lying on top of the soil. What seed did germinate produced poor stands.
But it wasn't just grain cover crops; others root crops like turnips and radishes struggled to find moisture. This fall, drought conditions hit east-central Missouri — where Lee lives — hardest. According to MU Extension state climatologist Pat Guinan, November was the driest in 15 years across the state.
Farmers are now wondering just how much soil health benefit they can get from cover crops this year. "There will be little hairs of wheat and rye that come up in the spring and take off," he says. "So there is some hope, some benefit still out there." He adds that any opening of the soil by turnips and radishes will allow for more water movement in the soil. "That will help what moisture we do get to penetrate the soil."
Time for a strategy
Lee says farmers need to plan their cover crop management program now for 2018. Here are his suggestions:
1. Start planting early. Lee asks farmers at soil health workshops when the ideal time is to seed cover crops. "They all say the end of August; but the reality is, many plan for September but actually get to it in October and November," Lee says. He says farmers should start planting cover crops earlier — in August or early September — to give the seed time to germinate and take root.
2. Consider drill planting. Many farmers like broadcast seeding. It's quicker, cheaper and doesn't wear on machinery. However, Lee says for farmers seeking the best planting method to establish a stand, using a drill is their best shot. "When farmers distribute seed on the surface, they are more reliant on rains to get it going," he adds. And in the case of 2017, the rains did not come. He says the drill allows the seed to be placed directly into the soil, which "moves the odds in your favor of seed establishment."
3. Stay the course. "Having a reduced stand this year, doesn't make me want to change my cover crop mix," Lee says. "Stick to your cover crop mixes that have been working in the past." He says farmers should never give up on a farming practice like cover crops because it did not work one year. "Soil health benefits are something that is long-term," he adds.
About the Author(s) Editor, Missouri Ruralist
Mindy resides on a small farm just outside of Holstein, Mo, about 80 miles southwest of St. Louis.
After graduating from the University of Missouri-Columbia with a bachelor's degree in agricultural journalism, she worked briefly at a public relations firm in Kansas City. Her husband's career led the couple north to Minnesota.
There, she reported on large-scale production of corn, soybeans, sugar beets, and dairy, as well as, biofuels for The Land. After 10 years, the couple returned to Missouri and she began covering agriculture in the Show-Me State.
"In all my 15 years of writing about agriculture, I have found some of the most progressive thinkers are farmers," she says. "They are constantly searching for ways to do more with less, improve their land and leave their legacy to the next generation."
Mindy and her husband, Stacy, together with their daughters, Elisa and Cassidy, operate Showtime Farms in southern Warren County. The family spends a great deal of time caring for and showing Dorset, Oxford and crossbred sheep.
Subscribe to receive top agriculture news
Be informed daily with these free e-newsletters
You May Also Like
---