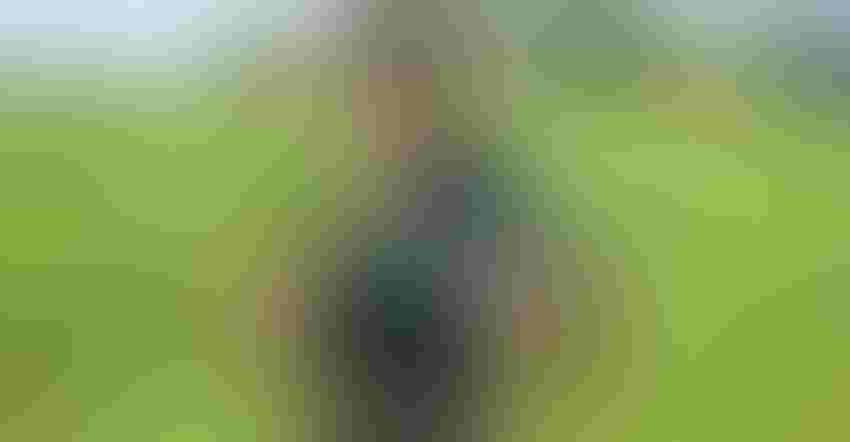 ROOTING POWER: Elkhart County, Ind., farmer Keith Miller holds various cover crop plants growing after wheat. Taken in mid-September, this picture doesn't fully capture the mass and depth of rooting already taking place.
Tom J. Bechman
Keith Miller was excited when he walked into his cover crop field following wheat in September. It was green and growing, with a wide variety of cover crops. But it wasn't long before he was even more excited. He began pulling plants and looking at roots.
"These roots are what really help soil health and build soil tilth," says Miller, Elkhart County, Ind. "Look how much root mass there is on some of these plants, and how deep roots are going already. And it's only mid-September. They're going to do a good job of loosening soil and moving nutrients."
Related: Farmer shows proof of no-till benefits
Typically, nearly all the land Miller farms gets seeded to cover crops each fall. He's learned that they're an excellent addition to no-till to help build soil organic matter and improve soil structure over time. Most fields don't get seeded to a mixture with as many cover crop species as this one following wheat.
Other crop mixes
When Miller seeds into corn and soybean fields, he typically uses cover crops like annual ryegrass and cereal rye, sometimes with clover and a few other species.
"It takes some extra management, but it's worth the effort," Miller says. "You learn things over time that help things go more smoothly."
For example, if the cover crop stand includes clover, he knows he needs to add 2,4-D to the herbicide recipe. Clover can pull nitrogen into the soil if it has enough time to grow in the spring, but it takes something like 2,4-D to terminate it, he says. Glyphosate alone won't kill it.
Miller also knows that it's important to increase nitrogen in starter fertilizer for corn if it follows a cover crop that ties up a lot of carbon, like cereal rye. It takes a long time for the cover crop residue to break down.
"Including adequate nitrogen as starter fertilizer is a must for corn in those situations," Miller says.
After wheat
One reason Miller likes wheat in his rotation is so he can come in with a multispecies cover crop mix early, often in late August.
"You get two advantages for cover crops following wheat," he says. "You can select species which you would not normally seed with corn and soybeans because they need to be planted earlier in the fall. They need more time to get established before winter."
Growing more species allows you to take advantage of species with special traits that help the soil, he adds. Some species add nitrogen; others scavenge for nitrogen and other nutrients. Still others help promote growth of various organisms in the soil.
The second advantage, Miller notes, is that by planting earlier than you can in corn or soybeans, all cover crop species get a chance to grow longer in the fall and root deeper. That applies to radishes and other species you might still plant after corn or soybeans, but which flourish with more time to grow.
Every cover cropper has their favorite mix for planting after wheat. The mix Miller used in the field pictured includes sudangrass, sunflower, Nitro radish, Barkant turnip, winter pea, crimson clover, balady Bbrseem clover, buckwheat, hairy vetch, sunn hemp and rye.
About the Author(s)
Subscribe to receive top agriculture news
Be informed daily with these free e-newsletters
You May Also Like
---