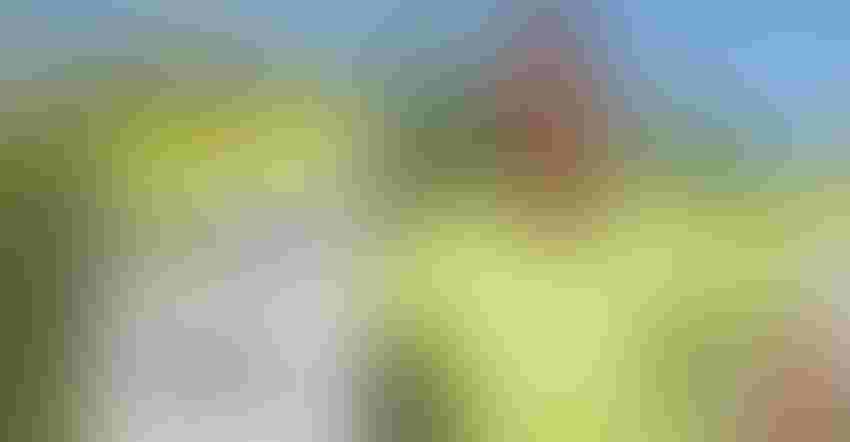 MORE THAN CORN: Besides corn and soybean seed, Mike Resor of Chillicothe, Mo., sold cover crop seed to farmers seeking to boost forage for livestock, as commodity crops failed during summer's drought.
Editor's note: This is the final story in a four-part series looking at how the 2018 drought affected farmers, ranchers and agribusiness in northern Missouri. This area of the state has been hit the hardest by dry, hot conditions.
In the small ranch house just north of Highway 36 in northern Missouri, Mike Resor sits with a phone in his hand. The seed specialist typically talks corn and soybean seed with customers, but this summer the calls took on a different topic.
"When the NRCS and [Missouri] DNR started talking about funding for cover crops, my phone rang off the hook," he says. "My customers wanted to know more about the program and if I could source them seed."
Resor runs his own family seed business, Resor Seeds, in Chillicothe, Mo. He is also an independent dealer for ProHarvest Seeds. His customers need cover crops this year; most are in the hardest-hit area of the 2018 drought in northern Missouri.
BENEFITS OF COVER: Farmers planted soybeans into cover in northern Missouri. Many fields retained what little moisture they had, but prolonged hot and dry conditions took its toll on acres.
More than 70% of his customers not only raise crops, but also cattle. "They need to plant cover crops for forage or grazing," Resor says. "I'm just trying to help them out."
The USDA Natural Resources Conservation Service and Missouri Department of Natural Resources made funding available to help farmers plant cover crops that could be grazed or cut for hay. Initially, NRCS offered $2 million, but as the drought grew in intensity and location, the funding quickly doubled to $4 million.
"The response was so overwhelming," says Charlie Rahm, public information specialist with NRCS. "The application deadline was Aug. 31, but we had to move it up because so many were applying."
NRCS had 1,500 applications by Aug. 1, but only enough funding for 488. To fund all the requests, Rahm says NRCS would need $9 million.
However, the Missouri Department of Natural Resources has not cut off its state cost share for cover crops on cropland. "We have not put a limit on it at this point," says Colleen Meredith, conservation program director at Missouri DNR. The cost share is open for those counties designated with D2 (severe), D3 (extreme) or D4 (exceptional) drought intensity.
The Missouri DNR typically offers a cover crop cost share program. However, this year it also increased the lifetime limit from $20,000 to $30,000.
The program also allows farmers using cover crops on cropland to forgo termination in the spring, either by chemical or machine. Meredith says that farmers can hay those acres this year to increase forage for livestock producers in the state.
And that is what Resor's clients are doing. He is recommending mixes, along with cereal rye. Resor says farmers planting cereal rye will have the option to wet-bale it in mid-May for additional forage. "Then they can come back in and plant beans," he adds.
Resor's customers started flying on cover crops into corn the second week in August. In one day, Allred Aerial Service flew on 1,160 acres of cover crops into corn. Resor estimates roughly half of it will be used for fall grazing.
FLYING HIGH: Customers of Resor Seeds had cover crop seed flown on into corn fields early in August. Farmers took advantage of government programs to help with funding of cover crops.
While corn and soybean seed remain Resor's top sellers, he looks out for his customers even if it means fielding 20 phone calls in four hours on cover crops. He has become more passionate every year about the benefits cover crops provide to soil health and the environment, and the grazing opportunities they provide for his customers.
The 2018 drought took the efforts of seed salesmen like Resor, government officials, farmers and ranchers working together to find solutions. All hope cover crops will bring about the forage farmers need to sustain livestock and the soil.
Subscribe to receive top agriculture news
Be informed daily with these free e-newsletters
You May Also Like
---