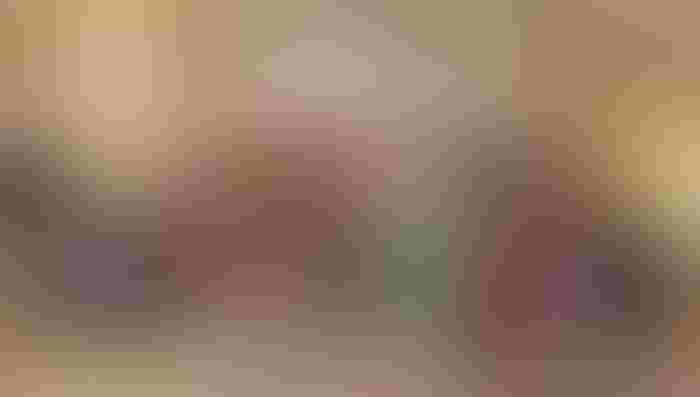 Future Farmers of America members from three Tennessee chapters joined forces at the Mid-South Farm and Gin Show to package 10,000 meals for the needy.
"It was awesome to see the energy and enthusiasm of these youngsters as they pitched in to help with this project," says Tim Price, show manager. "We'd expected it would take three hours or more, and they were done in half the time.
"Everyone who saw these youngsters at work was just amazed at how quickly they picked up on the training instructions and how focused they were on the work. It speaks well of the work ethic of today's youth and the ideals of FFA."
FFA members participating in the project were from Covington, Munford, and Brighton, Tenn., chapters.
The meals they packaged were donated to the Mid-South Food Bank for distribution to needy persons in the tri-state area.
"Farm Show Feeds is an offshoot of Memphis Feeds, which works to combat hunger in the greater Memphis area and beyond," Price says.
"For the past several years, the Mid-South Farm and Gin Show has collaborated with various associations, including Mid-South Food Bank, to increase awareness of anti-hunger efforts.
"We have collected funds and food for the Mid-South Food Bank and other organizations, such as Feeding America. When we became aware of this initiative, we felt it was the next logical step in our outreach efforts.
"We're always looking for ways to tell agriculture's story, to make the general public more aware of what farmers do, and this sort of effort helps to show that we're more than just producers of food — that we also have a concern and a compassion for those less fortunate."
Ingredients for the meals were provided by Outreach, Inc. The organization says each package provides six nutritionally complete servings. The meals, developed in cooperation with internationally-recognized nutritionists, include rice, fortified soy protein, vegetables, and essentaial vitamins and minerals. A macaroni and cheese dish has also been been developed for distribution to local food banks and pantries for distribution to the needy.
Next year, Price says, "We're hoping to involve more FFA youngsters and at least double the number of meals prepared."
He expressed appreciation to those who made monetary contributions to purchase food items for this year's effort.
"It was money well invested," he says. "It's incredible how much good, nutritious food can be provided for such a small amount of money — $25 will buy 100 meals; $250 will buy 1,000. That's a really great return."
FFA members and adults who participated in the Farm Show Feeds food packaging effort were:
COVINGTON, TENN. CHAPTER
Alice Landeros
Liz Flanagan
Kirk Daniel
Phillip Langlois
Jeffrey Sartain
Steven Sartain
Alex Daniel
Sam Daniel
Molly Flanagan
Jonah McDivitt
Josh Macdivitt
Justin Varner
Nick Varner
Sarah Kate Poole
Jason Joy
Kayla Fisher
MUNFORD, TENN. CHAPTER
Ashley Bringle (Munford FFA advisor)
Tiffany Arthur (chaperone)
McKenzie Manning
Cory Wright
Elena Smith
Tara Swirka
Alex Cherry
Kelsey Lumpkin
Bailey Arthur
Jessie Pyland
Noah Crosley
Haley Kitselman
BRIGHTON, TENN. CHAPTER
Terri Lea
Addie Davis
Maddie Murphy
Hannah Turner
Conlee Lea
Mary Laine Flanagan
Elijah Stearnes
Caitlyn Robbins
See more photos from this year's Mid-South Farm & Gin Show at:

2013 Mid-South Farm and Gin Show photos

Certified Ginners 2013

2012 SCGA Diamond Safety Award Winners

SCGA Safety Award Winners 2012
Subscribe to receive top agriculture news
Be informed daily with these free e-newsletters
You May Also Like
---