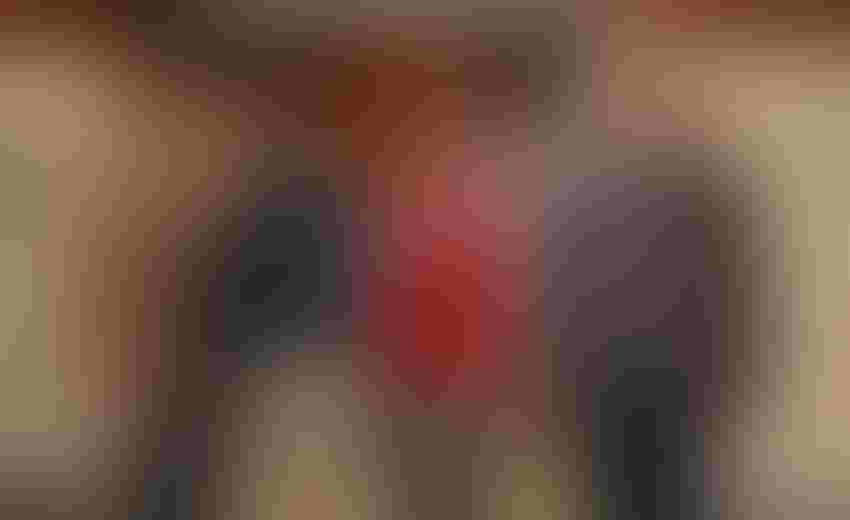 Discussing plant bug management at the 19th annual Virginia Cotton Growers Meeting in Franklin were from left Dr. Sally Taylor, Virginia Tech Extension Entomologist; Seth Dorman, a Ph. D. graduate student working with Dr. Taylor; Johnny Parker, a cotton agronomist with Commonwealth Gin in Windsor, Va.; and Edward Pond, a Surry County cotton farmer
Thrips are a longtime pest in Virginia cotton, but tarnished plant bugs are a relatively new problem for cotton in the commonwealth.
"Plant bugs are abundant in Virginia and infestations may continue to spread across the state," says Seth Dorman, a graduate student at Virginia Tech, working with Extension entomologist Dr. Sally Taylor.
Dorman was speaking at the Virginia Cotton Growers annual meeting in Franklin. He discussed research examining plant bug distribution on 23 representative cotton fields in eight counties across Virginia in 2017.
Dorman said plant bugs were found in all 23 locations with sixteen of the locations showing populations at or above the recommended spray threshold of eight adults or nymphs per 100 sweeps. He said this shows the clear importance of scouting for plant bugs in Virginia.
In the research, plant bugs were found from June 26 through Aug. 27 with infestations increasing throughout this period and peaking from Aug. 7 to Aug. 27.
Concentrations tended to be highest toward the eastern side of Virginia's cotton growing region. Dorman said future research will examine potential landscape and environmental factors that may be contributing to higher plant bug infestations in that part of the state.
Tarnished plant bugs feed on squares, flowers, and small bolls. "A dirty bloom is indicative of plant bug feeding. If you see dirty blooms, we recommend scouting," Dorman said.
"Internal boll injury is a great indicator of plant bug feeding, specifically clear raised warts, small black punctures, and stained lint," Dorman saod. "We can't tell the difference between internal boll injury of stink bugs and plant bugs, so if you're finding internal boll injury, it's also important to follow up with some scouting to make sure you're managing for the right pest."
Dorman said the critical period for managing plant bugs is in the early weeks of bloom. Spraying before then will likely lead to reinfestation later in the season, while waiting until the fifth or sixth week of bloom to spray is too late for effective control. Plants will already have suffered injury that they won't be able to compensate for later in the season.
"Managing fields at the spray threshold and focusing scouting efforts in the early weeks of bloom is critical for maximizing economic return," he said.
Taylor said thrips resistance to neonicotinoids is still a major challenge facing Virginia cotton farmers. At the cotton growers meeting, she discussed research in 2017 looking at the efficacy of seed treatments, in-furrow insecticides and foliar insecticides to control thrips.
The research looked at:
A fungicide-only treatment

Aeris seed treatment (imidacloprid)

Avicta Elite seed treatment (abamectin plus thiamethoxam plus imidacloprid

Gaucho seed treatment (imidacloprid)

Foliar Orthene 97 at three ounces per acre broadcast at first true leaf (May 22 on cotton planted May 4)

Aeris seed treatment plus foliar Orthene 97 at three ounces per acre applied on May 2

A granular in-furrow treatment of AgLogic Aldicarb at five pounds per acre

And an Aeris plus Admire Pro liquid in-furrow treatment at 9.2 ounces per acre

Taylor said aldicarb treatment worked better than just about any of the other treatments. All of the other treatments were equivalent, except for the fungicide-only treatment and the foliar application of Orthene alone. Taylor recommends at least six ounces per acre to manage thrips in Virginia.
"Even with aldicarb there are immature thrips living on these plants, so if your test for an Orthene overspray is to go out there and look for thrips and then spray Orthene, I encourage you instead to look at your plants and whether or not you're accumulating damage," Taylor advised.
"If you are managing thrips with an Orthene spray alone, the best possible timing for it is right at first true leaf emergence. That's when Orthene works best. The cotyledons act like a thrips nursery. They start hatching out of there and start feeding on the first true leaf at about the time of emergence.  If you are supplementing a seed or in-furrow product with Orthene, don't just look for thrips, look for damage."
In a long thrips season, Taylor encourages scouting prior to an overspray application.
Taylor also said bollworm management is becoming more important for cotton farmers in eastern Virginia. She noted that bollworm pressure may be related to treating for plant bugs because farmers controlling plant bugs with pyrethroids, Orthene, or a combination of the two may be killing beneficial insects.
"This may make the worm problem worse," she said. "Pyrethroids don't work that well on bollworm. They will kill some insects but you're not going to clean them up."
Subscribe to receive top agriculture news
Be informed daily with these free e-newsletters
You May Also Like
---