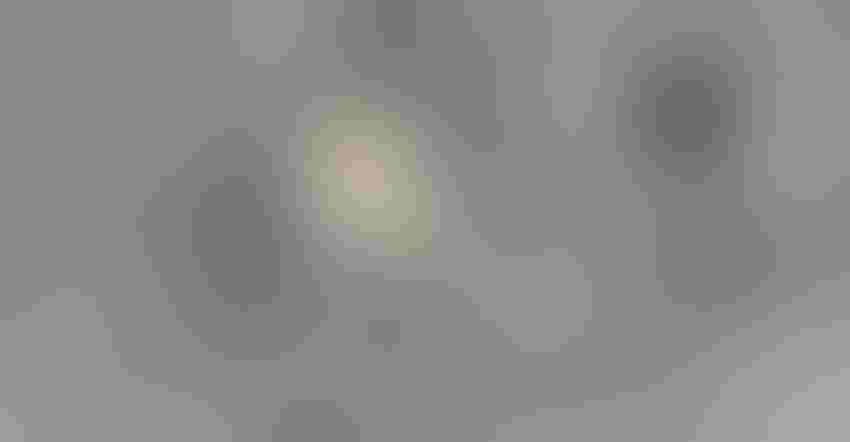 Bob Kemerait/UGA Extension
Tillage is an essential brick in the foundation upon which growers build success in crop production.  Tillage is rarely more obvious than early in the season, when fields are being prepared and planted.  Even "Joe and Jane Q. Public" travelling along the highways that crisscross our Southern states have an outstanding view of the cover crops and the richly textured soils that will cradle seed. 
For some of us, this time of land preparation is prime hunting season. This season is not for deer or turkey, but for what has been turned up by the plow and has escaped the harrow, waiting quietly for thousands of years.
As the son of an English teacher, I often find commonality between stories I know and the job I do.  In "The Devil and Daniel Webster" by Stephen Vincent Benet, farmer Jabez Stone is plagued by years of bad luck (a condition too familiar for many farmers) and so he sells his soul to the Devil with the promise of prosperity.  When the Devil comes to collect his due, the beleaguered farmer seeks help from attorney Daniel Webster to defend him. 
Though the story is fiction, Daniel Webster really was a lawyer, a US Senator, and Secretary of State under three US presidents.  Daniel Webster also had an appreciation for farming.  He is quoted as saying, "Let us not forget that the cultivation of the earth is the most important labor of man. When tillage begins, other arts will follow. The farmers, therefore, are the founders of civilization." 
The importance of tillage is captured well in the following passage. "Tillage—turning the soil to control weeds and pests and to prepare for seeding—has long been part of crop farming. However, intensive soil tillage can increase the likelihood of soil erosion, nutrient runoff into nearby waterways, and the release of greenhouse gases into the atmosphere. A reduction in how often or how intensively cropland is tilled enables the soil to retain more organic matter, which leaves the soil less susceptible to wind and water erosion and helps store, or "sequester," carbon.
"Farmers' choices about soil preparation, including tillage depth and the number of tillage operations, can reduce weed growth, improve nutrient management, and influence crop seeding. In general, less disturbance of soil can lead to more organic matter and lower potential for soil erosion and compaction. No-till is generally the least intensive form of tillage, while conventional tillage is the most intensive form of tillage."
I am often asked to speak about the impact of tillage on nematodes and diseases. Conventional tillage that involves use of a plow and bedding can warm soils which reduce risk to seedling diseases, hasten the degradation of crop debris that harbors disease-causing pathogens, and disperse soilborne pathogen and nematodes from the root-zone of a newly planted crop.  Conservation tillage can lower risk in peanuts to tomato spotted wilt disease and delay the onset of leaf spot diseases.  As I tell growers, conservation tillage offers many benefits, except it's tough to find arrowheads in a no-tilled field.
Now is the prime season for hunting "arrowheads" (with permission from landowners first, foremost, and always). Many of the "arrowheads" found in fields across the Southeast are thousands of years old, most much older than the historic tribes we are familiar with, to include the Timucua, Apalachee, Yamassee, Creek, Choctaw, Cherokee, Chickasaw, and Seminole.  It is estimated that Amerindian peoples have inhabited the southeastern United States for at least 14,000 years.  Many of the "arrowheads" we find today are between 3,000 and 8,000 years old, though some are much older. 
The shape "arrowheads" has changed over time. Stylistic differences aid in estimating how old an artifact is.  The best places to hunt for "arrowheads" are in areas with disturbed or eroded soil, near some natural water source, and after a heavy rain.  Finding "flint chips" is a good indication that Amerindians were present where you are now. 
I have hunted arrowheads since before I was in kindergarten and found my first at age five.  It has been a richly satisfying hobby that has filled countless hours of my life.  If you want to look for arrowheads, please note that it is illegal to do so on state and federal lands, private property without exclusive permission, and in and along the rivers in our states.
I won't spoil "The Devil and Daniel Webster" for you, but I assure you it is worth reading.  I urge you to consider how conservation tillage can be incorporated into your farming operation; it could make all the difference for today and for tomorrow.  Last, next time you find an arrowhead, or even a flake, I hope you feel the same wonder I feel.  A wonder knowing that you are the first person to hold that stone in thousands of years and a wonder about the life of who last held it.
Subscribe to receive top agriculture news
Be informed daily with these free e-newsletters
You May Also Like
---