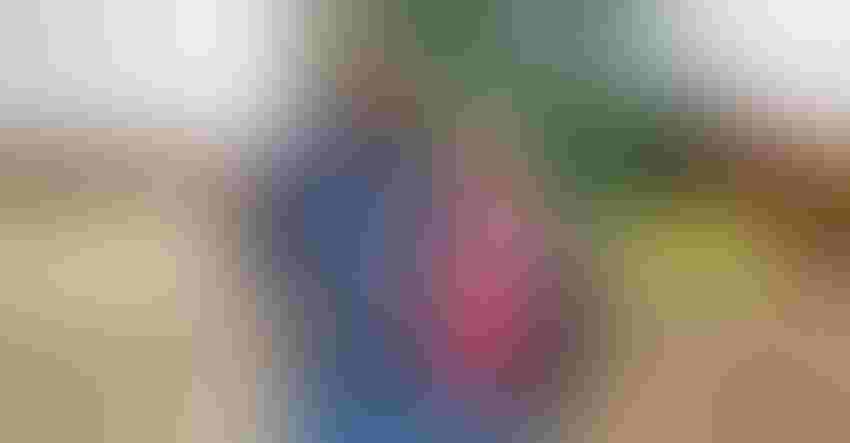 Amber and Heath Kimbrell, Sunray, Texas. Heath has created a continuous cotton-harvesting system using his basket stripper and hay-baler.
Shelley E. Huguley
Sunray, Texas, cotton grower Heath Kimbrell is using a modified hay baler, along with his John Deere 7460 basket stripper, to develop a continuous cotton baling system to improve labor and time management.
"The idea started when I first got one of these basket strippers," Kimbrell says. "Up in this area, we were traditionally grain farmers. We started growing cotton in the 90s, and found a terrible inefficiency in this system versus grain harvest."
Kimbrell, frustrated by the minutes lost each time the basket stripper stops and dumps into the boll buggy, says the basket system also requires more laborers to run the module builders and apply tarps.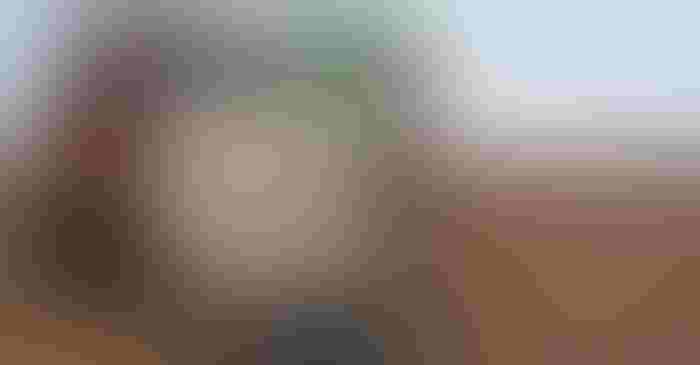 "The whole system is inefficient. I realize it's a huge improvement over when we were using cotton trailers, but everybody up here was calling for a more efficient system."
Kimbrell's cotton acres fluctuate from 2,000 acres, at the most, to this year, 600 acres. He says his system is an affordable, more efficient alternative for the number of acres he farms.
"We can run this machine with this setup without ever stopping. We gain anywhere from 25% to 30% efficiency in acres per day over the basket system."
Stripping Cotton
This year, Kimbrell stripped 150 acres with his square bale system. When stripping 30-inch row cotton, Kimbrell drives about 4-5 mph, as the driver of his Versatile 385 power-shift tractor pulls a Massey Ferguson 2190 big square baler alongside at the same speed. Once the cotton collects in the basket, it drops onto a conveyor attached to the rear of the cotton stripper and into a conveyor attached to the side of the hay baler.
"I get started (on the cotton stripper), when the tractor pulls up beside me I turn on the unloader after we match speeds. I don't mess with my speed much after I get it set so he's not having to change his throttle position a lot," Kimbrell explains. "The challenge is running awfully close to each other. I've got a camera here, so I can see when he gets under me and if it's working correctly."
Kimbrell's goal is to make his system available to other producers. Assisting in the engineering and manufacturing of the square-bale system is Larry Matlack, co-owner of Stinger, a Kansas-based company that manufactures and distributes self-propelled bale wagons, cube-line square bale wrappers and baled biomass transport equipment.
"We've made it so that when you buy the system it comes with all the pieces you need," Kimbrell says. "You're not modifying anything that came on your stripper. And if you decide to trade, you can put everything back just like it was and trade your machine in and the baler, likewise."
The system is also designed with common parts, such as draper belts, easily accessible through a local implement dealer, he adds. "We're hoping to keep the system around $30,000."
In their second year of experimenting with this baling system, Kimbrell says they used a "really old" baler. "We didn't want to buy a brand-new baler for a system we weren't sure would work. So, we got one that was kind of worn out and it did give us some trouble, but once we got it all figured out it worked well."
Twine
The 4x4x8 bales are bound by poly baling twine. Kimbrell says the twine is inexpensive and easy to remove. "We picked a color that is the same as some of the bale wrap  available so if the gin has the photo eye plastic contamination system, the twine would be the same color as the wrap they're trying to remove."
As Kimbrell numbers bales for gin pickup, he checks for loose twine or any pieces on top of the bale. "We're doing our best to keep out any plastic contamination."
Advantages
Advantages to the square bale system include how easy it is to move the bales, which are stacked in groups of 16 – two bales high and eight long, the size of a module. "There's all kinds of hay-moving equipment. The Stinger we had out here picks up and stacks the bales quickly."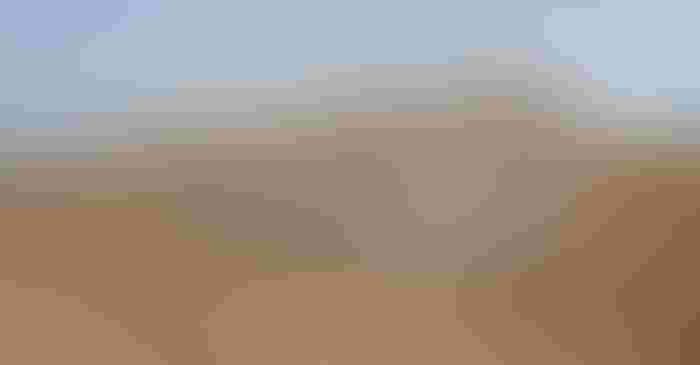 Also, bales do not require tarps. "They're pretty much wind-proof. The main reason we tarp in this part of the world is because of wind, not rain. We hardly ever get enough moisture this time of year to be an issue. The wind is blowing pretty good right now and you can tell there's no cotton coming off."
Another issue this system resolves is the amount of labor needed. "We are really having a hard time finding laborers. This takes our operation from four or five people with the module-type system to two people, so that's reducing our labor costs considerably," Kimbrell says.
Another advantage is that the system can be used year-round with equipment many producers already own: a basket stripper, hay-baler and a tractor. Once cotton harvest is complete, the hay-baler can return to baling hay and the tractor used for other jobs on the farm.
At the Gin
Once the bales are delivered to the gin, the square bales will be handled individually, just like round bales, Kimbrell says. Automated technology that grabs the bale, cuts off the twine and sets the bale on the feeder is available but it's not technology gins currently have installed. "It's going to be more handling for them this year," Kimbrell admits.
See photo gallery, Squaring up harvest
Using a forklift with a squeeze, the gin will raise the bale up over the feeder. "Larry, with Stinger, designed a blade they push over that will cut the twine as they're pushing the bale in. All they'll have to do is grab the twine and pull it off. The next step would be a blade where they put the whole module load in over the feeder. "Larry, with Stinger, designed a blade they push over that will cut the twine as they're pushing the bale in. All they'll have to do is grab the twine and pull it off. The next step would be a blade where they put the whole module load in over the top of that blade and pull the twines. But this year, the gin wants to handle them individually."
Modifications
As Kimbrell moves forward, he'd like to make modifications to the system, including inside the basket to allow it to fully load and unload. "The way the system is right now, we have to have the baler beside us pretty much all the time. I can only go 50 yards or so without a baler beside me. By next year, we hope to have an auger system in the bottom of the basket that will funnel the cotton down and do a complete cleanout so we can go halfway around the circle and then dump stationary, so when we're opening up a field, we don't have to have the machine beside us all the time."
Check out a videw of the system in action below.
About the Author(s)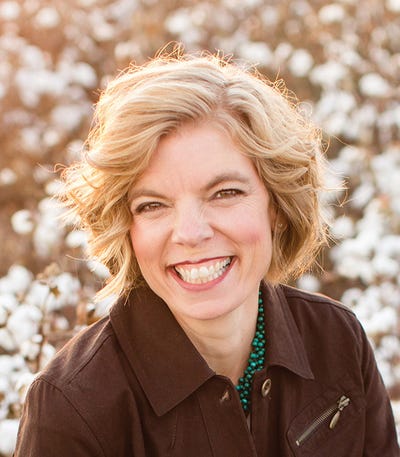 Editor, Southwest Farm Press
Shelley Huguley has been involved in agriculture for the last 25 years. She began her career in agricultural communications at the Texas Forest Service West Texas Nursery in Lubbock, where she developed and produced the Windbreak Quarterly, a newspaper about windbreak trees and their benefit to wildlife, production agriculture and livestock operations. While with the Forest Service she also served as an information officer and team leader on fires during the 1998 fire season and later produced the Firebrands newsletter that was distributed quarterly throughout Texas to Volunteer Fire Departments. Her most personal involvement in agriculture also came in 1998, when she married the love of her life and cotton farmer Preston Huguley of Olton, Texas. As a farmwife she knows first-hand the ups and downs of farming, the endless decisions that have to be made each season based on "if" it rains, "if" the drought continues, "if" the market holds. She is the bookkeeper for their family farming operation and cherishes moments on the farm such as taking harvest meals to the field or starting a sprinkler in the summer with the whole family lending a hand. Shelley has also freelanced for agricultural companies such as Olton CO-OP Gin, producing the newsletter Cotton Connections while also designing marketing materials to promote the gin. She has published articles in agricultural publications such as Southwest Farm Press while also volunteering her marketing and writing skills to non-profit organizations such a Refuge Services, an equine-assisted therapy group in Lubbock. She and her husband reside in Olton with their three children Breely, Brennon and HalleeKate.
Subscribe to receive top agriculture news
Be informed daily with these free e-newsletters
You May Also Like
---