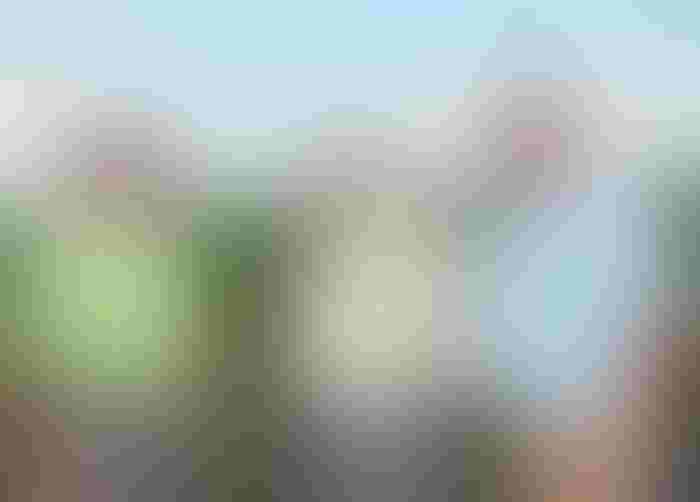 It's beginning to appear you can add target spot (Corynespora leaf spot) to the list of problems associated with the warm, wet conditions causing headaches for Mid-South cotton producers in late summer.
Until the last year or so, target spot was a disease that was found mainly in the coastal regions of Alabama and Georgia and, to a lesser extent, in Mississippi when the southern counties of the state received large amounts of rainfall.
But this summer's mid-August monsoon that dumped 8 to 20 inches of rain along a corridor parallel to the Mississippi River in Louisiana, Arkansas and southeast Missouri seems to have exacerbated the incidence of target spot along with boll rot, bacterial blight and other problems normally associated with late-season, humid conditions.
"Target spot, until this year, had been a disease that tended to follow large amounts of rainfall," said Tom Allen, Extension plant pathologist, and Darren Dodds, Extension cotton specialist, with Mississippi State University, writing in the Cotton Disease Update distributed by MSU Extension on Aug. 19.
In 2016, however, target spot lesions began appearing before the onset of wet weather in mid-August, leading a number of producers in Tennessee to spray their fields with a fungicide, according to Heather Marie Kelly, Extension plant pathologist with the University of Tennessee.
New expense for growers
Spraying a fungicide represents a new budget item for Mid-South cotton producers who rarely apply them after the cotton reaches the seedling stage. Applying a fungicide can cost about $12 an acre, and some growers made two applications to try to get ahead of the disease in 2016.
The Extension specialists say late-season applications of fungicides may not do much to help erase target spot or the other diseases and may, in fact, reduce yields. ("Natural" defoliation may be a plus at that point, it's been noted.)
But what if you spray a fungicide during early bloom when the lower leaves of the cotton plant are feeding nutrients to those first bolls? And can a second application around the fifth week of bloom be beneficial?
Cotton producer Greg Womack, Lake City, Ark., decided to spray a field of his cotton with 4 ounces of Priaxor, a combination of BASF's Xemium and F500 fungicides during the second week of bloom this year. Womack made a second application at the fifth week of bloom. A 10-acre block of the field was not treated.
"He wanted to spray the entire field, but we asked him to leave out 10 acres so we could have a comparison," said Ryan Bane, technical service representative and one of the organizers of a Target Spot Pop-Up Field Day held on Womack's farm on Aug. 26.
New field day approach
Growers were invited to drop by tour the field between 10 and 3 p.m. in a departure from the usual schedule for field days. BASF representatives were on hand to describe the field set up and show producers the impact of the sprays or lack of sprays on plants. They removed about 60 feet of row into each of the three non-treated and treated areas to give growers a better view.
Target spot appeared in a few fields in northeast Arkansas in 2015, but, in 2016, the disease has been much more widespread, according to Dan Westberg, technical services manager, diversified region, with BASF.
"It likes this hot, wet weather," says Dr. Westberg. "Not only are we seeing it in cotton, but our tech reps say they're finding it in a lot of soybeans. That apparently hasn't been an issue in Georgia where they only have 30,000 to 40,000 acres of soybeans."
The Womack field was first sprayed on July 6. On July 26, Womack made a second application of 4 ounces of Priaxor, leaving out another 10-acre block that was not sprayed a second time along with the 10-acre area that received no fungicide.
"We're starting to see a little target spot come in here," said Westberg, walking through an area that received two applications of fungicide. "But at this stage of the game you've held the leaves, and they've been feeding bolls this long. We're not that far from defoliation."
Eight days of rain
"This past rainfall event, the eight days of rain that we had really had an impact," said Bane. "It's showing up all over this area. There's some devastation out there in fields that haven't been treated, and farmers don't know it yet. You drive down the turn-row, and you can't see it. But you walk 20 feet into the field, and all the leaves are gone in the lower canopy."
Bane says a random sampling of the bolls in the different treatment areas indicated a 12 percent difference in the weight between the two treatments. "With a 1,000-pound yield that's 120 pounds of cotton if it goes that far," he said.
Currently, four fungicides are labeled for foliar application in cotton: Twinline, Headline, Quadris and Priaxor. Tests in several states have indicated a benefit to applying 6 ounces of Headline around the third week of bloom in some years.
BASF representatives applied Priaxor because it provides about 28 days of residual control. "The Xemium component is unusual in that it is absorbed by the waxy cuticle of the leaf and then released back on to the leaf as the season progresses," said Dr. Westberg.
"While no variety resistance has been identified, the disease seems to be more severe on high-yielding ground and high-yielding varieties," says the University of Tennessee's Dr. Kelly, who has been conducting trials on target spot at the West Tennessee AgResearch and Education Center in Jackson.
"As with other diseases, higher risk fields include those that are in continuous cotton and irrigated. Also the effect target spot has on yield will be influenced by when the disease first develops, the growth stage of the field and weather conditions."
"This was a disease I really didn't want to get into," said BASF's Bane. "But it's here. As far as fungicide recommendations, I'd rather explain to a farmer why I recommended a treatment than to have to explain why I didn't when he should have sprayed."
For more information on target spot and other late-season cotton diseases, visit http://www.mississippi-crops.com/2016/08/19/cotton-disease-update-august-19-2016/
Subscribe to receive top agriculture news
Be informed daily with these free e-newsletters
You May Also Like
---