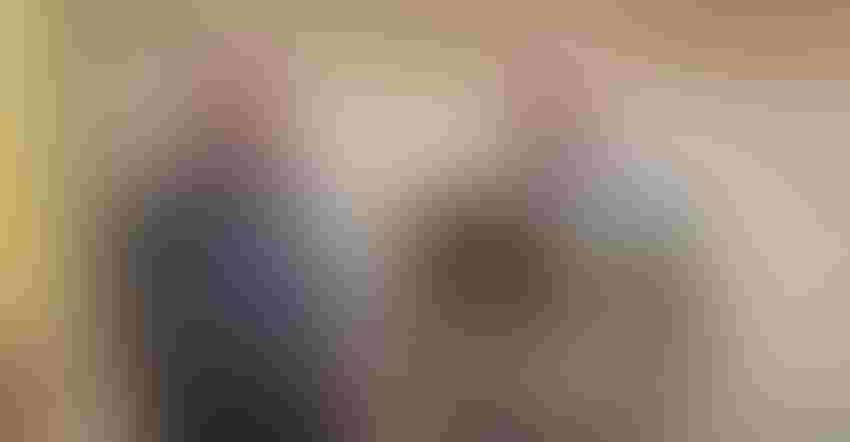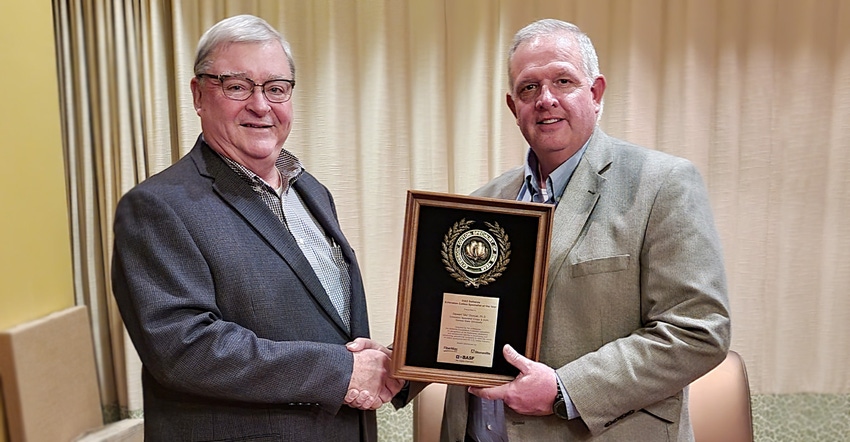 The 2022 Beltwide Extension Cotton Specialist of the Year honoree Stu Duncan, left, with Randy Norton, University of Arizona Extension cotton specialist and a 2013 award recipient. Norton presented the award to Duncan at the annual awards banquet held during the Beltwide Cotton Conferences in San Antonio, Texas.
Shelley E. Huguley
Stewart "Stu" Duncan, the recently retired Kansas State University agronomist and cotton specialist, topped off his 40-year career by receiving the 2022 Beltwide Extension Cotton Specialist of the Year Award during the Beltwide Cotton Conferences at San Antonio, Texas.
Randy Norton, University of Arizona Extension cotton specialist and a 2013 award recipient, presented the honor to Duncan on Jan. 5 in a room full of current and former Extension cotton specialists and cotton industry personnel.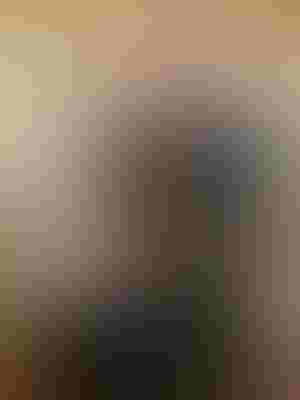 Erin and Stu Duncan, Westmoreland, Kansas. Stu is the 2022 Beltwide Extension Cotton Specialist of the Year. (Photos by Shelley E. Huguley)
"This year's recipient is kind of like me, a fairly low key, conservative-type individual," Norton said. "One of the great things about this individual, which is true of all cotton Extension specialists, is they are good at relating with people. And that's really what our job is, taking information, science, and disseminating it to our clientele which are the cotton growers of the United States of America. And this individual does a great job doing this."
See, Cotton producers' marketing strategy is a 'group endeavor'
Norton described Duncan as a history buff and a life-long Kansan who had grown up on a small farmstead in southern Osage County, before earning his bachelors, masters, and Ph.D. in agronomy from Kansas State University and serving 40-plus years, first as an agent and then as an Extension crops and soils specialist working with cotton. "As I've visited with this individual over the years, I've always been impressed with the extensive training he does with new, young cotton Extension agents, bringing them up to speed on what's going on with cotton in their state."
As he announced the 2022 winner, Duncan, sitting with his wife Erin, made his way to the front to accept his award.
"I never expected anything quite like this. I guess I outlived everybody is what happened," Duncan said as the crowd laughed. "When we started growing cotton in Kansas, nobody would touch it. I was based out of Hutchison. I knew a couple of the guys that were doing it. My department head asked the agents if they needed a cotton specialist or at least someone to work on it and they said yes and he said, 'It's you (referring to Stu).'
"It was the greatest thing that ever happened to me other than meeting my wife and my Savior, to get to meet you guys."
See, Landivar receives Outstanding Research Award in Cotton Agronomy
Duncan confesses he knew nothing about cotton when he took the position. "And this group of Yahoos took me in and nurtured me through things."
Duncan served as the K-State Extension crops and soil specialist for the Southcentral area from 1991 to 2004, transitioning to K-State's Northeast region until his retirement.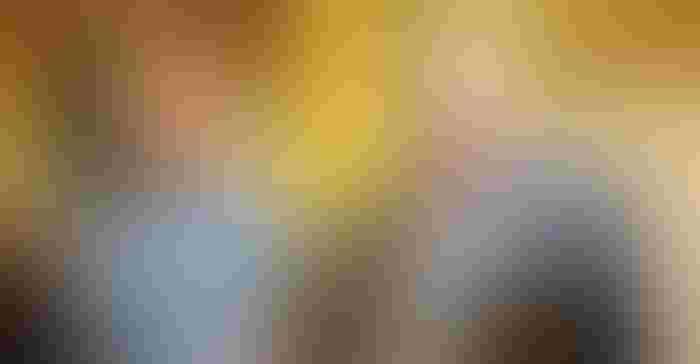 Darrin Dodds, left, congratulates Stu Duncan on his honor. Dodds, a former Mississippi State University cotton specialist and the 2014 award honoree, currently serves as head of MSU's Department of Plant and Soil Sciences.
According to a 2003 K-State crop profile, cotton production in 2001 was about 40,500 acres compared to the almost 200,000 acres in 2020.   
Duncan also spoke about the first time he attended Beltwide in 1999. "It was a great experience. I learned from cooperators and farmers. I learned from the other specialists. It was always a welcoming group. I had never worked with a commodity group like that."Following Duncan's acceptance speech, a few of his colleagues said a few words.
"I'm not a cotton specialist but I've been involved with this group since 1987. I'm pretty picky from a cotton standpoint. My family in Texas has been in cotton production since the 1840s and I've worked with cotton globally in over six continents in my career, which is 47 years, so I'm picky. So, Stu comes in and I perceive him as a corn guy that comes into cotton. I'm a little apprehensive how this is going to work out for the state of Kansas," admitted Jerry Duff, founder and president of AgriThority. "This guy has earned my respect. He had an unbelievable amount of enthusiasm when he came into the position. He just put everything into it. He closed the loop and made things work."
See, Emi Kimura receives Outstanding Young Cotton Physiologist Award 
"I remember when he first came on. He had a lot of questions about varieties and pix and all those things," said University of Arkansas Extension Cotton Specialist and 2004 recipient Bill Robertson. "Bob Metzer was on my committee and James Supak -- these were tremendous leaders and examples we had to follow as cotton specialists. And Stu came in. He had a lot to learn. He picked it up pretty quick and then even when I went to the National Cotton Council with the 2,4-D deal, Stu called and knew who to reach out to. He always did what he needed to do to help his producers be the best they could be. I've always appreciated that about you, Stu. You always look out for your folks."
Erin, Stu's wife of 41 years, said the award means so much because "these guys" (who selected him) are his friends. "He considers this group of professionals as the best group of friends he has. And the fact that they thought enough to give him this award, especially when Kansas is the Yankee of the Cotton Belt, but they opened their arms to us and accepted us into their group. It's just wonderful that we're part of it."
The award, sponsored by BASF, has been a featured event at Beltwide Cotton Conferences since 1984.
"I am extremely pleased to see Stu recognized by his peers as Cotton Specialist of the Year," said Steve Nichols, BASF Agronomic Services manager, cotton. "Stu has always been highly engaged in agriculture throughout his career and has demonstrated a passion for cotton and the cotton industry.  I appreciate the many contributions he has made over the years and proud to call him a friend.  On behalf of BASF, congratulations Stu and we wish you all the best in the years ahead."
(To view more photos, scroll to the bottom.)
Past recipients of the Beltwide Extension Cotton Specialist of the Year Award are as follows:
More banquet photos: 
To view photos from the 2022 Beltwide Cotton Conferences, view the following posts:
Subscribe to receive top agriculture news
Be informed daily with these free e-newsletters
You May Also Like
---