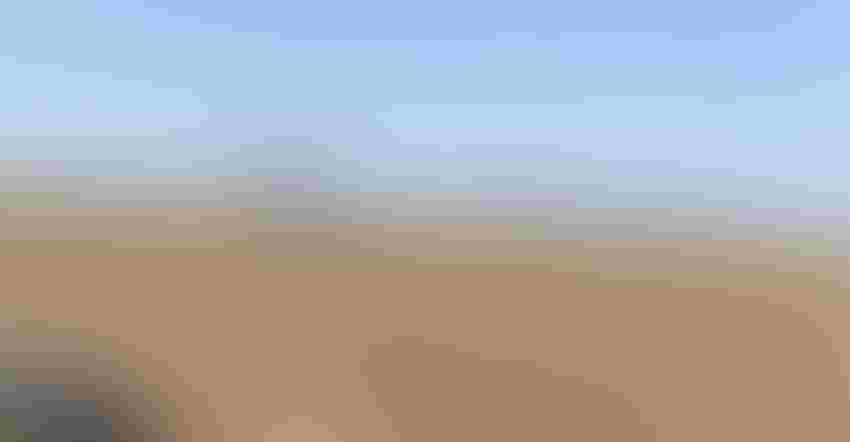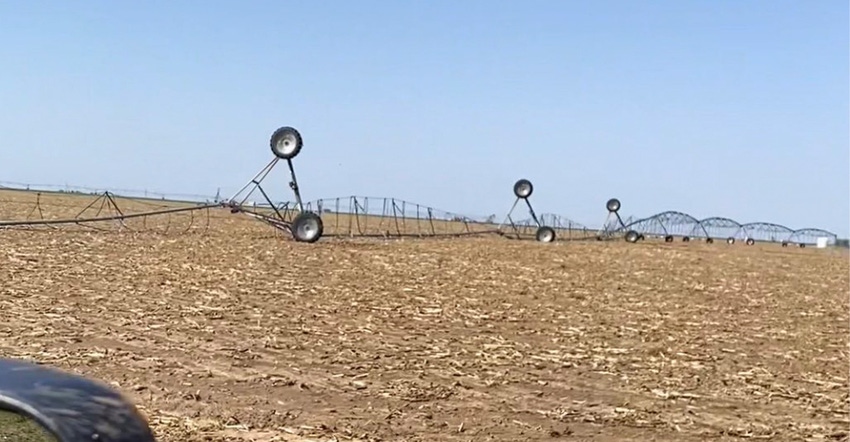 June's wind storms wiped out both corn and cotton and even overturned pivots.
Quentin Shieldknight
As usual, Texas and Oklahoma cotton farmers are spending a lot of time this summer wondering what the weather will do.
Tens of thousands of acres have already been destroyed by high winds and hailstorms in the Texas and Oklahoma Panhandles.
That damage came after May rains offered some respite from a months-long drought that many producers feared would evolve into another 2011.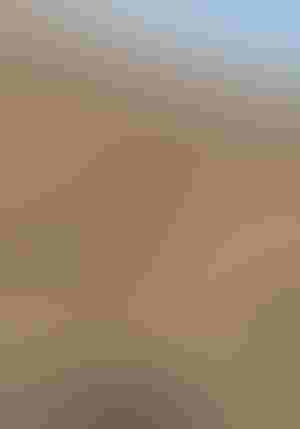 Texas producer Quentin Shieldknight lost 1,500 acres of cotton, mainly in Ochiltree County, where strong wind storms blew through June 7 and 8. (Photo by Quentin Shieldknight)
Conditions are slightly better now, says Texas A&M AgriLife Extension agronomist Jourdan Bell, Amarillo. "But we are still in a drought, and although we have received rainfall, much of it came with high winds and damaging hail.
"We've also seen erosion and water runoff. We never wish rainfall away, but damaging rainfall events are not beneficial."
Bell says much of the damaged acreage has been zeroed out. "Some producers might try to salvage part of the crop, but most producers zeroed it out. Over the last few weeks, a lot of plows have been in the fields as growers consider their options, including prevented planting.
"While dryland acres already had poor stands because of the drought, much of the damage in the Northeastern Panhandle was on irrigated cotton with very good stands. Although a cold spell occurred around Memorial Day, irrigated cotton planted in early May benefitted from warm temperatures and emerged quickly, resulting in very uniform stands," Bell says. "It's heartbreaking to see weather tear that up."
She says May rainfall brought some relief at planting time.
"But we are still suffering from depleted moisture in the soil profiles, which will negatively affect dryland and irrigated fields. Many Panhandle producers do not have the irrigation capacity to meet in-season crop water demand. As a result, producers also must manage stored soil moisture. If there is neither timely rainfall nor soil moisture, irrigated crops may also experience crop stress."
Bell says the area was experiencing mild conditions and some rainfall in late June with forecast of mild weather throughout the week. "We had a few showers this morning (June 27), but overall, it has been a windy, hot, dry summer. And the extended forecast indicates drought will build through the summer."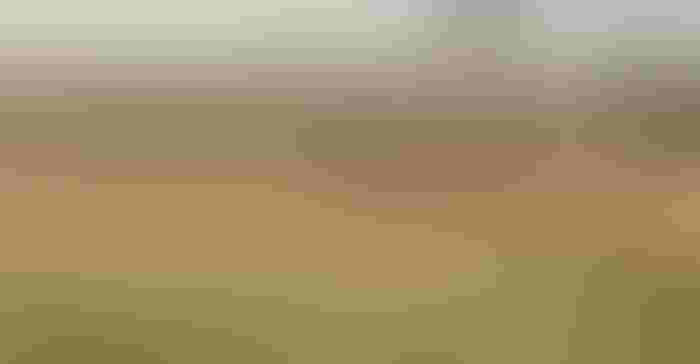 Downed power lines from June's wind event. (Photo by Quentin Shieldknight)
She says some farmers are replanting failed cotton acres with grain sorghum. "I think a lot of acres will also go fallow because of the cost of inputs," she adds.
It has already been a very tough year. Crop failure is expensive. Producers consider the cost of expensive insurance premiums and the long-term impact that crop losses have on future insurance options and their yield history.  
"A farmer's best option for profit is always to take a crop to harvest," Bell says.
Oklahoma
Oklahoma Extension Cotton Specialist Seth Byrd says wind and hail damage from early June storms damaged cotton in the northern one-third to one-half of the Panhandle and into southwest Kansas. There's still some cotton remaining, but there hasn't been much rain since the system that bought the hail. One other rain event dropped only about 0.3 to 0.4 inch."
Drought returns
Across Oklahoma's cotton production area, drought remains the biggest concern.
"The ground dried out fast after a wet late May and early June," Byrd says. "Many growers went from being kept out of the field because of saturated conditions to dry planting over a 10-day period. The planting window for all the dryland and a good portion of the irrigated crop was pushed back one to three weeks because of the wet period in late May to June 8 to 10."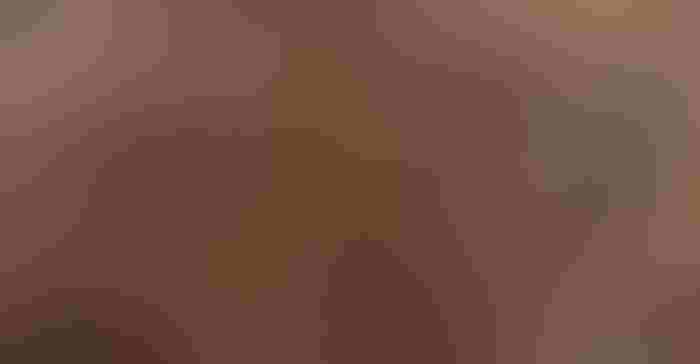 Oklahoma cotton benefitted from May rainfall that provided planting moisture. Shorty after planting, however, drought returned, says Oklahoma Extension Cotton Specialist Seth Byrd. This Washita County field was planted June 15. (Photo by Cotton Specialist Seth Byrd, OSU)
Byrd adds that an above average amount of replanting occurred, mostly in the southwest and central parts of the state. "Many other fields planted prior to these weather systems had stands that suffered, but this is the general condition of most fields planted prior to May 22.
"It's hard to believe we're already asking for more rain, but we definitely need it," Byrd says. "The 4 inches to 8 inches areas western Oklahoma received was followed by approximately two weeks of windy days with daytime temperatures 100 degrees plus, so we lost that moisture very quickly."
Hope faded
Byrd says optimism growers were feeling for cotton planted in mid-June, when fields dried enough to to run planters again, faded quickly.  "Those hopes dropped off drastically as we approached the final planting deadline on June 20. We went from saturated back to arid conditions in a ridiculously short amount of time."
Crop expectations have taken a hit.
"I'd say this is like most years when the early season crop condition varies. The difference compared to the last couple of years is that very few fields look excellent or even great at this point. During my travels yesterday (June 28) I saw some pretty good-looking fields in eastern Washita County and western Caddo County. Probably some of the best cotton I've seen all year. I have seen a few like this, but a lot more are in the middle or worse categories."
About the Author(s)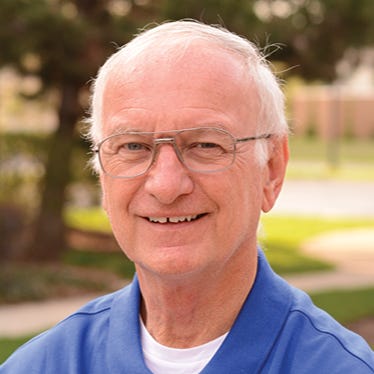 Ron Smith has spent more than 30 years covering Sunbelt agriculture. Ron began his career in agricultural journalism as an Experiment Station and Extension editor at Clemson University, where he earned a Masters Degree in English in 1975. He served as associate editor for Southeast Farm Press from 1978 through 1989. In 1990, Smith helped launch Southern Turf Management Magazine and served as editor. He also helped launch two other regional Turf and Landscape publications and launched and edited Florida Grove and Vegetable Management for the Farm Press Group. Within two years of launch, the turf magazines were well-respected, award-winning publications. Ron has received numerous awards for writing and photography in both agriculture and landscape journalism. He is past president of The Turf and Ornamental Communicators Association and was chosen as the first media representative to the University of Georgia College of Agriculture Advisory Board. He was named Communicator of the Year for the Metropolitan Atlanta Agricultural Communicators Association. Smith also worked in public relations, specializing in media relations for agricultural companies. Ron lives with his wife Pat in Denton, Texas. They have two grown children, Stacey and Nick, and two grandsons, Aaron and Hunter.
Subscribe to receive top agriculture news
Be informed daily with these free e-newsletters
You May Also Like
---