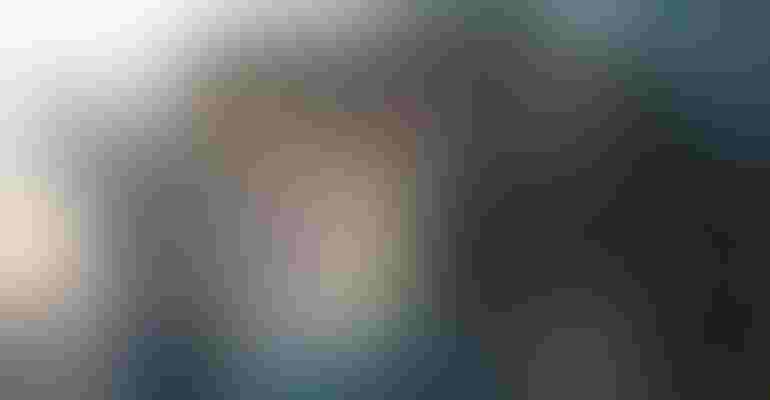 Greer family, left to right: Bart, Jennifer holding Motely, Tate holding Jensen, and Blake. Missing from the photo are Bart's wife Shawnda and Blake's wife Christian.
A heritage deeply rooted in farming, and a father looking to retire, brought fifth generation farmers and brothers, Tate and Blake Greer, home to the family farm at Floydada, Texas.
Big brother Tate says it's roots that brought him back 10 years ago. "I've always been tied to farming, and was in and out of it even when I was doing other things," he says.
Blake, the youngest in the Greer operation, who worked on the manufacturing and retail side of agribusiness, says he always knew he would return to the family farm, and in November 2017 he did so. While he confesses that he's doing a lot of "watching and learning," he believes he has something to add after several years of "research."
"I think there are a few things I can bring to the table that will be helpful — ideas I picked up from selling construction equipment to ag retail. I call it research — talking to as many farmers as I could, learning about what they were doing. I met a lot of dealers and farmers, and have a wealth of knowledge as far as contacts that are in my phone. It's not necessarily in my head, but I have access to people pretty quickly."
When Blake came back to the farm, he found some things worked better than others; for example, certain brands of chemicals. "Some are the exact makeup and formula, but twice the cost of another brand. You are getting the same thing out of a lot of these products, but you're often paying for the name rather than what's in it. I think paying attention to this sort of thing will help us keep our costs down."
As the Greers begin another crop year, father Bart admits it's good to have his boys back on the farm. "Most of the time, it's wonderful — 99 percent of the time it's wonderful," he says jokingly. "If I'll get out of their way, they're more than capable of taking care of it.
"We've just tried to be good stewards of the land," he says. "Financially, farming is pretty tough these days. We older farmers see it differently than the younger ones, so it's a good mix. They have a lot of good ideas — some of them work, some don't. We just try to incorporate the new ideas with the old and make it work, make it better for the farm, and make the farm profitable.
"It's a lot of hard work," Bart says, "but it's rewarding — and the greatest reward is to be able to work with our families, to be side by side with them."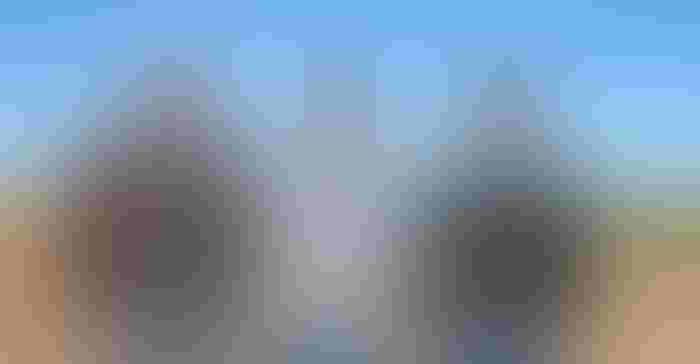 For the last two years, timely rains and conservation practices have produced two-bale dryland cotton on the Greer farms. "It's been pretty good, but it's never perfect," says Tate. "We're thankful for the  timely rains we've had in most places the past two years."
But those aren't yields that come easily in their area. "Here, it's harder to make two bales of dryland than it is to make four bales of irrigated — just no control," Tate says." It's a shot in the dark on dryland. We're used to a lot of 300-pound to 400-pound dryland yields because we don't get rains at the right time."
While much of the cotton on the High Plains may have yielded well in 2017, it often didn't produce the quality to match it. That wasn't the case for the Greer's cotton, which yielded and graded well.
"We ran a picker this year, and we think that had a lot to do with that quality," Tate says. "There was no bridging over, or bark problems or trash." (Bridging over is when the stalks break loose and build over the row unit.)
Missing a few hailstorms helped as well, says Blake. "There was one north and west of us."
"We think being off the cap affects us some — just some different patterns but not always in a good way," adds Tate.
The same rain that boosted their dryland yields, cost them some on their irrigated cotton. "It was dry in the beginning," Tate says, "and then we ended up with plenty of rain. After that, we got some cold spells. Our dryland net was probably a lot more profitable this year than our irrigated due to inputs."
A declining water table in the 1990s pushed the Greer operation toward more dryland acres, along with conservation practices, such as minimum-till and crop rotation, to aid in moisture preservation, in the process increasing soil health for both irrigated and non-irrigated land.  
"Blake and I remember swimming in irrigation ditches," says Tate. "Starting tubes — man, it took a lot of water to fill that ditch, and then we were running it down the rows." While their farms have a combination of "horrible wells and good wells," he says, "the drop in the water table has made us rotate our crops more. That, in turn, along with FiberMax seed, has allowed us to make big yields, 3.5 bales to 4 bales-plus. We were kind of forced to rotate. If our wells pumped 3,500 gallons per minute, we wouldn't be rotating crops as much we do, and we'd have four full pivots running on a section every year. Rotation has kept us in business."
If the Greers happen to get a crop of wheat, that's great, Tate says, but the main goal is that cover. "We love the rested ground — the summer fallowing ground. Our whole operation is based on rotation. I don't know all the science behind it, but wheat's root system does a lot of good things for the soil."
Blake adds, "You have to put in a lot nitrogen behind it, but you have to put in a lot of nitrogen anyway."
Their great-grandfather, Dorris W. Jones, used to say: "You never lose money with fertilizer — you always get that back," a concept by which the Greers still live. "We spread compost," says Tate. "We're improving our soil that way. Not every year will it net, but that's the plan for now."
They also have reduced tillage on their farms, something they credit for boosting soil health while reducing inputs. "When I was a kid, we ran hours and hours on the tractor — we just plowed and plowed," recalls Tate. "We don't plow much anymore — all we do is spray. We use a lot of chemicals, and chemicals are too high. But it's cheaper than running hours on your tractors and buying diesel."
The reduced tillage also aids in water retention, soil health and profile, and organic matter, he says. Other than that, Tate describes their farming strategy as "pretty simple: water and fertilizer and timing."
They also credit seed technology for their success. In April, their high-yielding dryland FiberMax cotton qualified them for the FiberMax Maximizer Club, and their irrigated acres earned them a spot in the FiberMax One Ton Club.
While cotton has been king in their operation for generations, the Greers, in a joint effort with a relative, Rick Heflin, planted 32 acres of wine grapes. The vineyard was strategically planted two years ago on a low-yielding cotton farm that only pumps 180 gallons between four wells. "We had a partial grape crop this year, so that's good news," says Tate. "We have quite different soil, even a different climate than in Terry County, where there's abundant acres of wine grapes. So, maybe we have a good spot over here — it's a bit colder here."
Subscribe to receive top agriculture news
Be informed daily with these free e-newsletters
You May Also Like
---