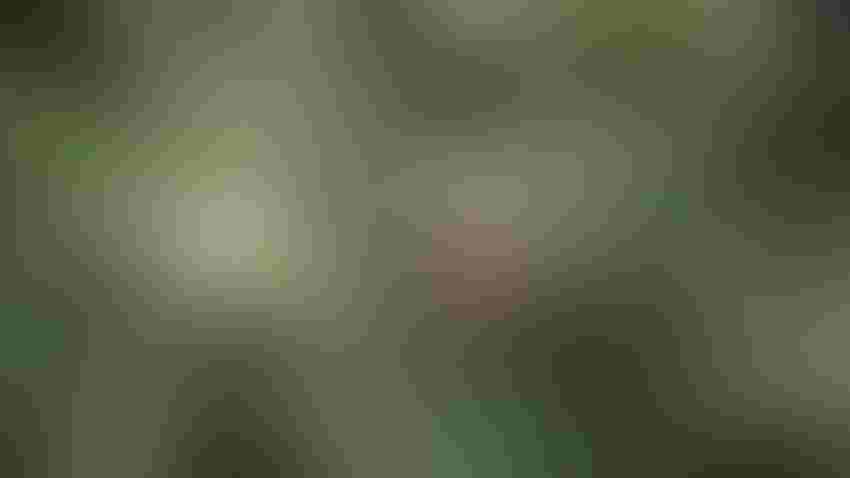 In the winter cotton production meeting across North Carolina this year, Huseth is highlighting his ongoing research on ThryvOn on thrips in cotton
John Hart
North Carolina State University Extension entomologist Anders Huseth is considered one of the nation's leading experts studying the efficacy of the new ThryvOn technology in controlling thrips in cotton.
In the winter cotton production meeting across North Carolina this year, Huseth is highlighting his ongoing research on ThryvOn on thrips in cotton. Bayer recently announced that Bollgard 3 ThyrvOn cotton with XtendFlex technology will be commercially available for this year's cotton planting season.
According to Bayer, ThryvOn technology provides built-in protection and may reduce the number of insecticide applications needed for control of key tarnished plant bug and thrips species.
Huseth says ThryvOn cotton provides excellent control of thrips without additional insecticide inputs and has very little impact on beneficial insect species.
"ThryvOn cotton expresses a Bt toxin that deters adult feeding and egg-laying for our main pest thrips species, tobacco thrips. Because of this, grower should expect to see both adult and larval thrips on ThryvOn cotton, but in greatly reduced numbers compared to non-ThryvOn cotton," Huseth writes in an Extension post.
"Our current economic threshold for thrips is either an average of 2 immature thrips per plant OR an average of 1 immature thrips per plant for each true leaf from cotyledon to the 4 true leaf stage in non-ThryvOn cotton," Huseth writes.
"Based on extensive field testing, however, we recommend that growers do not use in-furrow or foliar insecticides in combination with ThryvOn cotton for thrips. In field studies, adding insecticidal seed treatments, in-furrow, or foliar insecticides to ThryvOn cotton can reduce thrips numbers and visually improve the look of seedlings, but we have never shown an impact on yield, even under extreme thrips pressure and adverse environmental conditions."
In the southeast, ThryvOn cotton will be packaged with an insecticidal seed treatment (imidacloprid) for resistance management. Experimental results combined with modeling suggest that the rate of resistance to the Bt toxin expressed by ThryvOn cotton can be delayed when paired with an insecticidal seed treatment.
"Growers should not add additional insecticides to ThryvOn for resistance management beyond what is provided by the company," Huseth advises.
At a cotton production meeting Feb. 7 at the Nash County Agriculture Center in Nashville, N.C. Huseth explained that in 2022 he worked with cooperators in Arizona, the Midsouth and the Southeast to screen 10 populations of tobacco thrips and western flower thrips to understand the activity of ThryvOn against thrips. Huseth explains that Western flower thrips are more of a pest in the west while tobacco thrips are more of a nemesis in the east.
In his 2022 research, Huseth and his team looked at ThryvOn with and without a seed treatment of Gaucho, a standard seed treatment in cotton. The non-ThryvOn check in the study was the cotton variety Deltapine 1646, with and without a Gaucho seed treatment.
"We measured the number of eggs that the females laid. We do know that this toxin is very unique in that thrips sense the toxin in the plant and choose not to lay eggs on it. This is very different than the moth traits where the caterpillars are very much feeding on the toxic corn kernel or cotton boll and dying. ThryvOn against thrips is a behavioral deterrent effect. It is more nuanced than we would have expected for a Bt toxin," Huseth said.
In on-farm research conducted in Northampton and Halifax Counties in 2022, Huseth and his team looked at two field combinations: conventional cotton and ThryvOn cotton. Each of the on-farm plots had 20 different locations where Huseth collected five seedlings that he washed in soapy water to determine the amount of larvae that had been established on those five seedlings in each of those spots.
"The take home message, from a 30,000-foot view, is that ThryvOn clearly had a lower larval establishment than standard management in all cases. But being sort of a geographer, I wanted to understand what did this look like in the field to try to understand what the distribution of thrips were," Huseth said.
"In Halifax County near Scotland Neck, in the non-Bt conventionally managed field, we had an average of 80 larval thrips per five seedlings. This is way above threshold. This field had been sprayed with a pound of acephate about a week before and had a full seed treatment rate," Huseth explained.
"In the ThryvOn field adjacent, the averagearval establishment was 37 per five seedlings."
Huseth attributes the elevated establishment of thrips on the neonicotinoid-treated seed to extremely hot and dry weather in June, noting that the Halifax County field had a mix of both tobacco thrips and western flower thrips.
"Sometimes we see western flower thrips really blow out when we get these conditions where it is hot and dry in the early season. This was totally unexpected so moving forward I'm going to do more surveying to try to understand how common is this combination of western flower thrips mixed in with tobacco thrips because we can't expect the seed treatments to perform as well against western flower thrips so it's important to know what's going on in this system and that's a goal for 2023," Huseth said.
In Northampton County, Huseth used the same setup: a ThryvOn field in close proximity to a conventionally managed field. In Northampton County, the thrips intensity was much lower compared to Halifax County. The conventional field was at 15 larval thrips per seedling — right at threshold. The ThyrvOn field was much lower at 6.55 larval thrips per seedling.
Back in the laboratory, there was an average of four larval thrips per seedling on ThryvOn cotton without a seed treatment. By adding a seed treatment to the ThryvOn cotton, the number was reduced to 2.5 larval thrips per seedling.
"What we are seeing is fewer tobacco thrips eggs lead to fewer larvae. That's part of the reason that we are seeing this performance difference in this toxin. These insects just tend not to lay as many eggs on the ThryvOn seed. We expect that in the Southeast that this technology will come paired with a seed treatment based on everything we heard from the registrant," Huseth said.
Subscribe to receive top agriculture news
Be informed daily with these free e-newsletters
You May Also Like
---