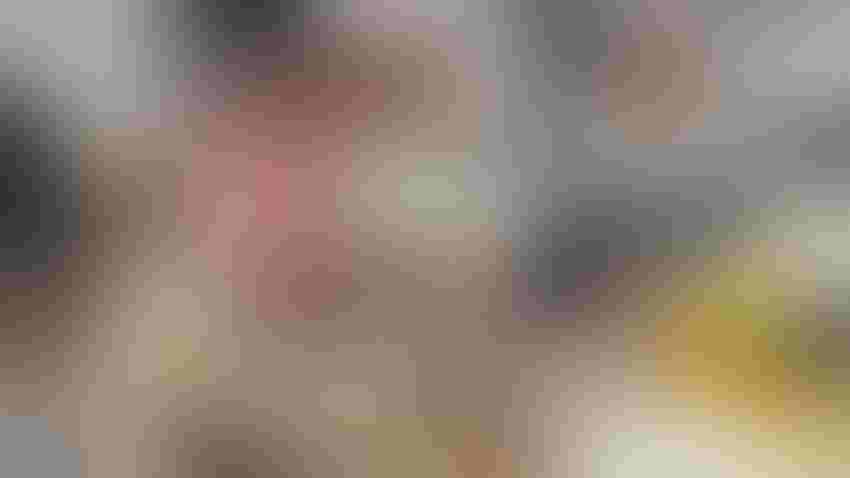 Jimmy Smith, Elk City, Okla., says his family has been planting cover crops for more than 60 years.
Shelley E. Huguley
For generations, Jimmy Smith's family has been planting cover crops on their Elk City, Okla. farm. What began with Jimmy's grandfather over 60 years ago to keep sand from blowing, proved to be a life preserver for Jimmy's 2022 dryland, no-till cotton – a crop he doubted he'd even take to harvest.
"When we started last year, it was incredibly dry," Smith told Farm Press at the Red River Crops Conference, Childress. "We didn't think we were going to harvest anything, so we fertilized some [fields} and some we didn't. We started planting and we got a little bit of rain."
Despite a 6-inch deluge across the region as Smith planted the rest of his dryland cotton, he got a stand. He got no more moisture until August, preceded by consecutive days of triple-digit temperatures, as high as 115 degrees. "We didn't think we were going to harvest anything."
Smith, who farms with his son Spencer, wound up harvesting 80% of the crop, averaging about a bale per acre. "We would have harvested it all but about 400 acres were hailed out in October," Smith said. "We averaged roughly a bale on what we had left. I can't complain at all."
The Smiths plant a rye cover and harvest only what they'll need to plant next year's cover crop. Smith credits their management practices for helping the cotton survive.
"I believe a lot of our success is because we've been no-tilling forever and have a lot of cover crop that held moisture in the soil. Plus, we don't strip-till often, maybe on the turn rows where we get compaction."
Volunteer cotton
Volunteer cotton also challenged the 2022 crop. "We had a lot of volunteer cotton because last winter we didn't have enough moisture to deteriorate the seed."
Smith said volunteer cotton is becoming a problem. "I'm not sure what we're going to do about it. We've been grazing some harvested cotton land. We already have cover out there, so the cows can graze the rye, and they get the cotton that's on the ground, which helps a lot."
The drought complicated overall weed management. "We had a hard time killing weeds this past year because it was so dry."
Cover crop pros outweigh the cons, But Smith says rye cover makes pre-emerge residual herbicide penetration difficult. "In the past, we tried impregnating Prowl or Warrant with fertilizer and spreading it. That helps a lot, so we may try to do a little bit of that this year where we know we have issues."
Leopold Conservation Award
Recently, the Smiths were recognized for their regenerative practices by the Sand County Foundation's 2022 Oklahoma Leopold Conservation Award. The award is given in honor of conservationist Aldo Leopold, recognizing farmers, ranchers and forestland owners who inspire others with their dedication to land, water and wildlife habitat resources in their care, according to the Sand County Foundation website.
Smith credits organic matter as key to their soil health. "Over the years, even though my dad plowed that cover under, the soil retained organic matter. I think it helps. It helps hold moisture. Plus, we're able to decrease our fertilizer."
Smith admits that cover crops use some fertilizer but "it doesn't ever go anywhere."
Before fertilizing this season, Smith will pull soil samples from last year's unfertilized fields. "That's another thing about our cover crops, they hold a lot of nutrients in the soil. Some of our ground made a bale to the acre with no fertilizer."
But it's hard to play catchup with soil nutrients, he added. "You can't do it in one year."
The Smith family also created tools, such as planter gauge wheels, which help support regenerative practices. "We plant in the same rows every year. Stalks [from the previous crop] would chew up regular rubber tires. We would have to replace them every year," Smith said.
He and the late Canute, Okla., farmer, Danny Davis, designed a tire that wouldn't wear out. "Everybody wanted them, but we didn't have a cost-effective way to make them."
Smith's son Spencer teamed up with a machinist. "They figured out a cheaper way to do it," Smith said. The tires are manufactured in Oklahoma City. "We've got some on a planter that have been there for about 10 years, and you can't tell [they're worn] at all. We make closing wheels, also."
Transitioning to and gaining the benefits of regenerative practices does not happen overnight, Smith admitted. "It takes a while to get established in the no-till situation but once you get it, it's pretty nice."
Subscribe to receive top agriculture news
Be informed daily with these free e-newsletters
You May Also Like
---