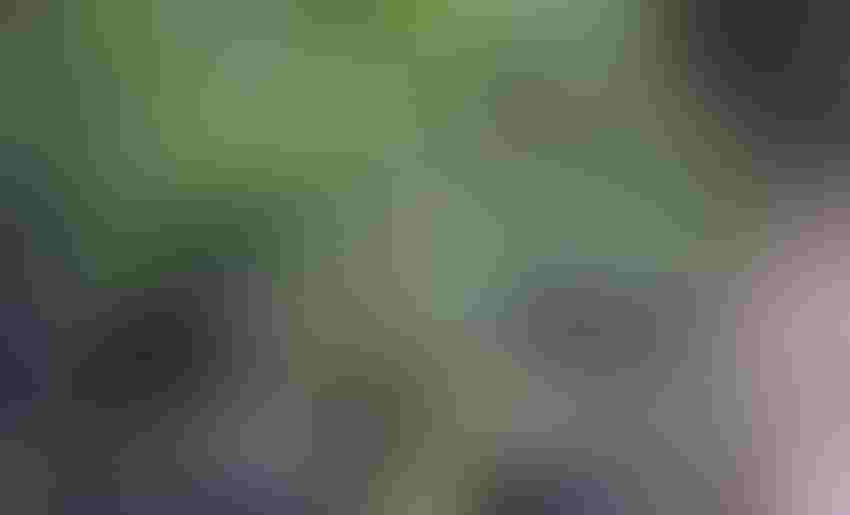 Palmer amaranth populations resistant to PPO herbicides confirmed in Georgia.
Brad Haire
Southeast cotton growers face extreme economic pressure due to drastic reductions in global cotton sales and prices inflamed by the COVID-19 pandemic, but over the last decade they have made great strides against pigweed resistant to glyphosate. They'll need to take what they learned from that fight to curb pigweed now resistant to PPO herbicides.
For example, Palmer amaranth, or pigweed, populations resistant to Protoporphyrinogen oxidase herbicides, are confirmed in Georgia now, said Stanley Culpepper, University of Georgia Extension weed specialist. PPO-resistant pigweed has been documented in the Mid-South and the Carolinas, too.
In side-by-side tests conducted in greenhouses, Palmer amaranth plants from a population known to be controlled by PPOs were killed with Reflex at a 24-ounce-per-acre rate plus surfactant.
240 Ounces
But Culpepper treated Palmer amaranth plants from another population at the same time with Reflex at a 240-ounce-per-acre rate, yes, at a 100-times higher rate than the controlled plants, plus surfactant. Those plants were not killed. The resistant plants were not controlled with high rates of Cobra or Ultra, either.
Cotton growers have battled glyphosate-resistant pigweed for more than 15 years in Georgia, and continue to win, but it cost them billions in lost production and control measures over the years. Per-acre cost to control pigweed in Georgia cotton just a few years ago was near $100 per acre. In recent years, through research, industry cooperation, new technology and growers' efforts, the per-acre cost to manage pigweed has been drastically lowered but remains significant.
Culpepper feels he must ring the warning bell from time to time, even though growers know this: Don't overuse herbicide chemistries, especially dicamba and the PPO herbicides, such as Reflex, Cobra, Ultra Blazer and Valor. Resistance does and will happen.
"Georgia cotton growers have done an outstanding job making and implementing sound management programs, but we may have a few who need a little wakeup call. This PPO issue is that call. Our growers face a 2020 cotton season like we've never seen before with many challenges, but we have to keep making good decisions to try and not lose the ground they've gained," he said.
The mantra still applies: Use cover crops or tillage, start clean, two residual at-plant herbicides. Make sure the weed control program includes at least five different classes of herbicide chemistry "and pull out the escapes," he said.
A Layby
Dealing with weather and juggling other agronomic crops like most diversified Georgia farmers do can put a crunch on time, he said. But growers need to considered maintaining or implementing a layby application in their programs, too.
In Georgia's case, growers get a valuable chance at layby to use an urea chemistries, such as diuron, which are not used in any other agronomic crop, chemistries which he said, "are very effective, not only in controlling the emerging pigweed, but they also give excellent residual control to let the cotton close out," he said.
Culpepper conducted an interesting trial in south Georgia last year. He applied in one test plot a pre-emergence, then delivered sequential Roundup-dicamba applications over the top, or a what would be considered a standard program. In this test without no layby, he had what equated to 1,400 Palmer amaranth plants per acre.
In another test, he applied the same standard program but also came in with a layby application of Roundup plus diuron along with a little bit of Envoke to clean up morning glory. There were no pigweeds per acre left with that system.
It's tough for some growers to time a layby application on every acre of cotton they grow, but growers do have the experience to know the fields where pigweeds are more of a problem and should focus on layby applications in those areas to continue to limit the seedbank in those fields.
About the Author(s)
Subscribe to receive top agriculture news
Be informed daily with these free e-newsletters
You May Also Like
---