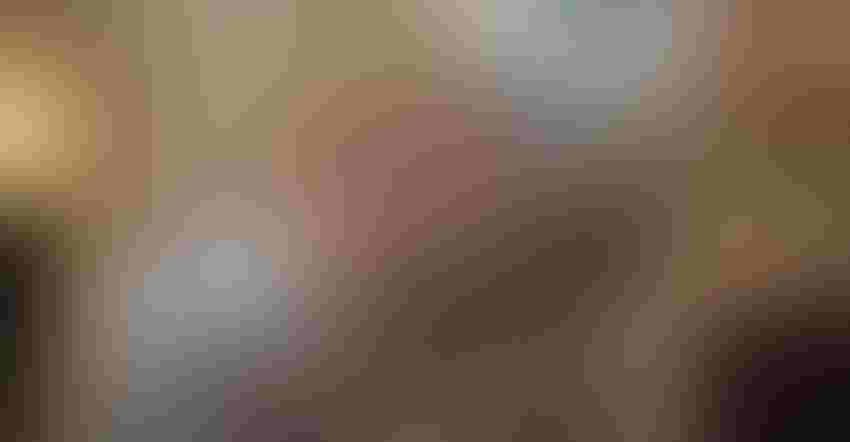 National Cotton Council Producer Information Exchanges participants from the Southeast recently toured the Mid-South. Pictured here at the Delta School in Wilson, Ark., are, top to bottom: Bradshaw Lewis, NCC and tour host; Niko Goodwin, Georgia; Will Frierson, NCC, Washington, D.C.; Bobby Joe Womble, Georgia; Tommy Hargrave, North Carolina; Mitchell Womble, Georgia; Garrett Hurley, Georgia; Kemp Wilson, South Carolina; Paul Rogers III, Virginia; Brian Rayburn, Georgia; and Walt Calhoun, South Carolina.
Ron Smith
The extensive number of prevented planting acres and fields still under water from spring and early summer rains caught the attention of 11 Southeast cotton farmers during the Producer Information Exchange tour of the Mid-South.
The tour, sponsored by the National Cotton Council and supported by a grant from Bayer, wound its way from the Missouri Bootheel into northeast Arkansas and west Tennessee.
"I've heard and read about the prevented planting acreage and flooding," said Tommy Hargrave, Garysburg, N.C. "But that's not like seeing water still standing in unplanted fields and farmers still struggling to plant soybeans. My heart breaks for these Delta guys."
"We had about 500 acres in prevented planting," adds Walt Calhoun, Clio, S.C. "I've never seen anything like what we saw in Dyer County, Tenn."
Dyer County farmer Kent Greene took Delta Farm Press editorial staff on an afternoon tour of the county and showed hundreds of acres of fields that remained unplanted in mid-summer.
Greene drove by bottomlands still partially covered in water and other low-lying fields with late-planted cotton and soybeans, some just poking above the soil surface.
Greene said much of the cotton in the county has caught up from late planting but will need good weather through August and early September to make decent yields.
Other areas better
Conditions on the Missouri and Arkansas farms included on the tour were in better shape, although still late in some cases. Southeast growers could commiserate. Many started off wet but have suffered a bit from drought over the last month.
"Our cotton looks good in spots," said Garrett Hurley, Summerville, Ga., in the northwest corner of the state. "We were real late emerging," Hurley said.
"Some popped right up out of the ground and some set in the ground over 30 days before it emerged. It's just all over the board."
"Our early cotton looks okay," said Kemp Wilson, Chester, S.C. "But the later cotton seems to have caught up."
See, PIE tour is 'hands-on' learning experience
Wilson and his father raise cotton, corn, and alfalfa hay — square bales mostly for horse owners.
He's seen weather issues, too. "It was wet all winter and early spring, until May. We got cotton up and it turned dry. We've been in a drought now for about two weeks. We've had some spotty rain but not the big one we need."
Calhoun said cotton and other crops are fair, so far. "For the most part, everything looks okay," he said. "We had a lot of dry weather right after we planted."
The Calhoun farm includes cotton, corn, peanuts, soybeans, wheat, hay, rye, and cattle.
He said a hot, dry period may have hurt yield potential some.
"Corn looks fairly good," he said, but he's concerned about excess heat during pollination
"Over here, they've had a lot of water. It's a much different climate with different conditions."
North Carolina needs rain
Hargrave said crops in his area of North Carolina, Northampton County, have been hurt some by "hot and dry weather. We're all dryland; most of the county is. I think we have less than 25 pivots in the whole county.
"We need a rain now," he said. "Last week we got a little rain that pulled us out of a tight spot."
Hargrave grows cotton, corn, soybeans, peanuts, and small grains.
In addition to seeing Mid-South crop conditions, tour participants also expressed interest in seeing production difference in another region.
"It's a great exchange of information from peers, fellow farmers, and consultants from around the country," said Paul Rogers III, Wakefield, Va. "I get to compare what I do back home versus what they are doing and see if I can gather information to take back to my operation.
"It is very valuable to spend time with other growers, and the peer-to-peer interaction is one of the best teaching tools in my experience as a farmer."
Vegetative management
Hurley was surprised at the vegetative growth on some of the Arkansas cotton and with the amount of growth regulator applied.
"We're at about 36 ounces in three different trips on our cotton," he said of his Georgia acreage. "Some of these guys are already over a gallon per acre of Pix.
"It was absolutely amazing, the bolls set on that cotton. I think it was an Americot variety, and it was just like you'd want it."
He was impressed with irrigation. "We're 100 percent dryland in northwest Georgia. They're mostly all irrigated down here, and it's amazing."
"I'm enjoying seeing how they do things in a different part of the country," said Hargrave. "I've never seen rice growing before and I am looking forward to seeing that."
He said his farm is not "all that far" from the Mid-South but admitted a bit of surprise at how different conditions were. "Topography is the biggest change," he said. "But how they adapt equipment to their environment is interesting."
Hands on
"It's a hands-on learning experience," said Calhoun. "I can't get this opportunity anywhere else."
He agrees with Hargrave that a few hundred miles makes a big difference in geography and growing conditions. "I am glad to be here and glad I was invited on this tour."
Wilson said he had never been in the Delta "as an adult and never on a structured tour of agriculture. It's a good year to see how different conditions are and to see Mid-South equipment. I'm looking for new ideas."
Bradshaw Lewis, National Cotton Council representative for Arkansas and Missouri and tour host, has been on seven PIE tours and hosted five.
"I love the interaction of growers on the tour with the growers we meet, and I enjoy showing the innovators to their peers. They all get to interact and take away valuable information to become more productive and efficient on their farms."
Bradshaw said the tour started out in St. Louis with a visit to the Bayer research facility. "They got some good information on how many dollars it takes to create new products and bring them to the market."
The official tour ended on former NCC Chairman Larry McClendon's farm with a look at variety plots. In addition to the research facility, the tour stopped at a cotton gin, a rice processing plant, rice fields, a watermelon packing facility, a private school and a museum.
Tour participants also sampled some of the Mid-South's finest cuisine, including prime rib, catfish and buttermilk pie.
Subscribe to receive top agriculture news
Be informed daily with these free e-newsletters
You May Also Like
---