Monday, April 5, 2021, the first shipment of U.S. cotton bales was loaded into containers at Plains Cotton Cooperative Association's (PCCA) new rail facility in Altus, Okla., en route for Southeast Asia.
"Every train has just under 20,000 bales of cotton on it," said PCCA CEO and President Kevin Brinkley. "That schedule will vary throughout the year, depending on what sales have been made. But every one of those trains has got 20,000 bales headed for somewhere in Asia."
PCCA's transportation expansion benefits its grower-owners. "The bottom line is we're building access to major ports, and therefore, major export markets, by having a rail located here in Altus."
See, Plastics in Cotton webinar set May 5, panel discussion included
Years ago, Brinkley said PCCA railed cotton from the Altus location. "Back then it was boxcars, so it was tedious. Since then, we now ship everything in containers. We got out of the rail business in favor of trucks and now, thankfully, we've been able to have this arrangement where we can take cotton and export it directly from Altus."
PCCA will source-load containers at the Altus facility, which is about 200 yards from where the containers are loaded onto the train. "What that does is cut out a very expensive move from here to Dallas, which is where that cotton normally ships out of. It's a truck move, so we can eliminate that and introduce some efficiency into the export process.
"As you know, practically all our cotton here goes into the export market, so this is a way to really bring a benefit to the producers in this area. Altus is a good cotton production location--good farmers here that do a good job producing high-quality fiber, so this is going to add a little prominence to that cotton in world markets." 
The Altus warehouse can house up to 1.2 million bales of cotton. Brinkley said most of the cotton stored there is exported. 
The new rail system is a joint effort between PCCA and Cargill. "They have been there to teach us the ropes. They're very strong at the destination where this cotton is going so, they've done a tremendous job walking this road with us. We look forward to a long and prosperous relationship with them."
PCCA priorities
As PCCA and its grower-owners begin a new season, Brinkley says the priority this year is to make the most of this time period.
"Most cotton producers are probably aware that we've seen some of the strongest prices we've seen in a couple of years, which is great if you've got cotton to sell right now. Not to harp too much on the weather, but we need some help there. The story going forward, we think for some time is that coming off of a period of time where world stocks have been generally at a very high level, they're starting to tighten significantly, which is going to help support the cotton market and help give these farmers a chance to hit a good one. All they need to do is produce it and that's largely dependent on moisture. Everything else, I think they've got a firm handle on. They're raring and ready to go if we can get everything set up. So, that's the priority, to make the most of this time."
About the Author(s)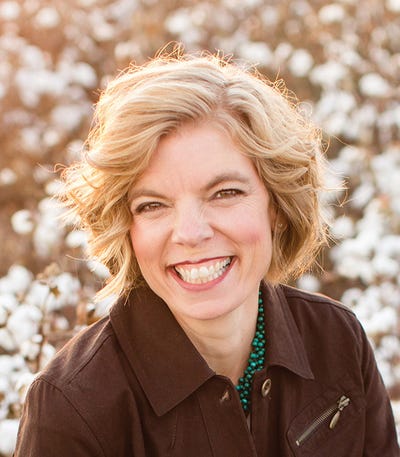 Editor, Southwest Farm Press
Shelley Huguley has been involved in agriculture for the last 25 years. She began her career in agricultural communications at the Texas Forest Service West Texas Nursery in Lubbock, where she developed and produced the Windbreak Quarterly, a newspaper about windbreak trees and their benefit to wildlife, production agriculture and livestock operations. While with the Forest Service she also served as an information officer and team leader on fires during the 1998 fire season and later produced the Firebrands newsletter that was distributed quarterly throughout Texas to Volunteer Fire Departments. Her most personal involvement in agriculture also came in 1998, when she married the love of her life and cotton farmer Preston Huguley of Olton, Texas. As a farmwife she knows first-hand the ups and downs of farming, the endless decisions that have to be made each season based on "if" it rains, "if" the drought continues, "if" the market holds. She is the bookkeeper for their family farming operation and cherishes moments on the farm such as taking harvest meals to the field or starting a sprinkler in the summer with the whole family lending a hand. Shelley has also freelanced for agricultural companies such as Olton CO-OP Gin, producing the newsletter Cotton Connections while also designing marketing materials to promote the gin. She has published articles in agricultural publications such as Southwest Farm Press while also volunteering her marketing and writing skills to non-profit organizations such a Refuge Services, an equine-assisted therapy group in Lubbock. She and her husband reside in Olton with their three children Breely, Brennon and HalleeKate.
Subscribe to receive top agriculture news
Be informed daily with these free e-newsletters
You May Also Like
---