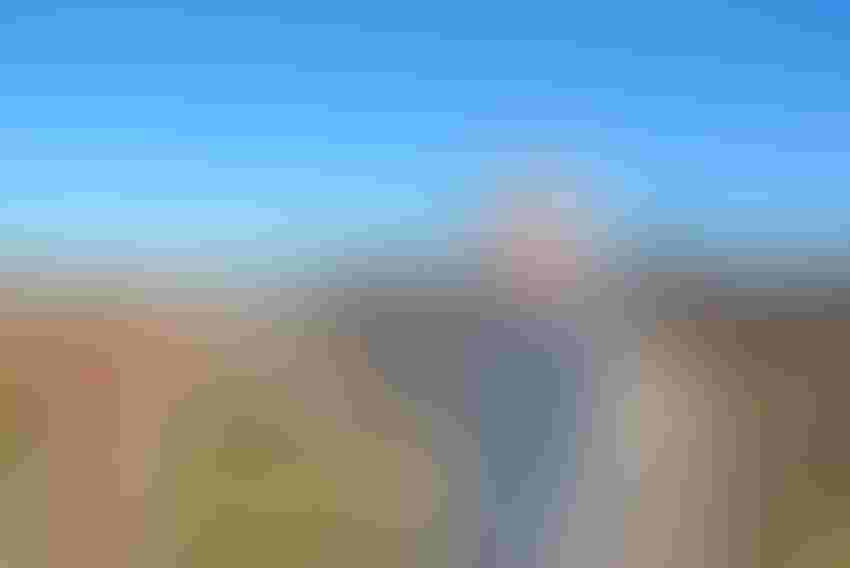 Oklahoma grower Scott Grabeal.
"Economics will teach you quickly," says former math teacher Scott Grabeal. This wasn't a statement he made to his students about an assignment, but rather what he says he's learned from his mistakes over the last 14 years as he and his dad, Larry Grabeal, transitioned from conventional tillage to no-till on their Hammon, Okla., farms.
"Dad has always been pretty progressive," says Scott, who taught junior high math before returning home to farm full-time, "so no-till was a way to expand our operation without expanding tillage equipment. We could see it was the next step. Plus, we don't have to have big tractors or big implements. With a good-sized planter and spray rig, we can cover a lot more ground without a lot of changes to our infrastructure."
While the decision to change to no-till was a fast progression, Scott says the learning curve has been a bit slower and a team effort. "It's taken some time figuring out what works and then learning from the mistakes — why it wouldn't work."
An important element in their transition has been their team, which includes Jaye Brewster, who has worked for the Grabeals for the last 20 years and Jorgé Ramirez, who has worked for the family for 10 years. Scott says they couldn't do all that they do without them.
Learning from their mistakes has taught them simple things such as continuously planting no-till wheat behind wheat doesn't work well, he says.  "Economics will teach you quickly."
A SWITCH
Experience also prompted the Grabeal team to switch from a conventional header to a stripper header on their combine. "It makes a big difference," Scott says. "It improved our stands in the following crop, making the challenges for the next crop a lot fewer because of the distribution of the crop residue at harvest."
For most of their farming careers, the Grabeals have been forage alfalfa, wheat, and cattle farmers. Until, 1991, Scott's dad grew some cotton. Then in 2012, cotton was added back into the rotation and cover crops also integrated into their management system.
"Cotton introduced us to cover cropping," he says. "Before that, it was just no-till and no cover-cropping. Cotton is where we really started getting into cover cropping, and the two worked well together. We're growing wheat or rye to improve organic matter and mostly to protect the next cotton crop from wind erosion and soil moisture loss."
CONSERVES MOISTURE
When asked about cover crops depleting moisture, Scott compares cover crops to mulch in a flower bed. "If you pull back the wood chips or mulch, it's damp underneath. That's what our cover crop does for our alfalfa or cotton — it conserves the moisture and makes it last longer, and it dramatically reduces wind and water erosion problems."
While Scott recognizes it's hard to get past the fact that moisture is being used by cover crops, he says if he doesn't have enough moisture to grow the cover in the first place, he's not going to have enough moisture to grow the cash crop.
"I'm willing to risk that I'm going to have the rain it takes to make a crop; and the mulch effect provided by the cover crop is going to be more than enough to offset whatever moisture it uses — it's going to save me more than it's using."
CROP ROTATION
In his crop rotation, Scott says, he'll grow cotton on the same acres for about four years, rotating to seed wheat for a season, and then alfalfa for four or five years. "When I rotate from alfalfa to cotton, I'll plant wheat for cover behind the alfalfa, graze cattle on it, and then plant cotton into the wheat."
One aspect of no-till that's difficult, he says, is weed control. "We struggle with the amount of chemical inputs. Tillage is sometimes offered as a solution to some weed problems, but for me, it's not. I don't want to till at all because of the damage it does to the soil structure."
But he also doesn't like how much he's spending on chemicals or having to apply them. "I don't know what we can do about that."
A NEW YEAR
Like many in the Southwest, when Scott looks back at the 2018 season, he began the season with drought and a hope for rainfall. "In May, I dusted in 1,300 acres of cotton, and I was stressed because I didn't know if I would have the right conditions to get the crop to emerge. I was planting in the dust, banking on getting the right weather the cotton needed at the right time.
"I was fortunate and blessed with the right conditions, and I got It all up." His dryland acres yielded about 1.5 bales per acre, while his irrigated acres yielded 3-1/4 to 3-3/4 bales.  
But thanks to 14 inches of fall rain, Scott and many in the Southwest will have ample soil moisture as they prepare for the 2019 planting season — a great way to start a new year.
Subscribe to receive top agriculture news
Be informed daily with these free e-newsletters
You May Also Like
---