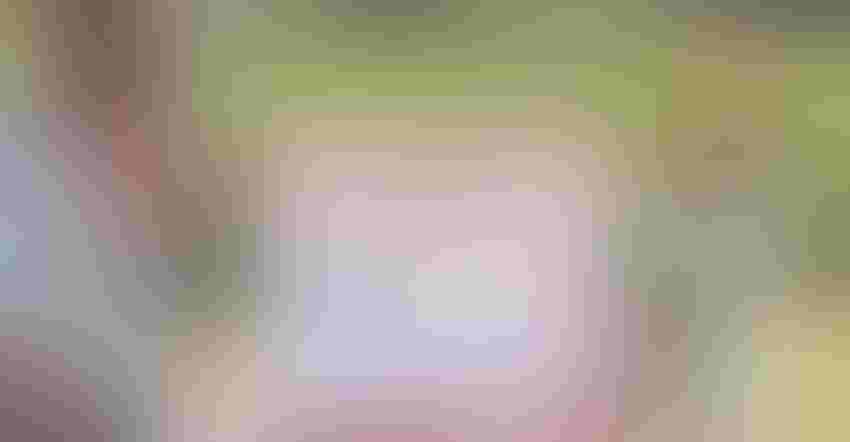 Dr. Scott Stewart, left, and Sandy Steckel presented their latest findings from 2019 research trials at this year's UT Cotton Tour at the West Tennessee Ag Research and Education Center in Jackson, Tenn.
Brad Robb
A thrips trial comparing seed treatments versus in-furrow spray or granular applications conducted at the West Tennessee Ag Research and Education Center, in Jackson, Tenn., showed seed treatments that contained Gaucho (imidacloprid) performed adequately under this season's lower-than-normal pest pressure, but a trend of tobacco thrips developing resistance to acephate continues.
Dr. Scott Stewart, professor, entomology, and Sandy Steckel, Extension assistant, presented their latest findings on the project that included seeds treated with Aeris, Gaucho, Gaucho+Orthene, and Orthene — along with an untreated check.
Treatments on seed that had a fungicide only seed treatment included in-furrow spray applications of Admire Pro or Orthene, or an in-furrow granular application of AgLogic (which is aldicarb).
An additional treatment consisted of seed treated with Gaucho plus an in-furrow spray of Orthene.
"We did a lot of screening for resistance, and it's clear we are seeing some resistance to acephate developing in tobacco thrips," says Stewart. "The epicenter of this resistance seems to be here in west Tennessee and Orthene is just not performing like it has in the past."
Stewart encouraged growers to utilize an online thrips Forecast Model hosted by North Carolina State University. "Growers can drop a pin in the model and it will tell you the risk of high populations of thrips when cotton is in its most susceptible stage," says Stewart. "It's really accurate. It told us this year that period for us would be around June 15, which is later than normal, and explains why most cotton escaped severe thrips pressure."
Lygus trait cotton
The researchers also provided insight about the new lygus trait in cotton and some data related to a trial they conducted this year. "Lygus is the genus name for tarnished plant bug," says Stewart. "We learned early on working with this trait how well it worked to prevent thrips injury."
In trials this year, the varieties not containing the lygus trait were obvious because of the substantially higher thrips injury ratings, even with commercial grade seed treatments on Bollgard II and WideStrike III varieties. "The thrips control we saw with the technology was very impressive," says Stewart. "We are also conducting tests evaluating various management approaches to see how this technology impacts plant bug numbers, injury, and of course, yield."
Less early season square loss was evident in our tests even though the trait does not kill the adult lygus. "This indicates there is some avoidance of the lygus trait by plant bugs," says Stewart. "It appears the Bt lygus trait is making the cotton less palatable to them, and although we don't see a huge reduction in plant bug nymphs from the lygus trait, that is misleading because we see substantially less injury. Maybe they're not eating the lygus trait cotton because it's not palatable to them.
"When we looked across all the trial treatments, the average number of plant bugs have been around 40 for non-Bt cotton and about 35 for the Bt cotton. That's not a big decline, but it's misleading because the injury reduction is substantially less."
Stewart admitted more studies are needed to gain a broader understanding of the technology. "My take-home point is the lygus trait will be helpful, but if you don't spray for plant bugs on this Bt technology, you're going to give up yield," concluded Stewart.
Subscribe to receive top agriculture news
Be informed daily with these free e-newsletters
You May Also Like
---