Minimum tillage spells success for Arizona's Ron Rayner
Minimum tillage spells success for Arizona's Ron Rayner
The Rayners are always interested in farming better. Ron says Bt cotton helped them better embrace integrated pest management, which helped reduce insecticide sprays. "Some years we never spray for insects," he says. His wife Heather, adds: "We wouldn't be farming today if we hadn't changed over the years.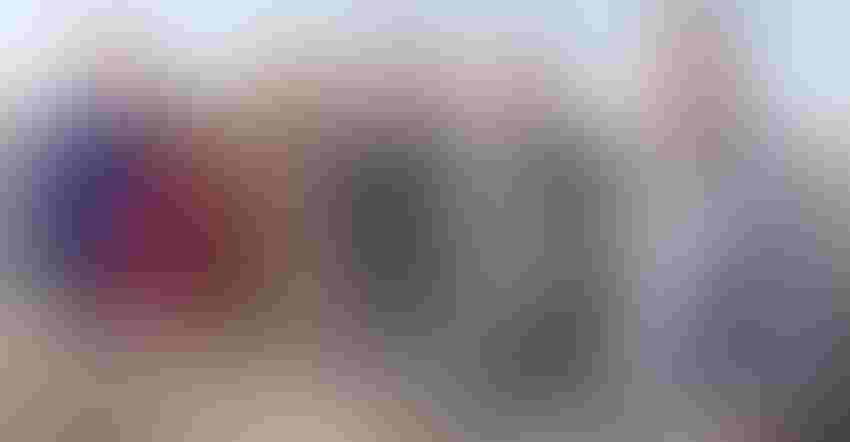 Rayner family members of A Tumbling T Ranches include, from left, Ron Rayner and wife Heather; Ron's brother, Robert and son, Perry; and Earle Junior and son John in a field of Deltapine DP 1549 B2RF at Goodyear, Ariz.
 Cotton is much more than a commodity for Ron Rayner and his family's A Tumbling T Ranches at Goodyear, Ariz. Fiber production plays a key role in their multi-year minimum tillage crop rotation system, which reduces water use, soil erosion, and equipment, labor, and input costs.
Launched in 1996, their system includes no-till planting after harvesting of wheat, crop rotation, border flood irrigation, and a conservation tillage system. "It's basically a conservation agricultural system," says Rayner, the Farm Press/Cotton Foundation recipient of the 2018 High Cotton Award for the western states. "It's the only way we can farm with a true no-till system," he says, noting that plowing is only needed when newly acquired fields are readied for planting. 
Ron and his brothers, Earle and Robert, have farmed together for 50-plus years, an operation begun in 1946 as a dairy by their late parents, Earle, Sr., and Clara. Located next to the farm office is the cramped 800 sq. ft.  home where the three boys and two sisters were raised.
Today, due to urban encroachment, the Rayner home farm is bordered one mile to the north by the Phoenix-Litchfield Airport, and about three miles to the southeast by Phoenix International Raceway, which features NASCAR races.
Their farm operation also includes Earle's son, John, and Robert's son, Perry, plus wives of the three brothers. Together, they farm about 6,000 acres in the Grand Canyon State, including about 4,000 at the Goodyear home farm, and another 2,000 acres to the southwest near Gila Bend.
In California, the family owns about 4,000 acres of farmland, including about 3,200 acres near Five Points leased to other farmers. On the remaining acreage near Exeter, they farm wine grapes and citrus.
 CROPS ROSTER
Their Arizona irrigated crop mix in 2017 included upland cotton, alfalfa, durum wheat, and forage sorghum. Cotton varieties included Deltapine's workhorse DP 1044 B2RF, and DP 1549 B2XF, along with DP 1725 B2XF and DP 1646 B2XF that are grown under seed contracts, and DowDuPont's PhytoGen 444 WRF.
Cotton yields average about 3 bales per acre. In 2016, production averaged 1,772 pounds. Ron participates in Monsanto-Deltapine's New Product Evaluator program, and hosts annual University of Arizona cotton varietal trials.
The minimum-till system on the clay sandy loam soil produces better cotton, Ron says. "The quality of our cotton is higher by using this double-crop system; it produces longer staple, lower micronaire, and improved fiber strength."
Due to rotation timing, their cotton is produced in a shorter growing season, planted from mid-May into early June, with a November harvest. Rayner sometimes gets questions from other farmers who drive by the fields in early August and, seeing less mature cotton, ask if he expects a decent crop. The answer is, yes, but Rayner himself sometimes shakes his head and wonders at the green fields with few bolls.
"It's a very short window," says Robert. The identical cropping system is used at all Goodyear and Gila Bend locations. The Rayners get many visitors and lots of questions about their system. Most leave impressed by what they saw and learned.
 ROTATION BASICS
Here's a year-by-year breakdown of how their minimum-till rotation system works:
Year 1: After the final November alfalfa harvest, fertilizer is spread, and alfalfa crowns are undercut with a Koenig finishing ripper with wings. Wheat is drilled the first week of December, followed by harvest mid-May. Cotton is planted immediately into the wheat stubble and harvested November to early December, followed by shredding of stalks. Preplant fertilizer is spread, followed by the finishing ripper to undercut stalks.
Year 2: Wheat is drilled the first week of December, with harvest mid-May. Cotton is planted no-till into the stubble. Harvest is in November, followed by shredding of stalks and spreading preplant fertilizer.
Year 3: The finishing ripper is run and wheat drilled the first week of December, with harvest mid-May. Forage sorghum is planted into the wheat stubble, and forage is chopped in late September, followed by preplant fertilizer and the finishing ripper. Then, alfalfa seed is drilled.
Years 4 and 5: Alfalfa is grown.
Year 6: Alfalfa is grown, and then terminated in November. After which, return to the Year 1 schedule and start the process over.
 WATER SAVINGS
The farm's water source is mostly groundwater, and the highly organic soils from rotation reduce crop water use. Rayner shared water use data generated by the University of Arizona, including several graphs, one of which shows average water use for a conventionally-grown Arizona cotton crop to be about 42 inches of consumptive use.
The second graph illustrates water use under the minimum-till double-crop system for wheat and cotton grown in the same year. Water use for cotton dropped to 26 inches per crop (18 inches below the average), and water for wheat totaled about 23 inches. Combined, total water use for wheat and cotton was less than 5 acre feet per acre.
This frugal water use is important in Arizona, which has been under an official statewide drought for about 18 consecutive years.
 CONSERVATION AGRICULTURE
The three elements of their system that fulfill the definition of conservation agriculture include:
1–Continuous minimum mechanical soil disturbance.
2–Permanent organic soil cover (plants or residue).
3–Diversification of crop species grown in sequences which are beneficial.
The fields are first prepared for the system by creating 60-foot-wide borders with a GPS-equipped tractor, and then are laser leveled between the borders to a flat grade and a downslope away from the irrigation ditch. This precise grading isn't disturbed during the six-year rotation, allowing for crop rotation without major tillage. 
Crops are planted on the flat without furrows or beds. The finishing ripper can undercut cotton, sorghum, or alfalfa roots, and the spike roller pulled behind pins down the residue. For fields with a slight slope, they apply the granular product Soil Fix to reduce soil erosion. It contains a soil polymer polyacrylamide that's dribbled into the water during first irrigations.
The Rayners depends on their pest control advisers, Randy Landwerlen and Cash Veo, for advice and crop assessments. Along with University of Arizona Extension specialists, they provide insight on the use of emerging technologies.
Veo, an agronomist and branch manager for Wilbur-Ellis at Buckeye, believes the Rayners' farming system helps reduce weed pressure and more. "Their weed spectrum is kept under control with minimum-till crop rotation, and they have fewer soil-related diseases with their system," he says. "They minimize weed pressure with ground cover and minimum tillage."
 STILL BULLISH ON COTTON
In addition to disappointingly low cotton prices over the last several years, Ron says heat stress in Arizona's low desert where he farms is his second largest obstacle. Minimum-tillage helps manage the effects of heat stress, as the organic matter helps keep fields cooler.
Asked if he's bullish or bearish about cotton's economic future, he responds: "I probably wouldn't plant it if I was bearish." With the family's bullish cotton position, the Rayners planted 2,500 acres of cotton in 2017, three times more acreage than the previous year.
They gin their cotton at Farmer's Gin at Buckeye. "The Rayner cotton comes in clean, and it's ready to gin" says Gin Manager Bill Brackett. "Their cotton has some of the longest staple. About 99 percent of their crop is some of the best cotton we have."
The Rayners are always interested in farming better. Ron says Bt cotton helped them better embrace integrated pest management, which helped reduce insecticide sprays. "Some years we never spray for insects," he says. His wife Heather, adds: "We wouldn't be farming today if we hadn't changed over the years. Ron, Robert, Earle, Jon, and Jason have made the operation successful."
Like a radio, the farm is 'tuned' to the future, as the brothers share their knowledge and expertise with John and Perry, who someday will farm on their own.
"I'm very blessed and grateful for my family," says Jason, who earned a University of Arizona degree in agricultural technology and management, and is the day-to-day crops manager of the Goodyear farm. Perry says, "This farm is successful because of the years of experience of my dad and my uncles. I try to learn as much as I can from them."
 LEADERSHIP EXPERIENCE
Over the years, Ron has served on several cotton, agricultural, and water associations, including president of the National Cotton Council and the Arizona Cotton Growers Association. He served as chair of Calcot, Inc., and as a board member of the Central Arizona Project and the Family Farm Alliance, among others.
"I've only been able to serve in these positions because of the support of my family," he says. "Without them working the farm and keeping it going, I wouldn't have been able to travel the country and the world through these organizations."
The family farm and its success are due entirely to their family partnership, which was started by their parents, Ron says.
Subscribe to receive top agriculture news
Be informed daily with these free e-newsletters
You May Also Like
---