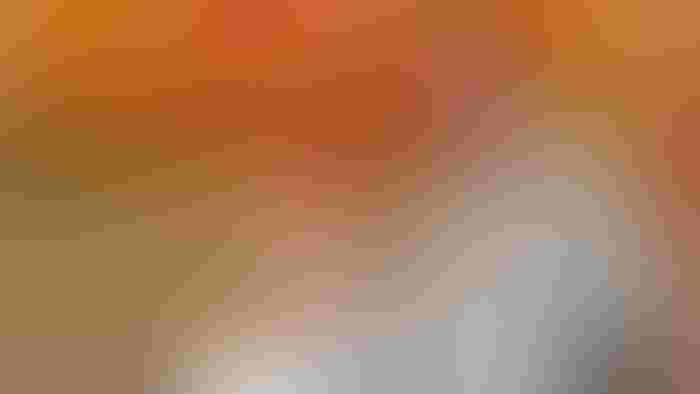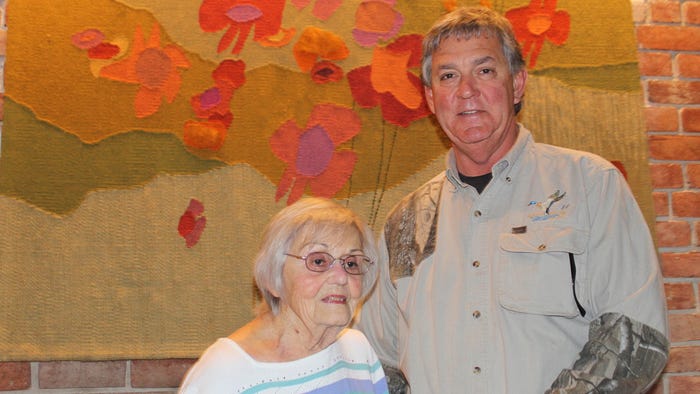 Mrs. Bill Lindamood and her son, John Lindamood, reminisce about the farming operation and gin her family has owned for decades. "Ms. Helen" was very involved in the operation of the gin, the Phoenix Gin, in Tiptonville, Tenn., from the time she and her husband, Bill, returned to the farm in the early 1950s.Forrest Laws
Change can be difficult, especially when it involves farmland and a cotton gin that you, your parents, grandparents and great-grandparents farmed and operated for decades.
But John Lindamood can hear the voices of his ancestors and his mother, "Miss Helen" Lindamood, and he believes they understand the time has come for changes to Lindamood Planting Company and the Phoenix Gin.
"My father (the late Bill Lindamood) finished a chemistry degree at Harvard University in three years so he could bring his wife back to Tiptonville (Tennessee) to farm," said John. "When he passed away in 2021, I think he knew we would need to move in new directions."
Much has been written about succession planning in farming circles. Many farmers would rather not think about the day they have to step away and turn their farming or ginning operations over to someone else.
The future
John and his siblings have been thinking about the future, and they have a plan that will allow John to retire and for others to continue the farming operation well into the future. The plan included closing the 100-plus-year-old Phoenix Gin in Tiptonville at the end of the 2022 ginning season.
"Our gin manager, Jerry Chadwick, had indicated he planned to retire," said Lindamood. "None of my siblings nor I were interested in trying to run the gin. The advances in module handling will allow us to transport cotton to another gin we already have a relationship with."
Phoenix Gin has been in the family since J. Harry Smith, John Lindamood's great-grandfather, traded his interest in the Wynnberg Gin, which was also located in Lake County near Tiptonville, for full ownership of the Phoenix Gin in 1930. The original Phoenix Gin, built in 1913, was steam-powered.
Fire destroyed the wooden building that housed the gin and the machinery in 1941, but Wynn Smith, J. Harry Smith's son and John Lindamood's grandfather, promised in a newspaper article at the time that it would be "rebuilt immediately with the most modern equipment." Wynn Smith leased another gin to take care of the Phoenix Gin's customers until the new facility was completed.
The new gin opened later that year, and Wynn Smith continued to manage it and the family farming operation. He also owned the Shrine Building located near the corner of Front Street and Monroe Avenue in downtown Memphis. (John and his mother remember watching the Cotton Carnival fireworks from the roof of the building in the 1960s.)
Returning to the farm
In 1952, Bill Lindamood and Miss Helen, returned to the farm and began raising a family that eventually grew to four children: William E. Lindamood Jr., Benjamin L. Lindamood, John Lindamood and Kathryn Lindamood Clegg. Bill Lindamood ran the farm, the gin and also managed the Shrine Building.
"Back in those early days, we ginned four bales an hour (up from two bales an hour before Lindamood updated the gin)," Bill Lindamood said in an interview in 2006. "Cotton was brought to the gin by mules and wagons."
From the beginning of his career, Bill Lindamood was a believer in innovation, encouraging his children to learn about new technology. He also gave back to the cotton industry and his community. He was a member of the National Cotton Council and president of the Southern Cotton Ginners Association. He was named Ginner of the Year by the SCGA in 2004.
He served his church and helped Lake County residents attend college, including putting one through medical school. The latter established a scholarship fund that provides tuition assistance to others in the county. "That was part of my dad's request – to pay it forward," John said.
"I came back to the farm in 1984 after closing an unsuccessful restaurant business," he added. "I had a choice between culinary school to pursue that career or coming home to farm. Dad was getting ready to retire. Farming was as tough then as everyone remembers it, but Dad said if I wanted to come back, he would work until the farm could support itself. Then he would retire.
"That was 40 years ago. He retired about a year and a half ago at age 91, and he was involved in the business every day up until that last year. We both worked on the farm and the gin initially. After the first five or six years when I got my feet under myself, he turned the farm over to me and focused on the gin."
Current operation
Lindamood Planting Company grows 4,800 acres of cotton, wheat, corn and soybeans in the Tennessee "Delta," the narrow strip of alluvial floodplain between the Mississippi River and the hills of west Tennessee.
The soil is fertile – "We can raise really good corn, 200 to 250 bushels per acre, 70-bushel beans, 100-bushel wheat," John Lindamood said. "That allows our growers to be flexible."
Cotton yields have averaged 1,250 pounds of lint per acre over the last six years – due to the innovation and attention to detail Bill Lindamood emphasized years ago.
"Dad encouraged me to attend the Beltwide Cotton Conferences early on," John said. "He thought I would learn a great deal – not just from the speakers, but from meeting and talking to other producers in the hallways and the social events."
He remembers one Beltwide presentation in particular – when the late Kenneth Hood spoke on precision farming. Hood used satellite imagery technology from NASA to provide farmers with up-to-date crop information through the InTime Inc., company he founded.
"It was like a light bulb went off," said Lindamood. "I listened to Kenneth, and I thought that could help our farming operation. Our soil types change every few feet across our fields, and I thought variable rate technology could help us.
"We're in the old Mississippi flood plain, and the earthquake fractures spewed up sand in fissures all across here," he said, referring to the New Madrid, Mo., earthquake that caused the Mississippi River to flow backwards in 1811 and form the nearby Reelfoot Lake. "You will be going through heavy clay and hit a sand blow, and that kind of variation may occur several times in the same field."
No-till operation
In the early 1990s, John began planting no-till, using techniques that John Bradley had developed as a University of Tennessee Extension agent in Lake County before becoming director of the Milan, Tenn., Research Station.
John also plants a combination of cereal rye and hairy vetch for cover crops on his sandier soils. The vetch fixes nitrogen that can be used by cotton and other summer crops and the cover helps shade out small weeds.
In recent years, John has been using Granular software to assign tasks to his employees. "All our guys have smartphones, and they access Granular through an app. They pull up their work orders, initiate the work and verify that it's been completed on their phones."
John's siblings have also been involved in bringing new technology to both the farm and Phoenix Gin. In 1992, William Lindamood, who had been working as an engineer selling designed hydraulic system and vibration isolation components in Seattle, returned to Tiptonville to help with modernizing the gin.
"In the 1980s, farmers in northwest Tennessee stopped growing cotton for several reasons," William Lindamood said "Four or five gins in the area closed and sold their equipment. We continued to grow 200 or 300 acres of cotton."
After a few years, conditions improved, farmers began growing cotton again and Phoenix Gin resumed operations. "I could tell they were struggling so I offered to come back and try to help. One of the first things we did was install one of the then-new Universal Density Presses," he noted. "Then we added other new features such as replacing the old 141 Gin Stands with Consolidated 164 stands."
Computer operations
William and brother Ben Lindamood, a computer engineer, also began working to computerize some of the recordkeeping at the gin. Until then, every bale that came through the gin was recorded by hand in a gin logbook. "We had a computer in the Red Building, the office building for the gin, but it wasn't being used to record the information on the bales.
William Lindamood moved on to work for Zellweger Intelligin and Continental Eagle in the U.S., Turkey and other countries. He is now director of safety for the Southern Cotton Ginners Association.
When William left, Jerry Chadwick, who had grown up around Reelfoot Lake, became gin manager. Chadwick, a childhood friend of John's, continued to improve the efficiency and safety  of the gin.
Later, Daniel Arant, a native of Weakley County, Tenn., began working on computer software that enabled the gin to provide electronic warehouse receipts to growers and other programs that enhanced the efficiency of the gin,
Arant, who didn't grow up in a cotton area, proved to be a quick study and began helping John Lindamood with computer programs involved in the farming operation. He now serves as farm manager for most of the growing season while still working at the gin in the fall.
Meanwhile, John has continued bringing technologically adept young people into the farming operation. Bobby Shafer, a recent Murray State University graduate, has been working on the farm,
"Bobby has been what Daniel was when he first started with us 20 years ago," said John. "He has learned a lot about the practical side of farming while helping us adapt new technology.
"I have to say that I will be happy to see Daniel working on the farm fulltime in the fall now that the gin is closing. He hasn't been available during harvest so he hasn't seen that side of the operation. But he knows what the gin needs during harvesting so that will be a plus."
As John Lindamood moves closer to retirement, Arant will become the primary operator of the farm. You have to think Bill Lindamood and his stepfather and grandfather would be proud to see their legacy continue.
About the Author(s) Forrest Laws, senior director of content for Farm Press, spent 10 years with The Memphis Press-Scimitar before joining Delta Farm Press in 1980. He has written extensively on farm production practices, crop marketing, farm legislation, environmental regulations and alternative energy. He now oversees the content creation for Delta, Southeast, Southwest and Western Farm Press. He resides in Memphis, Tenn. He served as a missile launch officer in the U.S. Air Force before resuming his career in journalism with The Press-Scimitar.
Subscribe to receive top agriculture news
Be informed daily with these free e-newsletters
You May Also Like
---