Jesse Curlee's Supima tenure marked with success
Jesse Curlee's Supima tenure marked with success
Jesse Curlee, 70, will retire Jan. 1, 2016 as head of Supima, the grower-funded promotional arm of American Pima cotton growers."Jess ran the association for the growers — with unmitigated honesty," says El Paso, Texas, Pima producer and former board member Bob Skov. "You could work with him with complete confidence in his integrity. His word is his bond."Curlee's tenure at Supima has been nothing short of meteoric.Sales increased from 60,000 bales when he arrived to more than 850,000 bales in the 2011 marketing year.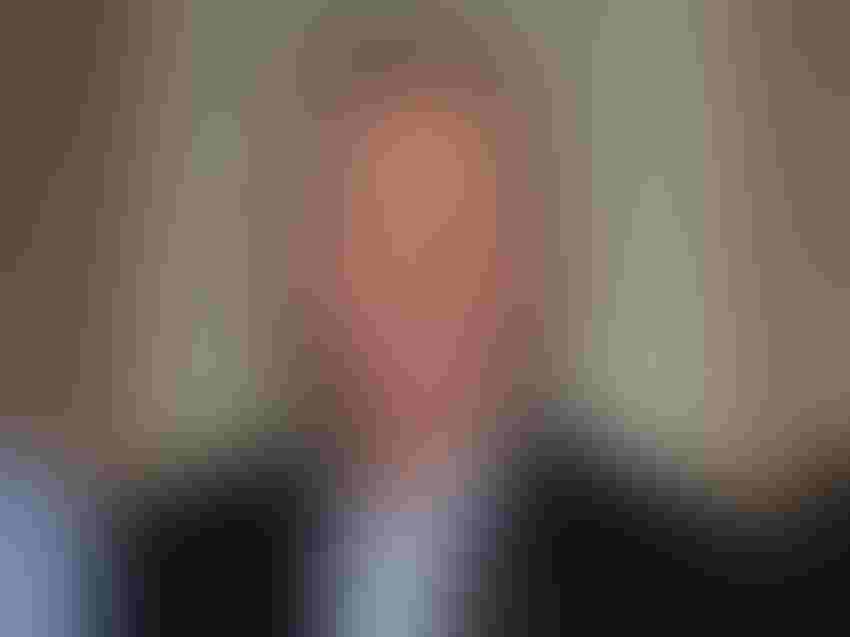 Numbers define a marketing career, and a more than twelve-fold sales increase during his 36-plus years as president of Supima certainly qualifies Jesse "Jess" Curlee's tenure as successful in a job he turned down once — and almost did a second time.
Curlee, 70, will retire Jan. 1 as head of the grower-funded promotional arm of American Pima cotton growers in Texas, New Mexico, Arizona, and California.
As astounding as the numbers are, how Curlee and Supima established U.S.-grown extra long staple cotton as a branded, premium cotton in both the fine quality apparel and home furnishings markets is just as important to those who have worked with him over the years.
He was an executive of the Georgia Textile Manufacturers Association when friends he had met through the National Cotton Council and other cotton organizations contacted him about taking a job with the fledgling Phoenix organization.
"Textile manufacturers in Georgia had used a little Pima cotton, primarily to make thread," he recalls. "The problem was no one had heard of the organization Supima." Only about 60,000 bales of extra long staple cotton were being produced at the time; by comparison, the U.S. was producing about 10 million bales of short staple cotton.
So, Curlee turned down the offer. But Arizona cotton grower Wilbur Wuertz, western cotton merchant John Barrentine, and former Calcot president Tom Smith persisted, and Curlee accepted the second offer and he and his family moved to Phoenix.
His was a turbulent ride at times, but overall, he says, it has been a triumphant adventure that has seen Pima cotton move from obscurity to a premium quality natural fiber now recognized worldwide.
Grower interests foremost
"Jess ran the association for the growers — with unmitigated honesty," says El Paso, Texas, Pima producer and former board member Bob Skov.
Skov said, "You could work with him with complete confidence in his integrity. His word is his bond."
A veteran of many organization boards, Skov says many executives are enamored more with self-promotion than serving their constituents.
"But Jess ran Supima for the growers, not for personal aggrandizement. He is totally devoted to the industry and to the growers he represents. It is a pleasure to work someone like that."
Curlee was challenged early on. When he joined the organization, Pima cotton was produced with government allotments, primarily in Texas, New Mexico, and Arizona.
"It was a virtual monopoly," Skov says, "and as growers, many of us were extremely dubious about opening it up to a free market system."
The push to end allotments was coming from USDA, but Skov says growers were resistant to change; many understood, however, that they couldn't operate as a monopoly and increase production and sales.
Keith Deputy, Las Cruces, N.M., immediate past chairman of Supima who farms in the Mesilla Valley of far west Texas and southern New Mexico, says the demise of the allotment system was a "huge deal — and very controversial." But Curlee handled the discussions "very professionally and diplomatically, convincing growers the only way to increase Pima's markets was to allow others to grow it."
Ft. Hancock, Texas Pima producer Jim Ed Miller calls Curlee "Mr. Supima," and says he's amazed at the level of sales Pima has reached worldwide in the wake of allotments ending.
"It was a good move by everybody," Miller says.
When allotments ended, more areas across the then Pima producing states of Texas, New Mexico, and Arizona were opened to production. The biggest gains came in the Grand Canyon State.
Prices soon soared, as demand rose in comparison to Upland cotton. This attracted the attention of California producers. Fostering that interest was the belief of many cotton breeders that Pima would thrive in California's San Joaquin Valley.
Improved varieties
"Dr. Carl Feaster told me years ago that he felt Pima would do well there because the nights were cooler than in Arizona," says Curlee. Feaster headed the USDA Pima Cotton Improvement Program for decades, and bred and released six commercial Pima cultivars with improved yield and longer fibers.
For more than 40 years, those varieties were planted on 100 percent of Pima cotton acreage.
Other private and public cotton breeders concurred with Feaster, but many California and Arizona growers didn't favor expansion for different reasons.
Arizona growers like Wilbur Wuertz and others had seen problems starting to surface with Pima yields and quality in Arizona. They also realized that to increase the market, more Pima was needed, and that it should be grown where it could be grown."
In California, that notion ran headlong into the San Joaquin Valley one variety law, which had for decades closed the valley to any Upland or other cotton types except Acala — even though Pima was a higher quality cotton than Acala.
However, there was enough support that the San Joaquin Valley Cotton Board agreed to conduct commercial research on the feasibility of allowing Pima into the valley. Results quickly verified Feaster's belief, and in the early 1990s the valley was opened to Pima.
California now produces more than 90 percent of U.S.-grown Pima.
For the latest on western agriculture, please check out Western Farm Press Daily and receive the latest news right to your inbox.
"Pima would have died without California production," says Curlee. Ironically, Pima ultimately saved the SJV cotton industry because Acala/Upland cotton acreage has dropped dramatically since the early 1990s due to water shortages and the fact that other crops return more dollars than cotton.
The rapid transition to Pima into California also brought new growers to the Supima board. Jeff Elder, vice president of cotton marketing for J. G. Boswell Company, the nation's largest Pima producer, is one. He has served as Supima board chairman and remains on the board.
A people person
"One of the most satisfying aspects of my career is that I have had the good fortune to travel to many parts of the world with Jesse," Elder says.
"One thing that has always fascinated me is his capacity to make such a positive first impression every time,"Elder shared. "I don't remember Jesse ever showing up for a meeting without his ' A game.' That's a testament to his sincere affinity for people and their cultures, as well as his passion for Supima."
"Over the years Jesse has helped Supima make a larger impact and with a smaller budget than any other person and organization in the global textile industry."
Earl Williams, retired president of California Cotton Ginners and Growers Association, has known Curlee for many years, and CCGGA has represented Pima in recent years in the valley. He remains an advisor to the Supima board.
Williams' long career has centered on ginning and growing cotton.
"Jess," he says, "showed me a side of business I had never seen before. What has always amazed me about Jess is that he can sit down with business leaders like the presidents of Brooks Brothers and Lands' End — with all the respect in the world for each other — and talk business."
The two companies are among the biggest marketers and promoters of Supima apparel.
"Jess is Supima," Williams says, "and the things he has done has made it what it is today."
Nancy Boyd, office administrator/accounting manager at Supima, joined Curlee three months after he was hired. When she walked into his office, Curlee was seated between a pair of two-drawer file cabinets with a door for a desk.
"We've come a long way from those early days under his leadership," Boyd says, "and Supima has become a global phenomenon recognized internationally as the world's finest cotton. I count it a privilege and honor to support his leadership these past 36 years."
Market breakthroughs
Two of Supima's biggest market breakthroughs came from the Design Competition and Fashion Runway Show that Supima holds each year in New York City during Fashion Week. This year, Supima was invited to Paris to hold a similar, very successful fashion show at the U.S. ambassador's residence.
"Jess is a tremendous person to work with," says John Pucheu, Tranquillity, Calif. cotton producer and a former Supima chairman.
"He single-handedly built Supima into what is it is today. He took over a small organization that was selling to just a few domestic mills, and opened the Pima market to Japan and the rest of the world.,"
Fresno County, Calif. cotton producer Don Cameron has served as Supima chairman and traveled with Curlee to in China, India, and several other countries.
"In every country," he says, "Jess was received by heads of the largest and most prestigious mills and retailers in the world with the respect and warmth of a long and valued friend."
Worldwide reputation
Curlee says he can't count the airline miles he has logged — "at least six or seven million on American Airlines alone." For those who have traveled with him, the tales are many.
Bill Lovelady, Tornillo, Texas Pima producer had perhaps the most intriguing: "A couple years after the 9/11 crisis, it became obvious that our trade visits to Indonesia needed to resume," he says. "So, Jesse started promoting an executive trip to Asia to visit Supima's important mill customers."
Lovelady adds, "Jess assured us that we would find conditions in Jakarta good. But it turned out that our biggest customer couldn't come to Jakarta, and that we'd have to go to Yogyakarta to see him. It took some maneuvering at the last minute just to get there. After a long day, traveling on an iffy regional airline, a long evening meeting with the customers, and finally a long car ride, we arrived at our hotel.
"It was a very exotic hotel, built largely from bamboo," Lovelady says. "But as unusual as that was, the really impressive thing was that when we walked into the bar/business center a small combo broke into the old country song, 'In those old cotton fields back home.' I'll never know how that happened, but you'll never convince me that Jesse's reputation around the world wasn't the reason for that greeting."
Under Curlee's leadership, the organization began a licensing program for Pima users wanting to tag their products with a Supima logo. In the 1980s, Japan became first licensee. Matt Laughlin, now a marketer with Boswell, was vice president of Supima at the time.
"Matt and I came up with the idea of charging for the license," Curlee says. "People thought we were crazy to license the use of Pima."
But it worked. The Supima name has accrued global recognition as the "World's Finest Cotton." Supima now licenses the trademark to more than 370 spinners, knitters, weavers, manufacturers, brands, and retailers in 39 countries.
"We started charging $3,000 annually, and later raised that to $5,000," Curlee says. "Almost half of Supima's annual budget now comes from licensing."
Marketing background
Being heralded as a worldwide marketer of the 'World's Finest Cotton' is a long way from an upbringing as the son of two educators in Sour Lake, a south Texas city that's part of the Beaumont-Port Arthur metropolitan area. Growing up, Curlee's closest connection to cotton was visiting his grandfather in Live Oak County, Texas, where there was a small cotton patch.
He attended Texas A&M University, majoring in marketing.
"I knew I wanted to go into sales and marketing," Curless says. "Growing up, I was around a lot of sales people who called on my school administrator father."
Curlee's first job was with Armstrong, the flooring/building materials company. But he wasn't selling floors; rather, he sold Armstrong-manufactured machinery parts for the textile industry. Armstrong had hired him right out of A&M and sent him to Atlanta.
The personable Curlee was successful with Armstrong, making a positive impression on his textile manufacturing customers, who offered him a job with the Georgia Textile group.
Some 40 years later, he still maintains connections with the families from those textile mill days. Earlier this fall, he was invited back for a retirement dinner there, as he has been for many of his industry friends in Japan.
Japan targeted for growth
In the early 1980s, Curlee targeted the Japanese market for growing Pima overseas. It turned out to be a long process. Mills there were big users of Egyptian extra long staple cotton.
"When I first went there," Curlee says, "I spent two or three days making presentations. The Japanese were so cordial. I thought I had sold them on using Pima cotton."
But eight months of silence followed his return to Arizona. Finally, he pulled aside a cotton trader at a conference to try and find out what he had done wrong. Nothing, the trader said — the Japanese must completely understand a product to buy it. "You need to establish a relationship with them. You can't just make one trip to Japan and expect to make a sale."
Curlee began an aggressive follow-up informational campaign, followed by more trips, and eventually Japan became one of the largest users of American Pima cotton, with 10 Supima licensees.
Branding American Pima cotton with the Supima logo was also a unique undertaking.
"Advertising agency people told us we couldn't brand Pima," Curlee says. "They said Pima was just an ingredient. But, we said, Pima is an ingredient just like Intel is an 'ingredient' of Dell computers, and everyone knows what happened with Intel there."
Supima branding was also an answer to Pima's biggest competitor, Egyptian cotton.
"It's tough to overcome the Egyptian brand — the pyramids and the mysticism of Egypt," Curlee says. "That resonates with people. It was a slow process for Supima, but today the trade knows Supima well, and consumers know it. It's a valued brand for our customers."
Developing export market
Curlee's tenure at Supima has been nothing short of meteoric, with sales increasing from 60,000 bales when he arrived to more than 850,000 bales in the peak marketing year of 2011. That number has fallen since, but it has been due more to economics and water issues in California than marketing.
"When I got here, my main goal was to develop an export market. My dream was to sell 200,000 bales a year. I wish I could say I'd had a vision of 800,000 bales."
As the self-effacing Curlee details his career, he is quick to credit others for the Supima success that was has been achieved on minuscule budgets of just $2 million to $3 million per year, amounts he has leveraged by teaming up with Supima's biggest customers.
"It's worth millions"
The Lands' End catalog mentions Supima cover-to-cover. The latest Brooks Brothers catalog has 16 pages of Supima, and Supima is prominently displayed in every one of their stores. Many similar examples could be cited.
"It's worth millions to have Supima in the windows of the Brooks Brothers store in New York," Curlee says. "The success of Supima has been all about relationships."
One of the things of which Curlee is most proud is that grower dues have not changed since 1954 — they're still $3 per bale.
"I have been unbelievably fortunate to have had outstanding leaders on the Supima board," he says. "And Supima's customers have become close personal friends."
With retirement just around the corner, he says there are no regrets — just great memories.
And he expects that slowing down won't be easy. He will still be available for consulting, but he also expects to indulge his passion for gardening. He recently built a new home east of Phoenix and is a frequent visitor to the Home Depot gardening department.
"I like to talk to people and watch them select plants," he says. "If I see them pick something that won't work for Arizona, I'll talk with them and suggest something else that might work." He says laughingly, "Maybe that is my next calling."
Always the marketer…
For the latest on western agriculture, please check out Western Farm Press Daily and receive the latest news right to your inbox.
Subscribe to receive top agriculture news
Be informed daily with these free e-newsletters
You May Also Like
---