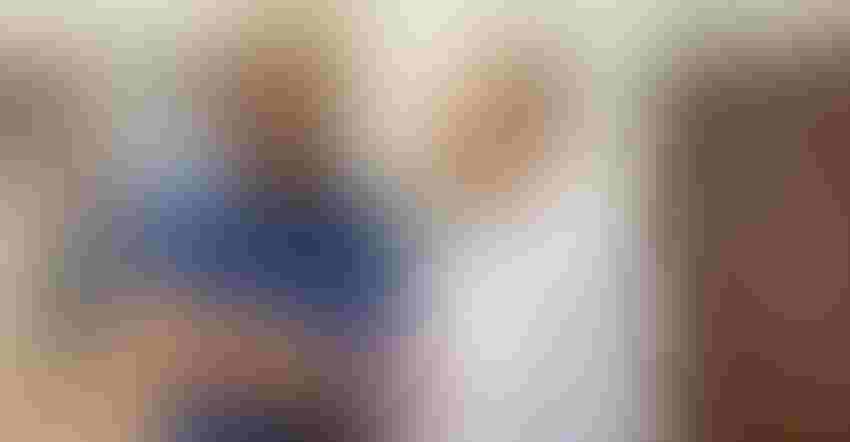 Producer Clay Lewis, left, visits with Shawn Holladay, chairman of the American Cotton Producers of the National Cotton Council, at the West Texas Agricultural Chemicals Institute Conference at the Bayer Museum of Agriculture. Lewis was one of three growers who participated in a grower panel. Holladay talked to attendees about the Cotton Trust Protocol.
From weather to pest challenges, to drift concerns, three Texas South Plains growers weighed in on the 2019 season on a producer panel at the 67th Annual West Texas Agricultural Chemicals Institute Conference, Lubbock, Texas.
The panel was moderated by Dr. Murilo Maeda, Texas A&M AgriLife Extension cotton specialist, Lubbock, who asked the growers to introduce themselves by describing their operations and management practices. But he also asked them about challenges and possible solutions with which either Extension or the ag industry might help.
from left, Clay Lewis, David Warren and Kris Verett.
First, was Clay Lewis, who farms 3,500 acres of cotton in Terry County with his father. He said two-thirds of his land is dryland and, a third "lightly irrigated" or "humidified," he joked. His management techniques range from conventional cotton and old school tillage to the newest thing he can get his hands on. "I came fresh from College Station to the turn row," Lewis said.
See, Larry Yowell, Tommy Doerderline honored for service to ag 
Next, was David Warren. He farms about 10,000 acres with his family in Dawson County ──1,000 of which are organic. In his 20th growing season, he said most of his acres are dryland. "We've tried all sorts of minimum, no-till ideas but nothing's worked as good as the conventional till," he said.
Last, was Kris Verett. He farms 4,000 acres with his father and uncle in Crosby County. Sixty percent of their acres are irrigated. "We're 100 percent no-till with cover crops, rotating half and half. We plant small grains right behind the picker and then we either harvest that or don't. Then we plant multispecies covers, graze those, let them winter kill and then plant cotton back into it."
Mixed Bag
Maeda kicked off the discussion by talking about the mix of weather conditions across the area. "Some went into May with a warming trend and others with a cold spell the second week of May, so that held back some people (from planting) and then they went after it. When we look at the rain patterns, areas south of Lubbock missed most of the rains but that means they also missed the hail. Everything west of Lubbock and to the northeast, caught quite a bit of rain but they also got quite a bit of hail." 
In Terry County, Lewis said there were some growers who replanted two and three times due to the hail.
"We probably had the best start we've ever had," said Warren, but after 60 days of no rainfall, his dryland crop is suffering. "There may be about half of my dryland that's not harvestable."
Verett said he started the year off extremely wet. "We planted straight into the cover, it protected the crop early on and we had a great stand. We had a few places with some patchy hail but low-quality seed was my biggest problem, poor cold germ seed."
And as a result, Verett said they had to replant quite a bit of cotton. "If it hadn't been for that, I don't know that we would have had any replant cotton this year."
The growers also commented on pest and disease issues.
"This year is the first time in a long time we've had to spray about 70 percent of our irrigated crop for aphids," said Verett. "We sprayed a good bit of everything with Transform, which worked really well."
Both Lewis and Warren said they had a few stinkbug issues but nothing at threshold.
Drift Issues
All three growers spoke to drift issues within their county and the importance of neighborly communication and training. Lewis expressed the need for more products to be labeled specifically for West Texas.
"We are a unique region compared to other places that grow cotton," he said. "Things work differently here."
To further make his point, Lewis referred to a situation with a neighbor, who he added, he gets along with, but who had accidentally "tagged 1,000 acres" of his ground.
"I was standing on the turn row the day he sprayed. The wind was perfect, everything was correct. Situation reversed, I would have been spraying as well. I had no idea he was using a different technology than I was. He's the one who called me to let me know I had damage," Lewis recalled. "The technology went over into mine. The guy was doing everything right ─ I was there. But there is something specific to our region that some of the products are not reacting here like wherever they were tested. That needs to be looked at. It's a specific problem in this region that needs to be addressed."
The panel also fielded audience questions. One of the attendees asked, "If you could change one thing this production season that would impact your outcome the most, what would it be?"
Lewis said, "I would have contracted all of my cotton in March," which was followed by empathetic laughter from the crowd.  
Warren said, "I planted three-fourths of my cotton acres in standing milo. It worked great, didn't blow ─ I got a perfect stand. But then it hit a hardpan in July. I couldn't even get a soil probe through. Maybe if I were several years into the no-till it would be better but some of that stuff is half-a-bale different.
"The crop's just not there."
Verett concluded, "I would have been much more diligent about requiring a cold germ before I went to the field. I normally do, but I took for granted that this variety didn't normally have those problems and it ended up being about 26 percent cold germ on about 25 percent of my irrigated acres and probably cost me about a bale to the acre."
The conference, held at the Bayer Museum of Agriculture, included presentations on pesticide laws and regulations, gene drive technology, Cotton Trust Protocol, integrated management strategies and concluded with an IPM panel.
WTACI is an unincorporated organization of dealers, industry representatives, agricultural producers, scientists, educators, and agribusiness members who support education and research programs promoting safe and effective use of agricultural chemicals and protection and preservation of the area's natural resources.
Subscribe to receive top agriculture news
Be informed daily with these free e-newsletters
You May Also Like
---