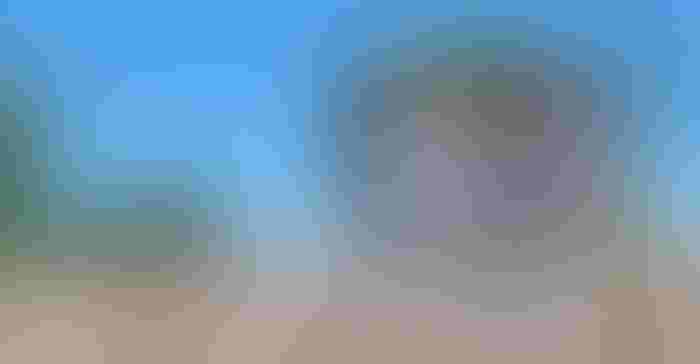 Growing up a farmer's son, Tracy Heinrich's father warned him and his two brothers to prepare for a rainy day because it's coming, Tracy recalls. "One of these days you're not going to have your yields and your price," Joe D. would say.
"The flip side of that is what you see here today," Tracy says, as he drives the cotton stripper about 2 miles per hour through what is likely to be a record-yielding crop near Slaton, Texas.
"We've grown a lot of 50-cent cotton, especially lately. Poor yields, big drought," he says, comparing it to the dollar cotton he's brushing off the stalk. "Seeing is believing on this one. I'm trying to keep from getting too excited."
See, Young producer knew from day one he wanted to farm
Tracy is harvesting on land that's been in the Heinrich family for 107 years. Tracy farmed it after Joe D. and his grandfather before him. Today, Tracy's 25-year-old son, Austin, produces cotton on the century-old farm. He anticipates his son's drip-irrigated cotton will yield 4-plus bales.
"We're real pleased. This is our first irrigated field that we've harvested so far, and this very well could be the best cotton we've ever stripped. We'll see after we get it ginned but it seems to be, the way it's acting, very high yielding."
"We've been blessed with a lot of rain this year," says Austin as he shifts his attention to the monitors then quickly back to the cotton entering his row units. "So far, everything we've stripped and had ginned, we've been very happy with. We can't complain. We're very blessed."
Austin echoes his father's sentiments, "This might be the best cotton I've ever stripped, so I'm very excited."
Both father and son are also encouraged by the price. "For those two things to happen in the same year, that probably won't happen again in our lifetime," Austin says.
"It's crazy how things can change. A year ago, we had a terrible price and a terrible crop and here we are one year later. It's the complete opposite. It's funny how fast things can change."
For years, Joe D. row-water-irrigated this farm. "About the time my dad passed away or right after, Austin came back and started farming this place," Tracy recalls. "It had been row-watered for years but not ever put in high production until six years ago.
"He would really get a kick out of this."
Tracy credits the high yields across their drip-irrigated acres to stored moisture and fertility in their no-till soil. "We had two droughts, 2019 and 2020, where we had a dry summer. We started wet but we were dry.  On drip-tape we're only mining resources out of a small area, so everything that's in these dry rows, every other dry row, was saved the last two years. And then this year, with the summer rains, the roots were able to gather that up.
"Summer rains and residual fertility are key to this crop. We've got a lot more like this. I hope the rest of the irrigated comes in this strong. We'll see."
Dryland harvest
The Heinriches began the 2021 harvest in their dryland fields. "It was planted early, and we figured we'd get it out early. The irrigated crop was later and not quite as mature," Austin says as he's dumping cotton from the stripper basket into the boll buggy. "We tried to get a big jump on that (dryland) since it was good and get it out."
Yields have varied from a bale to a bale and a half to the acre. "We haven't gotten a whole lot of grades back yet, but they've been all over the place—some good and some bad. It just depends on when it rained and what happened to it throughout the year. Some of it burned up in the end, which is what we wanted, we needed that heat to finish everything."
As Austin and Tracy continue to strip their first patch of irrigated cotton, Austin admits he won't know anything for sure about yield or quality until it's ginned but says "the yield is looking good right now."   
Subscribe to receive top agriculture news
Be informed daily with these free e-newsletters
You May Also Like
---