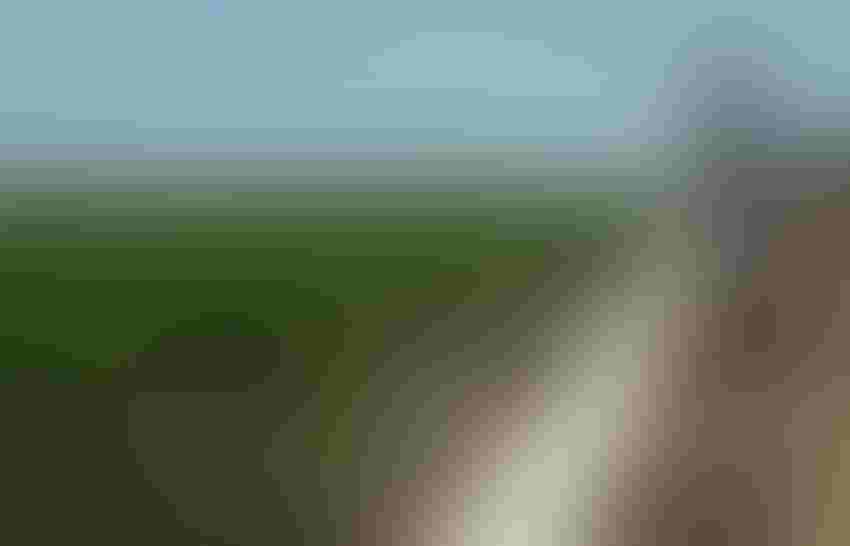 Cotton producers around much of the state are irrigating heavily amid arid, windy conditions. Dryland producers are hoping rain forecasts materialize soon.
Texas A&M AgriLife Extension staff photo
Texas cotton needs rain. The crop is flowering, just up or still being planted, depending on the specific production area for High Plains to Lower Rio Grande Valley, but one thing in common across most of Texas' cotton-growing counties, especially for dryland growers, the crop needs rain to improve soil moisture levels.
Dr. Seth Byrd, AgriLife Extension agronomist, Lubbock, said cotton producers around the state experienced favorable weather patterns last year but some 2017 could be problematic, especially for dryland producers.
Dr. John Nielsen-Gammon, state climatologist, College Station, said long-term forecasts show conditions could be drier and warmer than normal, and many areas in the state are relatively dry for this time of year.
MORE COTTON
Byrd said cotton acres in the region will rise as producers switch from corn and sorghum for a more favorable market option. Cotton is also a more drought tolerant planting option.
"Other options aren't out there because of the state of the markets," he said. "There's always a risk no matter what you plant, but cotton looks less risky."
Regional cotton fields are about 50 percent dryland and 50 percent irrigated, though additional irrigated acreage in the northern part of the region historically dedicated to corn and sorghum will be planted in cotton, he said.
Conditions were good two weeks ago, he added, so some producers took advantage and planted.
But soil moisture levels, especially the first 3 inches of topsoil, dried significantly due to high temperatures and windy conditions in the region, which has not received rain in almost two weeks, though some was expected.
"There is some dry planting going on," Byrd said. "It's not ideal, but the seed is not going to swell and rot. They're counting on the rain in the forecast."
TROUBLE AHEAD
In the Coastal Bend and Rio Grande Valley, Dr. Joshua McGinty, AgriLife Extension agronomist, Corpus Christi, said most dryland fields needed a good rain within the next few weeks or cotton could "be in trouble."
Most fields were planted in February and March and were already flowering and looked "OK" for now, he said.
McGinty said the past few years were easy as fields received adequate rain and required little to no irrigation and faced few pest and disease issues. This year, the soil profile was not as accommodating, and producers' decision to stick with cotton rather than rotate to corn or sorghum led to an increase in disease pressure, including nematodes, which are atypical for the region.
"Usually, if you start with a good soil moisture profile, you can make a crop," he said. "This year we've had enough moisture to get the crop started, but we need a good rain in the next few weeks or the cotton crop could be in trouble. The profile is dry to 2 feet or more in some areas and it won't be long before roots can't access moisture."
McGinty said producers in the Rio Grande Valley were irrigating heavily this year due to arid, windy conditions, but the water is salty and of poor quality. A good rain is needed to improve soil moisture levels and flush the salt out of fields.
"Cotton is the only thing growers think they could make a profit on," he said. "The last few years we got lucky, but then a few years before that it was bad in some areas, so it is hit or miss. It all depends on the rain."
Subscribe to receive top agriculture news
Be informed daily with these free e-newsletters
You May Also Like
---