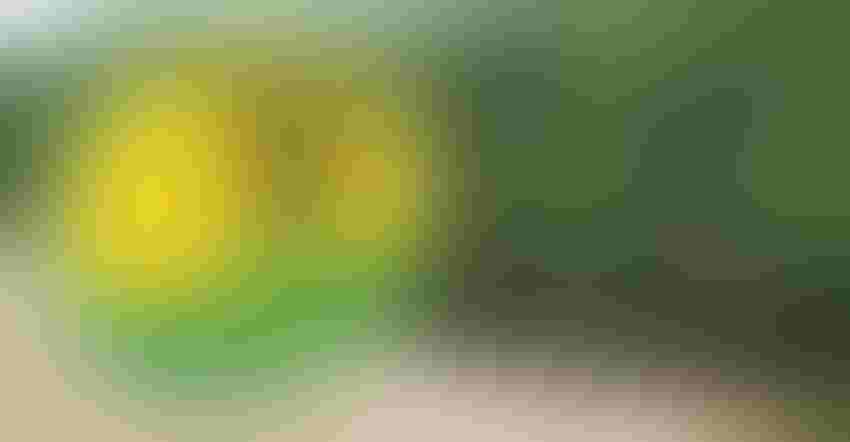 In the central Mississippi Hills, Mike Graves and his sons, Tyler, Allen and Michael, farm many small dryland river and creek bottom fields and hills, some of which get irrigation. They've been successful with DP 1646 B2XF, but it's time to switch to Bollgard® 3 XtendFlex® cotton — and the right variety has arrived.
"Worm pressure is starting to get heavier in Bollgard® II XtendFlex® cotton here, so we are looking to go all Bollgard 3 XtendFlex cotton," Tyler said. "We sprayed Bollgard II XtendFlex cotton twice last season. We've been looking for something to take the place of DP 1646 B2XF, and I think DP 2055 B3XF is the one. It's like a souped-up DP 1646 B2XF."
It seemed more like a super-charged cousin of Graves' old favorite cotton variety. On one 55-acre field of cotton following cotton, DP 2055 B3XF made 170 round modules, which factors to about 3.1 bales per acre. On one 125-acre field which begins as a hill and slopes downward to a bottom, the variety averaged 1,100 pounds per acre, but had spots making much more.
"I shot a video coming off the hill into the bottom where on about 3 acres, the yield monitor — which is tied into Climate FieldView™ platform and very accurate — showed 4.5 bales per acre," said Graves. "Spots were going upward of 2,800 pounds per acre — that is 5.5 bales per acre, and I have never seen any cotton hit that high on those spots in the field before. It shows the potential of DP 2055 B3XF."
Wet, soggy spring weather delayed cotton growth, setting the crop back three weeks. They typically harvest cotton the end of September, but in 2020, they did not begin until October 15. The crop suffered through periods of hot, dry stress, which is especially tough on cotton planted on hills.
DP 2055 B3XF has performed well on this North Mississippi farm for two seasons. It is pegged as a full-maturity variety, and though managing plant growth and development requires attention, it has not been an issue, according to Graves.
"I watched this variety planted on a 55-acre field, which was planted in cotton the season before, and make 3 bales to the acre, plus," said Graves. "DP 2055 B3XF is going to be our primary variety in 2021, even though we farm these hills and bottoms in North Mississippi."
Bayer is a member of Excellence Through Stewardship® (ETS). Bayer products are commercialized in accordance with ETS Product Launch Stewardship Guidance, and in compliance with Bayer's Policy for Commercialization of Biotechnology-Derived Plant Products in Commodity Crops. Commercialized products have been approved for import into key export markets with functioning regulatory systems. Any crop or material produced from this product can only be exported to, or used, processed or sold in countries where all necessary regulatory approvals have been granted. It is a violation of national and international law to move material containing biotech traits across boundaries into nations where import is not permitted. Growers should talk to their grain handler or product purchaser to confirm their buying position for this product. Excellence Through Stewardship® is a registered trademark of Excellence Through Stewardship.

ALWAYS READ AND FOLLOW PESTICIDE LABEL DIRECTIONS. It is a violation of federal and state law to use any pesticide product other than in accordance with its labeling. NOT ALL formulations of dicamba, glyphosate or glufosinate are approved for in-crop use with products with XtendFlex® Technology. ONLY USE FORMULATIONS THAT ARE SPECIFICALLY LABELED FOR SUCH USES AND APPROVED FOR SUCH USE IN THE STATE OF APPLICATION. Contact the U.S. EPA and your state pesticide regulatory agency with any questions about the approval status of dicamba herbicide products for in-crop use with Roundup Ready 2 Xtend® soybeans or products with XtendFlex® Technology.

B.t. products may not yet be registered in all states. Check with your seed brand representative for the registration status in your state.
Performance may vary, from location to location and from year to year, as local growing, soil and weather conditions may vary. Growers should evaluate data from multiple locations and years whenever possible and should consider the impacts of these conditions on the grower's fields.
Roundup Ready® Technology contains genes that confer tolerance to glyphosate. Roundup Ready® 2 Technology contains genes that confer tolerance to glyphosate. Products with XtendFlex® Technology contains genes that confer tolerance to glyphosate, glufosinate and dicamba. Glyphosate will kill crops that are not tolerant to glyphosate. Dicamba will kill crops that are not tolerant to dicamba. Glufosinate will kill crops that are not tolerant to glufosinate. Contact your seed brand dealer or refer to the Bayer Technology Use Guide for recommended weed control programs.

Insect control technology provided by Vip3A is utilized under license from Syngenta Crop Protection AG. LibertyLink® and the Water Droplet Design® is a trademark of BASF Corporation. FieldView™ is a trademark of The Climate Corporation. Bayer, Bayer Cross, Bollgard II®, Bollgard®, Deltapine®, Respect the Refuge and Cotton Design®, Roundup Ready®, ThryvOn™ and XtendFlex® are trademarks of Bayer Group. ©2020 Bayer Group. All rights reserved.
About the Author(s)
Subscribe to receive top agriculture news
Be informed daily with these free e-newsletters
You May Also Like
---