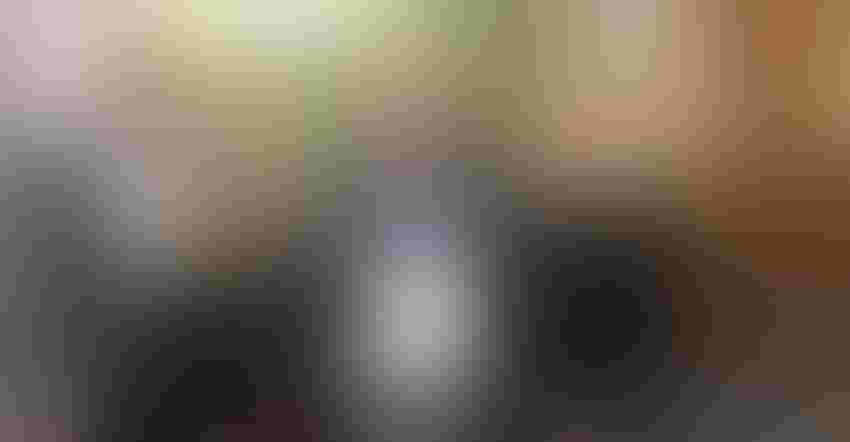 Heaton family members were in attendance during the special Business Session of the Delta Council Mid-Year Board meeting to accept the resolution given in memoriam recognizing Bill Heaton and his contributions to the Delta Council and Mississippi agriculture. Standing together with the framed resolution are Ford True, from left, Cadey True, Cliff Heaton, Chris Heaton and Preston Parker.
Brad Robb
At the Delta Council Mid-Year meeting held recently in Stoneville, Miss., a special business session was presided over by Mike Sturdivant III, past president and executive committee member. The session was convened to recognize one recipient and honor six other Mississippi Delta residents in memoriam who, over their lives, all played a strategic role in Delta Council-related actions and activities that embodied the role and purpose on which the Delta Council was established.
One of those honored in memoriam was Bill Heaton of Clarksdale, Miss. Before the business session began, Delta Farm Press had an opportunity to speak with Heaton's grandson, Preston Moseley Parker, son of long-time Delta Farm Press employee Darrah Heaton Pierce. Bill Heaton was known across the Mississippi Delta by so many people. Depending on who addressed him, he was called Big Bill, Big Daddy, or Mr. Heaton. "He was Papa to our family and to me," says Parker, who admits Heaton had a huge impact on his life growing up on Heaton Farms, a cotton, soybean, and corn row crop operation in the Delta.
Heaton earned a Bachelor of Mechanical Engineering degree from the University of Louisville, served as an officer during World War II in the United States Naval Forces in the Pacific Fleet before continuing his education at the University of Texas, where he majored in cotton marketing. "He came back to Clarksdale, Miss., and started working with his grandfather, A. J. Moseley, and his beloved great uncle, Charles G. Bobo," remembers Parker.
The family's farming and ginning success led Bobo Moseley Gin to becoming the first public gin in north Mississippi. He served as a director of the Delta Council, was on the board and served as vice president of Delta Oil Mill and North Delta Compress. "He always dedicated time to agricultural, civic, and community organizations and events, but he also loved hunting," says Parker. "He loved the comradery of dove hunting, but turkey hunting was his passion. His personality was magnetic. He was very detail-oriented — always remembering names of people he encountered as well as the names of their family members."
When a rare ice storm crippled much of the Delta region, including the town of Clarksdale in 1994, trees snapped like matchsticks leaving many without power. Roads were covered with trees and debris. "Papa had his entire farm crew out cutting up downed trees and clearing streets," adds Parker. "People tried to pay him for his work, but he wouldn't take a dime. That's essence of who Papa was, always helping and moving forward whatever effort in which he was involved."
Parker was 11-years old when he bagged his first buck. Heaton was by his grandson's side. Near the end of his life, the family was getting Heaton's affairs in order and found several logs that recounted intricate details of his many hunting trips – including the one with Parker. "Heaton had written, '…I can tell Preston is a little nervous today. His hands were shaking but he put a good shot on 'im…'," recalls Parker. "Finding his many detailed thoughts and remembrances in those logs really touched everyone in our family."
Attention to detail
That attention to detail transferred into how Heaton managed his farm and business life. "He wanted his farm equipment to not only be functioning properly but looking well-kept and clean," recalls Parker. "He also was a caring enough person to handwrite countless letters of appreciation, congratulations or condolences to many people throughout his life.
Prior to presenting Heaton's family the Delta Council resolution in appreciation for his lifetime of service, Sturdivant made a comment that encompassed so much about who Bill Heaton was and the legacy he left. "While he gave his talents to so many organizations like the Delta Council, what really set Bill Heaton apart from others was his integrity, his Southern gentleman-like personality, and the friendship he freely gave to everyone he met," concluded Sturdivant.
Carey Webb of Tunica, Miss., was recognized for his lifetime of engineering work in various capacities with Mississippi Office of State Aid Road Construction. Webb is known among local and state policymakers, county engineers and the United States Department of Transportation for his commonsense approach to projects. "Under his leadership, the Office of State Aid Road Construction was consistently recognized by the federal government for doing the most to help our counties construct, maintain, and repair roads and bridges with a modest amount of revenue," says Sturdivant.
Other honorees
Five other honorees recognized in memoriam included:
James Robertson, the patriarch of a well-known and progressive farm family in Sunflower County, Miss. Robertson held leadership positions with the Delta Council, Farm Bureau, and many other agricultural, city, and civic organizations. He left his beloved Mississippi State University during his undergraduate years and served under Gen. George Patton's command. He participated in the Battle of the Bulge, came back home, finished earning his degree and was called back to active duty during the Korean Conflict. Robertson was awarded the Purple Heart, Bronze Star, and the French Legion of Honor and Combat Infantry Medal.
Alex Curtis of Washington County, Miss., was a true visionary and agricultural leader in the Mississippi Delta. He worked with the Delta Council and many local, regional, and state organizations and individuals to enhance the competitiveness of Southern agriculture. Early in his life he was selected one of America's Four Outstanding Young Farmers by the U.S. Junior Chamber of Commerce. The impact he made on agriculture continues even today through his work to establish the original Farmer's Grain Terminal in Greenville, Miss., that has seen expansion into 10 locations in three states that serve more than 6,000 farmers.
Jere Nash Jr. of Greenville, Miss., was known throughout the Delta agricultural industry for his leadership and management as president of Delta Implement Company which had dealerships across northwest Mississippi that sold Case-IH farm equipment. A stalwart volunteer, he helped organize the Delta Music Association, the Greenville Arts Council, and the Greenville Symphony. Nash graduated from Rhodes College in 1950 and served the next two years in the Army, including one year in Korea as an artilleryman.
Carver Randle of Indianola, Miss., was an influential and groundbreaking attorney with the innate ability to synergize those around him to the betterment of a cause or project. A kind man with sharp mind and infectious laugh, he received his undergraduate degree from Mississippi Valley State and earned his juris doctorate degree from the University of Mississippi School of Law. He is credited with spearheading the establishment of the B.B. King Museum, a world-class attraction for his hometown of Indianola and a tribute to his lifelong friend.
Scott Culberson, a native of Jackson, Miss., had a stellar career with the National Conservation Resource Service, beginning as a student trainee and working his way up to State Conservation Engineer. He was widely respected by farmers and his engineering peers for his ability to make sound decisions leading to improved benefits for the environment and land productivity. An avid deer hunter and fan of Mississippi State University sports, Culberson loved spending time with his family when not working on Mississippi's natural resources and environment.
Subscribe to receive top agriculture news
Be informed daily with these free e-newsletters
You May Also Like
---