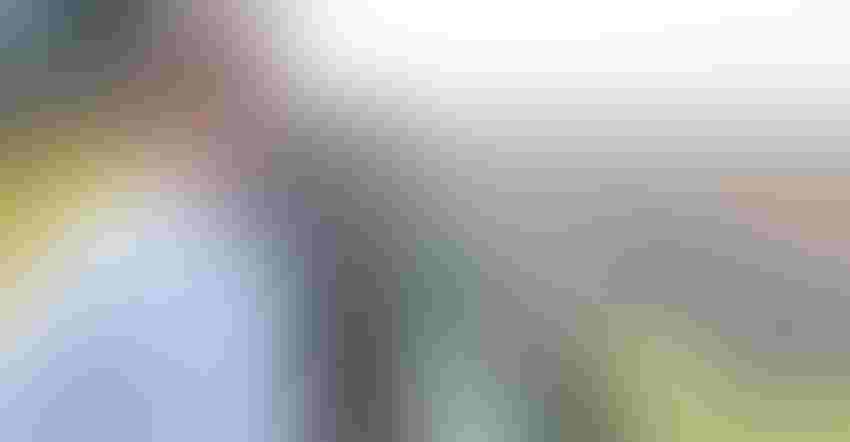 David Carr, owner of Mascot Farms, utilizes the latest in precision farming technologies to keep his operation on the positive side of efficiency.
Brad Robb
Clarksdale, Miss., farmer David Carr does not look nor come across as a techie geek. He has no pocket protector holding pencils in the pocket of his stylish plaid short-sleeve shirt. But if the television comedy hit "The Big Bang Theory" featured a farmer, Carr could be cast to play the role. He understands the latest in precision farming technologies and how best to use them to increase his yields, and he knows how they work, collectively, to keep his farm's bottom line in the black.
Based on Cotton Incorporated's 2015 Cotton Natural Resource Survey of 925 cotton producers, adoption of precision farming technologies increased significantly over the last two decades. "Cotton producers have adopted auto-steer/GPS guidance and GPS-based swath control more than other precision farming technologies gauged in the survey," explains Dr. Ed. Barnes, senior director, Agricultural and Environmental Research, Cotton Incorporated. "From 2008 to 2015, farmers using auto-steer increased over 20 percent. Swath control use on sprayers has increased almost two-fold over that same time period."
Carr and the equipment on Mascot Farms fall into that category. He uses an array of precision farming technologies to farm the varied soils across his farm. "We've got some Alligator soils that are pretty acidic, and we've got some ole Sharkey buckshot soils too," says Carr. "When it gets dry, cracks sometime form as deep as 2 feet."
Equipment Advantages
Carr knows the value of data and recordkeeping. He uses planting and harvesting equipment that gives him the ability to benefit from both. While many farming operations are going with bigger planters, Carr prefers his 12-row machine because it is lighter and easier to maneuver. "I've got some fields that are smaller and not quite square," explains Carr. "We don't have to raise up the wings when we have to make a turn like we'd have to do with a 16-row planter. It's quicker and prevents us from eating up time at the ends of rows."
In 2017, Carr planted eight different varieties across his 3,200-acre operation to see how they would perform. "We can load up the planter with a specific variety, change the variety type on the monitor, record it on the iPad and go," explains Patrick Burchfield, Carr's farm manager. "We can also change plant populations on the go — which is important when planting over various soil types, or if part of our field is under a pivot and part of it isn't."
This technology allowed Carr to find out at the end of the year that his top-yielding soybean was only his third most profitable because of the seed's cost. "We ended up not even purchasing that soybean variety the next year because of the information this system allowed us to see," adds Carr. "Conventional wisdom would proabably tell a farmer to buy that variety again (because of the yield), but data told us differently. It's not always about yield, it's about profit, and differentiating between the two. The first year of having this system, I paid for my planter from seed cost savings."
Today, Carr is able to micro-manage a field instead of looking at the field as one large unit. A planter technology called SmartFirmer allows Carr to know a furrow's moisture level, soil type, level of organic matter, and cleanliness. "David can take soil sample maps, overlay them to see how much variation he actually had in a field at the end of his season," explains Taylor Flemming, Delta Precision Systems. "He can then create better prescriptions that will, through variable rate technology, allow him to accrue even more cost savings."
Carr has two more precision farming technologies on his planter — one that allows him to plant faster and one that regulates his seed population. A traditional planter is normally about 70 percent effective with singulation and spacing. Having two seeds side-by-side going down the seed tube means having two plants in proximity competing for nutrients, leading to inconsistent plant health. "V-Drive, our electric seed meter, operates off of a prescription. We sync it with our iPads and the in-cab on the 2020 monitor," explains Carr. "It allows us to regulate our plant population via that prescription."
Cotton is not planted as deep as corn because it has less emergence strength to penetrate the surface of the soil. "Because of our soil variation, DeltaForce really helps us plant at the same depth," says Carr.
Mascot Farms upgraded its John Deere planter with Precision Planting technology, and also runs a custom-built Precision Planter. "We can run our planters at 10 miles per-hour," says Burchfield. "We no longer have skips."
Getting Ready for 2019
Carr started using the Farmers Business Network a few years ago to evaluate seed prices. He has seen benefits and plans to utilize the service again this year. The data and recordkeeping side of his operation continues to help him decide on everything from his crop mix to his seed and chemical needs. "I once had a situation where I found I had 600 acres worth of one seed variety and only 300 acres left to plant," remembers Carr. "Our recordkeeping now helps us to avoid that."
Wireless data entry allows data sharing from a central computer at his office to their iPads in the field. From the time his planters drop the first seeds in the ground, his wife Leah, who handles most of the administrative logistics for Mascot Farms, can see it on her computer. "I can stop on a turn row, grab my iPad, see all the details from my planters to make sure they're all singulating correctly," says Carr. "At harvest, I can see what kind of effect, if any, our planting speed had on yield."
Carr told one planter driver to vary his speed across the field. At the end of the year, he was able to look at his yield maps and see that the yields were amazingly consistent across the entire field despite the variance in planting speeds. "That's what precision farming technologies bring to the table," concludes Carr.
Subscribe to receive top agriculture news
Be informed daily with these free e-newsletters
You May Also Like
---