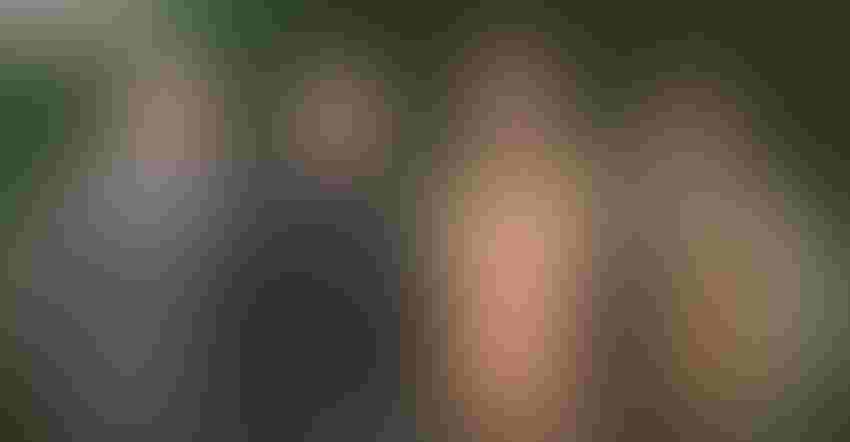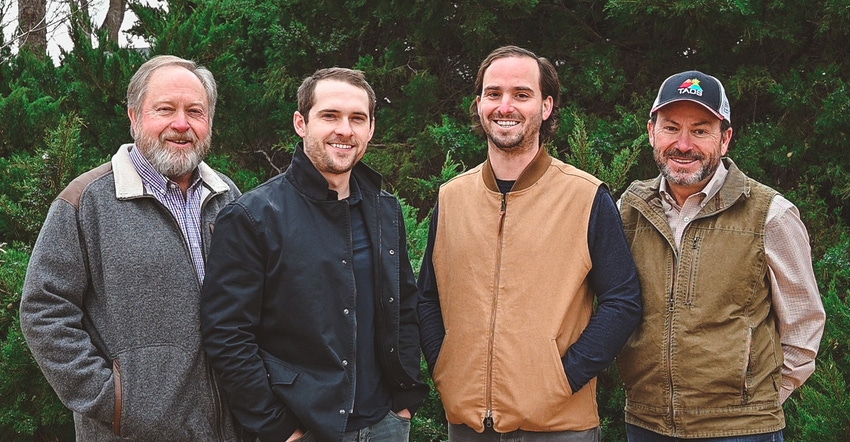 2022 Joe O'Neill Cotton Marketer of the Year recipients, from left, Mark Howard and his son Bryce and Brett and his father Greg Howard, Hartley County. "I do a lot of the marketing," Mark says, "because they do a good job of providing consistent production which makes the job of marketing easier. Everything works together and we're all responsible for this success."
Erica Brady Hoffmann
Hartley County, Texas, producers and brothers Mark and Greg Howard are the 2022 Joe O'Neill Cotton Marketer of the Year recipients. The award was announced Jan. 5, during this year's Beltwide Cotton Conferences in San Antonio, Texas.
Farm Press visited with Mark about their marketing strategy. While Mark says their program involves evaluating data and practicing risk management, he says their approach has more to do with relationships, those with their father, each other, their family, and those with whom they do business.
Father
Mark and Greg first learned about marketing, observing their father, W.D., known as Dub. "When Greg and I graduated from Texas Tech, I got out in '81 and he was '83, we went home to the farm in Parmer County and farmed with mom and dad.
"I don't know that you could say that either one of us started out making marketing decisions," Mark says. "We realized dad was a good mentor. We went with him and observed. He included us in everything and then one day, instead of us asking him what we were going to do, he was asking us."
See, Landivar receives Outstanding Research Award in Cotton Agronomy
He taught them that relationships are "huge" in business, he says.
"Marketing isn't just sitting in front of a computer terminal watching the futures. There's a cash aspect. There's so many different aspects to it. When you have a good relationship with good buyers and end-users, that becomes a part of your overall program."
Family
Another primary piece to their strategy is family. After Dub retired and then passed in 2016, Greg and Mark took over the farm operations.
"We work hard as a family," Mark says. "Now it's Greg and I and our wives (Roberta and Robin) and Greg's son, Brett and his wife Morgan, and my oldest son Bryce and his wife Kalley and quite a few valuable employees. They help us have consistent production, which allows good, consistent marketing goals to be set -- as much as the weather in West Texas will allow."
See, Emi Kimura receives Outstanding Young Cotton Physiologist Award 
Balance
In the mid-90s, having grown continuous corn on their farm since the 1970s, the Howards recognized the need and benefit of finding a suitable cash crop to rotate with their grain. 
First they rotated with soybeans, which were successful but not really what they were looking for, Mark says. Then they tried sugar beets. "It was a good cash crop until the sugar beet plant closed in the mid-90s. At that point, we decided we'd better look at cotton."
Having grown sugar beets, the Howards were on 22-inch rows. "We tried 22-inch corn and cotton, but realized with the water we had and what we were trying to accomplish, that was still a little wide. We wanted to shade the row and the ground quicker, so we moved to 15-inch rows. We wanted to get those as tight as we could with a good quality planter and we've been on 15-inch rows since."
Once they had established a rotation, their goal was to maintain it. "We have the equipment investment, corn and cotton, and we don't want to be all corn one year and all cotton the next. We believe each crop does better rotating behind the other. We usually don't fertilize much with cotton behind corn and then the corn behind cotton usually has about a 25-bushel yield advantage.
"So, in order to maintain that we have to look forward and make sure we market it in a manner that makes sense on a given year that you're maintaining your rotation and not trying to take advantage of a super high price of one commodity over another."
Practicing risk management
Their strategy also includes watching the news and talking to consultants. "Our marketing is not a one-guy-does-it-all. We have to gather all the data we can, visit with each other and make informed decisions."
Greg, Brett and Bryce focus on production, allowing Mark to invest more time in marketing. "We constantly monitor," Mark says. "We're looking for opportunities to practice good risk management. It's all risk management. You've either got to decide you're going to protect it and then forget it or walk away, or lock something in and feel good about it knowing it could go higher. We like to have a good floor with upside open, but all those things come at a cost and you constantly have to evaluate that."
See, Stu Duncan named 2022 Beltwide Extension Cotton Specialist of the Year
Mark admits cotton is a challenging crop to market. "It's hard. We can analyze a lot of the things that come through the media but, it's hard to get to where you can trust the information coming at you from the other side of the industry that we don't see a lot or the government policies that can change, and foreign government policies."
He says you can't get comfortable. "You just have to be watchful and ready to react."
Minimizing exposure
Marketing cotton and corn, the Howards like to have option and futures. "Most of the time, we do a blend of those two. And we always want to maintain that cotton in West Texas has a lot of production risks. So, we want to minimize our exposure to the production risk in the marketing steps we take. We're careful about the types of contracts we sign or the types of positions we establish on the board."
Advice
Mark advises those new to crop marketing not to depend on a single source. He says he studies many advisory newsletters including Pro Farmer. He also follows policy analyst Jim Wiesemeyer, listening to his weekly podcasts. He also has four analysts with whom he works. "Some will call when they have something to say, some will have something every day. It's easy to become overwhelmed and that's one thing that's helped our organization is I can focus on doing that and passing the information on to my partners while they focus on the production. It all comes together and we're all working for the common good."
Brainstorming with his partners is also important. For those who don't farm with family, Mark suggests peer groups. "It's easier to make decisions sometimes when you get to brainstorm," he says. "It's good to have a marketing buddy, somebody that you can call and say, 'Hey, what do you think about this? Is this crazy?' And sometimes it is."
Joe O'Neill
The Joe O'Neill Cotton Marketer of the Year is named after Joe O'Neill, former CEO of the New York Cotton Exchange.
"Joe went around the United States working with Extension agents in every cotton state. He was tireless in his efforts," O.A. Cleveland said. "In 1984 or '86, he took a couple of Extension specialists, one from Mississippi and one from Texas to New York. He had us live up there a little while. He wanted to make sure cotton growers around the United States had a strong grasp of using the futures market and using the cotton options market. Joe is the reason we're here today."
"I don't think we were chosen for this award because we've achieved higher prices than anyone. In fact, I know we didn't," Mark says. " I think what we offer is we are consistent, chasing after the same goals."
He says their strategy is also helpful for their gin, Parmer County Cotton Growers. "That makes it easier for a gin to know what they are going to be dealing with on a given year. It helps them look for the kind of cash opportunities in the market that would benefit us as well. So, it's a group endeavor."
This award, presented the last 30 years, is sponsored by the New York Cotton Exchange and BASF.
Subscribe to receive top agriculture news
Be informed daily with these free e-newsletters
You May Also Like
---