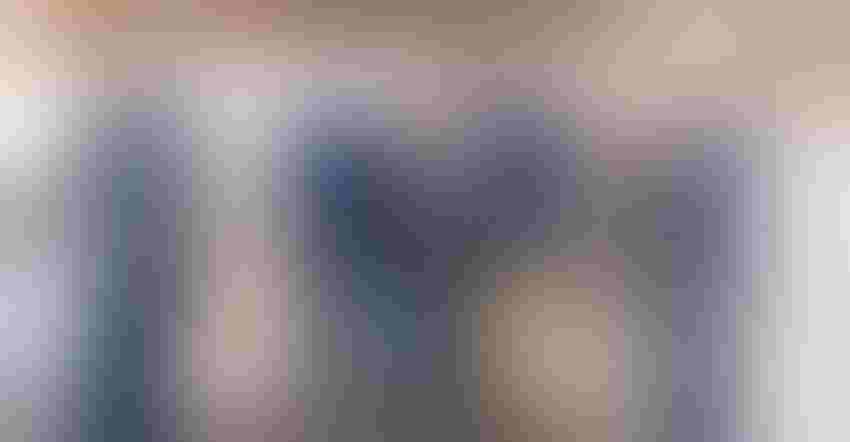 From left, California Cotton Ginners and Growers Association Chairman Tom Gaffney; Ted Sheely, Cotton Pest Control Board Chairman; Roger Isom, CCGGA president and CEO; Earl Williams, past CCGGA president and CEO; USDA Undersecretary Gregory Ibach; Nick Condos, CDFA plant health and pest prevention services director; and, Osama El-Lissy, deputy administrator for USDA APHIS Plant Protection and Quarantine.
For the second time in several years eradication of a vicious agricultural pest was achieved in the United States as the cotton industry hails elimination of the pink bollworm, a destructive pest that threatened to wipe out the U.S. cotton industry.
This is particularly noteworthy for California as officials successfully eradicated the European grapevine moth two years ago after it was found for the first time in the United States in a Napa Valley vineyard.
"Defeating an invasive bug doesn't happen often, and when we do achieve success we need to celebrate this," said Nick Condos, director of the California Department of Food and Agriculture's Plant Health and Pest Prevention Program.
Roger Isom, president and chief executive officer of the California Cotton Ginners and Growers Association called eradication of the pink bollworm "historic" saying this was an effort "52 years in the making."
"Today we look at the pink bollworm in the rearview mirror," Isom said. "It's a story of industry foresight and cooperation and a story of how a government agency can work with industry and be successful."
Noteworthy in this effort was the way it was achieved. The industry achieved eradication by relying upon integrated pest management tactics that included the use of pheromones and sterile insects. Pesticides were not the primary means of control. Mandatory plow-down practices that were enforced by regulation and the introduction of Bt cotton by seed companies also aided in the effort.
"This is a very significant event for the cotton industry," said USDA Undersecretary for Marketing and Regulatory Programs Gregory Ibach at a celebration hosted at West Haven Cotton Ginning Company near Lemoore, Calif.
Ted Sheely, chairman of the California Cotton Pest Control Board, likewise praised efforts to eradicate the pest with practices that did not rely primarily on common insecticides.
"We started with mandatory host-free periods, which included the plow-down dates," Sheely said. "Then the program started using pheromones to keep the moths from being able to find their mates."
This continued in the early 1970s with the release of sterile moths to prevent egg laying by wild moths. In 1994 Sheely said that California cotton growers invested in a state-of-the-art facility in Phoenix, Ariz. where pink bollworm moths were irradiated to sterilize them. These moths – upwards of 31 million per day at the peak of the program – were released by the USDA in a successful effort to eliminate the pest.
The USDA Animal and Plant Health Inspection Service coordinated this program, Isom said. Osama El-Lissy, deputy administrator for USDA APHIS Plant Protection and Quarantine, said APHIS also maintained the quarantines and performed areal applications of sterile moths.
"There are two things that stand out to me, El-Lissy said. "The vision and unwavering dedication of growers themselves to this program and the strong collaboration between government and industry. This was one of the most unique programs in the world because we did not use pesticides."
All this gained traction after 2000 with the introduction of Bt cotton, which contains a protein that is toxic only to moth larvae, Sheely said. "The widespread planting of Bt cotton created an opportunity to wipe out pink bollworm (PBW) when combined with other techniques already in use," he said.
Prior to establishment of the state PBW program, state inspectors trapped about 400,000 fertile moths per year in southern California and by 2007 that number was over 410,000 fertile moths. The following year this number fell 96 percent to about 16,000. The last moths trapped in California were caught in 2011 and none were caught since then in the Golden State. Trap counts in the West and in northern Mexico fell to zero by 2013.
Condos said traps and mandatory plow-down periods will still be employed to assure the pest remains eradicated.
Subscribe to receive top agriculture news
Be informed daily with these free e-newsletters
You May Also Like
---