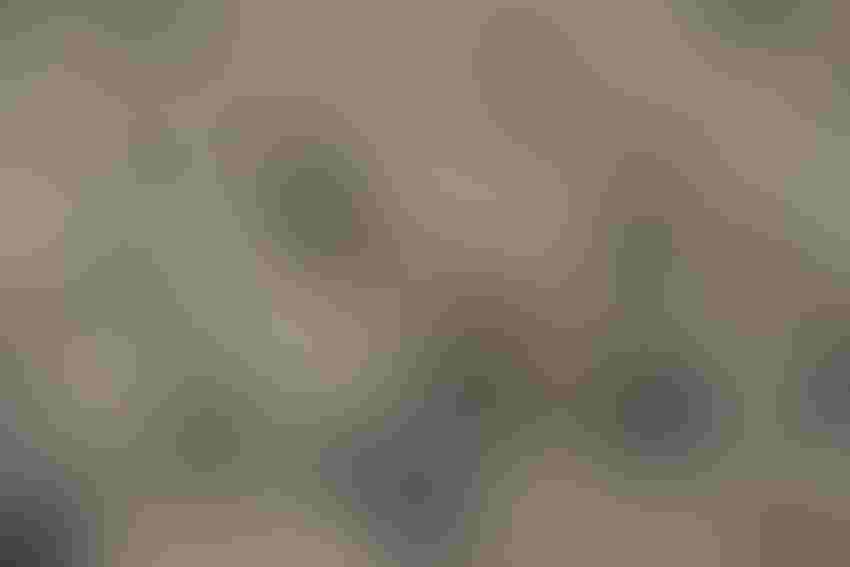 Cotton damaged by thrips.
Jack Bacheler
Any time there is a change in the system, cotton farmers have to change the way they manage insects, which is why they must continually stay on top of insect management. Insect management today is not the same as it was 10 years ago and insect management in the future will be different than it is today.
That's the point North Carolina State University Extension Entomologist Dominic Reisig drove home during winter meetings across the state. He also urged cotton farmers to be on the lookout for the new ThryvOn technology by Bayer when it gets regulatory approval.
"ThryvOn cotton is something new that's going to be introduced into the system if they get regulatory approval. Because we are spraying piercing sucking insect pests now and ThryvOn cotton has activity on them, we're probably going to change the system again so it's very important to stay on top of insect management. Because of that I recommend a scout or consultant on every acre because your time is valuable," Reisig said at a cotton meeting at the Wilson County Extension Center in Wilson.
"These folks are trained to get out there and identify the insects, use our thresholds, find that economic break-even point where the cost of control is equal to the cost of doing nothing. They're trained to use IPM (integrated pest management) to keep the beneficial insects in the system. Hopefully, they're going to help you make those cost effective decisions to help you minimize inputs in 2022," he said.
Thrips continue to keep on keeping on in North Carolina cotton which is why farmers often have to go beyond seed treatments and utilize sprays to control the pest. Reisig advised farmers to consider a spray program if they can be timely and if the seed treatments aren't as effective as they want them to be.
He emphasized that resistance to insecticide seed treatments is tricky because it is spotty where you can have complete susceptibility in one spot and complete resistance in another.
"We have some places where an insecticide seed treatment and an Admire Pro in-furrow has completely failed in our state. We have other places where an insecticide seed treatment alone looks great. If you can ask yourself this question, has it been working for you in the past, I think it's a good indication of how that seed treatment may work for you in 2022," Reisig said.
When considering spraying for thrips, Reisig said it is vital to look at logistics. Can you get over-top all of your acres in a timely fashion?
"We know the best timing for sprays is when you can peel back the cotyledons and see the first true leaf poking through. The reason for that is the thrips invade cotton fields just as soon as that hypocotyl pokes out of the soil. They really, really like to lay eggs on those fleshy cotyledons," Reisig explained.
"When those larvae hatch, the first thing they do is start feeding on that leaf. And that leaf is trying to come out, and it is just getting worn out. The best timing is if we can interrupt that process. I see a lot of sprays going out on top of four and five leaf cotton, tank-mixed in with a herbicide. It seems like a great idea because you're saving a trip across the field. I would call that a revenge spray. You should have sprayed a little earlier to have more efficacy," he said.
Subscribe to receive top agriculture news
Be informed daily with these free e-newsletters
You May Also Like
---