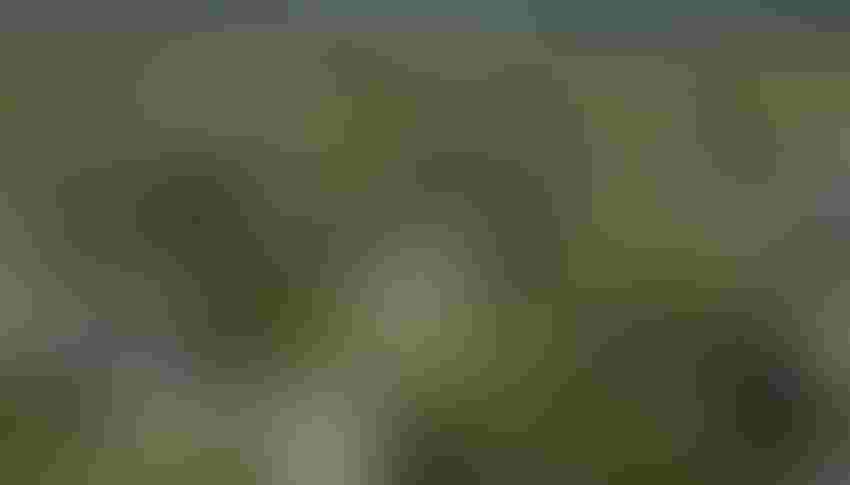 I still am hoping this article isn't necessary, but it seems that forecasters are more certain that Hurricane Florence will make landfall in North Carolina. Only a very little cotton has been defoliated so far, but there's a noticeable acreage of early planted cotton that is ready for defoliation.
We've received several phone calls concerning whether or not growers should defoliate some cotton before the storm so that we don't lose time, or should growers wait until the storm passes before resuming or beginning defoliation. The forecast late last week was relatively uncertain with regard to if this storm would even make landfall, therefore this issue was debatable at the time. The situation has changed now that meteorologists seem more certain that we will be impacted by the storm.
Below are a few thoughts on this issue, however there is no way to know the best approach with any certainty, until we know the full impact of the storm.
 Cotton that still has a number of unopened bolls
 In fields where there are still several upper bolls that have not yet cracked open, it is generally wise to wait until the storm passes before defoliating. When bolls are not yet opened, they are relatively protected from the elements.
There are several fields, especially later planted cotton that isn't ready for defoliation anyway, where the top crop represents a significant proportion of the total crop, therefore it is important to protect these bolls.
Defoliating now could cause some currently closed bolls to barely crack open, and rain from the storm could cause them to hardlock, or at the very least, experience severe weathering.
There is not much we can do about the bolls that have already opened, but there is good lint in opened bolls, that haven't hardlocked or rotted. It was very clear during 2016 with Hurricane Matthew that leaved closed bolls protected (not defoliating before the storm) benefitted most growers. Naturally, this depends on weather following the storm….sunny dry conditions following Florence is what we hope for.
When a boll first cracks open, ideally the weather would be dry so that the burs (carpal walls) can dry out. As the burs dry, they retract, which exposes the lint appropriately so that it can be grabbed by spindles.
 If conditions are damp, wet, cloudy, etc. during the first few days following boll cracking, the burs will not dry appropriately, therefore resulting in hard lock and or boll rot. If this occurs, it is unlikely that affected bolls will be harvestable. Therefore, if we initiate defoliation slightly before the storm hits, we could crack a few bolls right in the middle of high-moisture conditions which would not be good.
Additionally, cotton will likely lodge and tangle in periods of high winds. This is generally more common when a number of closed bolls in the upper part of the plant make the plant top heavy. Generally speaking, defoliation after the storm passes can sometimes be more effective in "standing the cotton back up". The quicker we can get back into fields to defoliate following the storm, the better we can help lodged cotton avoid boll rot.
Lastly, regrowth is always a concern when tropical events result in significant rainfall. This has been a big issue already in some places. If significant rains result from this impending storm, we can expect to see even more regrowth.
Additionally, heavy rains will delay our ability to re-enter fields and resume defoliating, therefore regrowth will increase the more we are delayed. Defoliating now may not adequately prevent additional regrowth, depending on how much time elapses before sprayers can re-enter fields, and some fields will likely need a second "clean-up" application. Waiting until after the storm passes will likely help us address regrowth issues a little more effectively once we can get back into fields.
 Cotton with all bolls opened
We are not likely to have much impact (good or bad) with regard to defoliation timing in fields where all bolls are already opened. Theoretically, the presence of leaves could somewhat shield against heavy rains, but may also not allow for rapid drying of lint after the storm passes.
Article continued at NC State Extension Cotton Page.
Subscribe to receive top agriculture news
Be informed daily with these free e-newsletters
You May Also Like
---