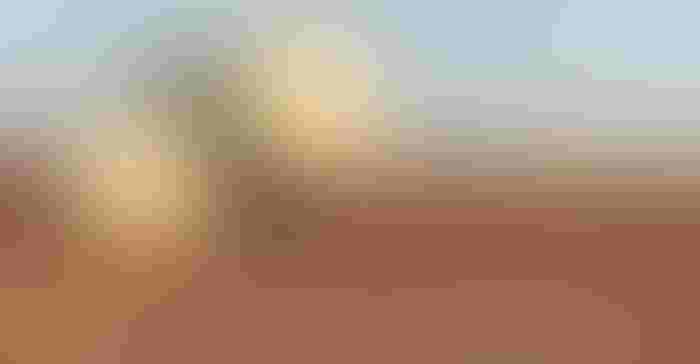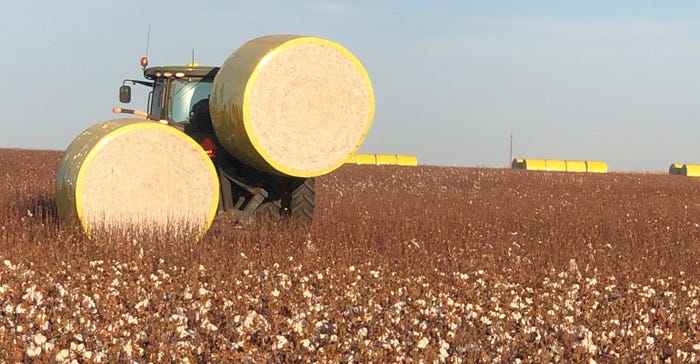 Cotton producer Jim Pat Claunch takes a double-barreled approach to cotton harvest on his Muleshoe, Texas, farm. Using the Cotton Caddy, an implement he designed, he's able to transport two round bales, rather than one, from the field to the turnrow.
"This Cotton Caddy allows you to double up, double down," Claunch says. "It cuts our labor in half."
Claunch uses the bale retriever mounted to the rear of his tractor to relocate the round bales once ejected from his John Deere CS690.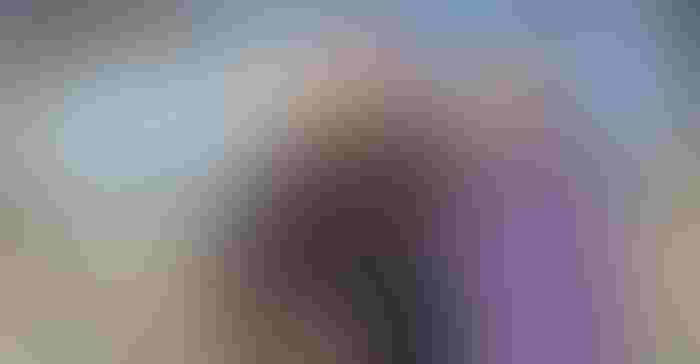 Jim Pat and and his wife Suzie Claunch. (Photo by Shelley E. Huguley)
"The prongs are spaced apart so that when you set the round bales down, the module trucks can pick them up -- it fits the truck. I've seen two trucks load two rows, side by side, at the same time."
The Cotton Caddy weighs about 9,000 pounds, the equivalence of a planter loaded with seed, he says. "I have a stalk stomper mounted on the front of this tractor to mash the stalks down and protect my tires."
Each round bale is loaded one at a time. "The hydraulic cylinder is what lifts up that one (round bale) when you go to get the second. You've got to clear the cotton to load that second bale. You can't slide it on the ground because that will tear the plastic."
Clearing the cotton as the tractor exits the field is key, he says. "These cotton plants are tough, just like a steel fence posts. If they don't clear that stalk, it'll cut that wrap. We've had that happen to a few, but not many."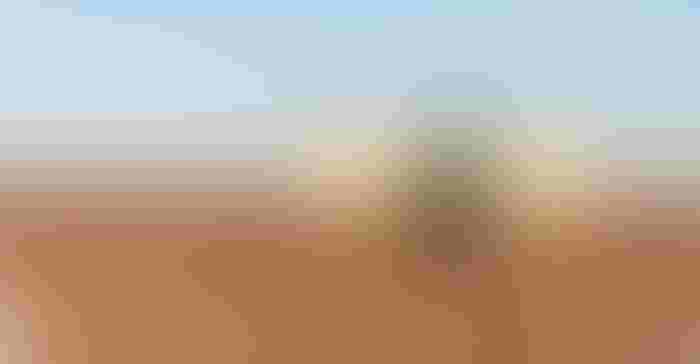 The Cotton Caddy enables Claunch to complete harvest with a one-man crew. "It's usually wet in the mornings, so he (his employee) can service and fuel the stripper and then get on this rig and start moving bales until midmorning when he can start stripping.
"It used to take 10 hands to do this. I had to run two module builders, two boll buggies. Now you just have to deal with the baler."
Claunch, who calls himself a "cottonholic," produces about 3,500 acres of irrigated cotton in Baily County. For more information about the Cotton Caddy, contact Claunch at 806-946-7015.
About the Author(s)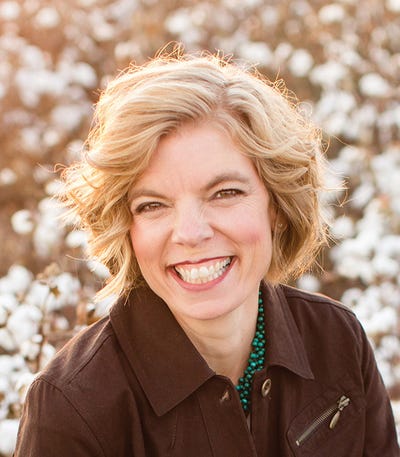 Editor, Southwest Farm Press
Shelley Huguley has been involved in agriculture for the last 25 years. She began her career in agricultural communications at the Texas Forest Service West Texas Nursery in Lubbock, where she developed and produced the Windbreak Quarterly, a newspaper about windbreak trees and their benefit to wildlife, production agriculture and livestock operations. While with the Forest Service she also served as an information officer and team leader on fires during the 1998 fire season and later produced the Firebrands newsletter that was distributed quarterly throughout Texas to Volunteer Fire Departments. Her most personal involvement in agriculture also came in 1998, when she married the love of her life and cotton farmer Preston Huguley of Olton, Texas. As a farmwife she knows first-hand the ups and downs of farming, the endless decisions that have to be made each season based on "if" it rains, "if" the drought continues, "if" the market holds. She is the bookkeeper for their family farming operation and cherishes moments on the farm such as taking harvest meals to the field or starting a sprinkler in the summer with the whole family lending a hand. Shelley has also freelanced for agricultural companies such as Olton CO-OP Gin, producing the newsletter Cotton Connections while also designing marketing materials to promote the gin. She has published articles in agricultural publications such as Southwest Farm Press while also volunteering her marketing and writing skills to non-profit organizations such a Refuge Services, an equine-assisted therapy group in Lubbock. She and her husband reside in Olton with their three children Breely, Brennon and HalleeKate.
Subscribe to receive top agriculture news
Be informed daily with these free e-newsletters
You May Also Like
---