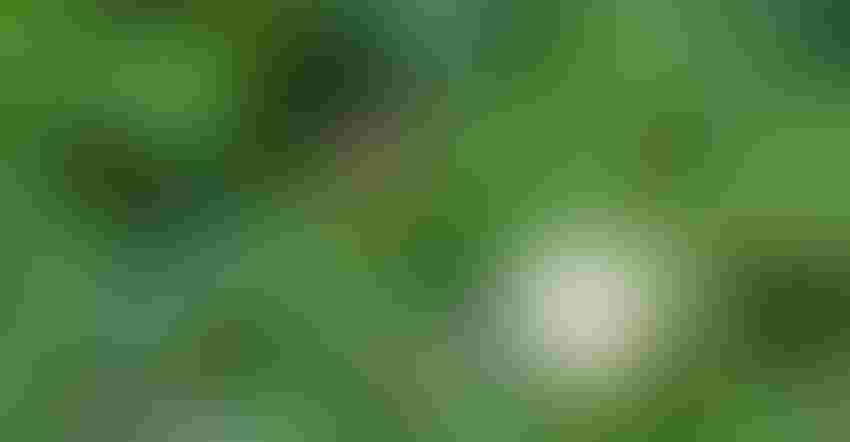 The first week of July is typically the first week of bloom in Virginia cotton, and the honeybees brought back around 4% of pollen from cotton within that week.
Alaina Dismukes
Honeybees are suffering, in some cases, a pretty dramatic decline, but recent research shows that cotton and soybean provide valuable nutrition to pollinators throughout months when pollen is scarce.
During the 2021 online Beltwide Cotton Conference, Sally Taylor, assistant professor of entomology at Virginia Tech University, presented research on how honeybees have forage opportunities from some row crops in the summer months.
Foraging for food
The research, which has taken place for two to three years, combines information on honeybees from researchers at Virginia Tech University.
"I don't think the rationale for our project needs a lot of explanation because many of you know that insect populations, pollinators, and honeybees are suffering, in some cases, a pretty dramatic decline," Taylor said. "The overwhelming consensus from the scientific community is this is from a combination of factors such as poor nutrition, other pests, pathogens, and pesticide exposure.
"However, if you are like me and depend on agriculture for your livelihood, you feel in some respects that the general public is pointing a finger at us for bee decline. When Virginia Tech hired two great pollinator biologists, we combined forces to look at how row crops could – instead of impacting bees negatively – provide them nutrition."
Studies show that typically in the summer from around July to August bees are not finding a lot to eat in the environment. They have enough in the spring and the fall, but in the summer, nutrition is scarce.
"When we were thinking about these studies, we wanted to determine foraging distance across crop seasons as a proxy for food availability since our row crops bloom in the summer," she said. "The longer a bee travels to get food, there is less food in the environment and flight is metabolically expensive."
Honeybees do not fly any farther than they must to get food, so if there's food available, they'll get it close to the hive when they can.
"We also wanted to calculate the percentage of pollen foraged from cotton, soybeans, and peanuts, which are common in this region," Taylor said. "How often are they visiting these crops? We also wanted to determine what other species of pollen they're bringing back, and what kind of pesticides are in the pollen."
To gain this information, the researchers used the bees to tell them where they have been.
"Bees tell other honeybees in their nest where they forage for food through a dance that can be decoded," she said.
What did they find?
The team used observation colonies to study bee populations as well as to take samples of pollen to determine from what plant species the bees were getting pollen. From the data, it shows that in early spring the bees primarily brought back pollen from native species, such as trees and native plants, or plants commonly grown in people's yards.
"The data gets interesting when we move into summer," Taylor said. "The first week of July is typically the first week of bloom in Virginia cotton. The bees brought back around 4% of cotton pollen within that week, so they can collect cotton pollen, which has been a subject of some debate."
In August when soybean is in full bloom, 52% of pollen collected was soybean pollen.
"Both soybean and cotton were shown to be common crops that the bees went to during the summer," she said. "In the fall months, the bees went back to weeds and native species."
Within the pollen brought back from the crops, some pesticides were found.
"What this tells us is that single-pesticide assays do not capture the whole field scenario," Taylor said. "I think labs are increasingly starting to look at what happens when bees get a bit of some herbicide in their pollen and bring it back to feed it to their brood.
"Ultimately, that's what we're talking about with pollen. Bees get pollen to mix with other substances to make bee food to feed their young. From what we see, insecticides aren't necessarily the biggest problem. They're just a part of it."
Takeaways
In Virginia, the bee foraging season is from April through October, and heavy crop bloom starts in early July. By mid-July to mid-August, peanuts, cotton, and soybean, are in heavy bloom.
"July is the month where every other study has shown bees are suffering nutritional stress," Taylor said. "However, our research shows crops are providing an important source of forage in times where bees do not have as much available to them."
From the research, bees seemed less interested in peanuts out of the three crops.
"I should note that peanut's low representation as a foraging opportunity for bees might be in part because peanut is not a large acreage crop for us. There is a fair amount around our station, though," she said. "Cotton was the most popular choice for the bees to go to as well as soybean."
Both cotton and soybean were fairly equivalent.
"They're going to cotton one in three times," Taylor said. "When we add all three of our crops together, over half of the recruitment the bees were making to the other bees in their hive was to a crop field. This is more than they go to a crop like apples. The point of this project, in my mind, is to show the value of these crops to the honeybees, which is clearly very large.
"We're not talking about eliminating risks to honeybees since we need pesticides to grow crops profitably. However, if we can get a handle on when bees are in these crops and how they're utilizing them, we can minimize risk."
One factor in the research shows that while bees went to cotton often, they brought back little cotton pollen.
"We're probably looking at a situation where bees are collecting more nectar in this crop than pollen," Taylor said. "Our takeaway is that soybean and cotton provide valuable nutrition to pollinators during a critical time in high development. Soybean visitation was likewise very high, and the pollen collection was high. Cotton visitation is high; pollen collection is low, so we need to be looking at nectar and not at pollen in future research."
Subscribe to receive top agriculture news
Be informed daily with these free e-newsletters
You May Also Like
---