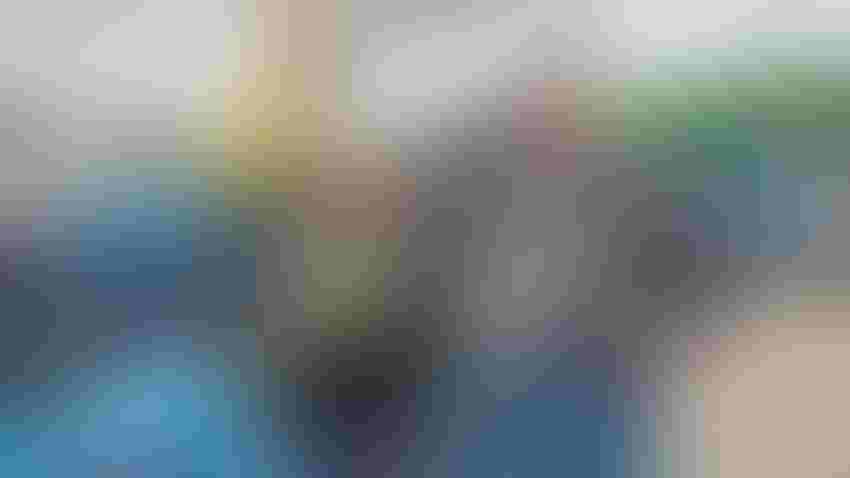 City Gin Manager and Co-owner Eugene Crumpler Jr., with his grandson Maverick Crumpler at the Texas Cotton Ginners' Trade Show, Lubbock. Maverick had fun "trying out" the tractors parked outside the exhibit hall.
Shelley E. Huguley
In his 50 years of ginning cotton, Eugene Crumpler, Jr. describes 2022 as "devastating," the worst year he's witnessed in his career at City Gin, Abernathy, Texas.  
A persisting drought coupled with triple-digit temperatures resulted in a record number of abandoned Southwest cotton acres in 2022—71%, according to USDA's Cotton Outlook – leaving infrastructure with less and in some cases no cotton to gin. 
Rather than ginning 40,000 to 60,000 bales, Crumpler, a second-generation ginner, said City Gin only ginned a fraction of their average. 
"We've got to have rain and the markets and we don't have any of them," he told Farm Press at the Texas Cotton Ginners' Trade Show, Lubbock.  
Crumpler, who manages and co-owns City Gin, anticipates 2023 won't be much different. "We've got so much wheat planted right now and with wheat, beans and everything else up and cotton markets down, it's going to be another devastating year for us. I believe it will be a duplicate of what we just saw in 2022. Maybe worse. Everyone I've talked to, believes we're all in the same boat." 
City Gin is an independent, farmer-owned gin with 21 members. Crumpler's father managed the gin from 1971 to 2006, when Eugene took over. "We used to have seven gins in this 5-mile area. Now, I'm the only one left." Crumpler credits being debt-free and taking care of the producer as the keys to their success. 
What worries him is the water situation in his area. "Our water table's running out. We're mostly dryland, semi-irrigated. It's so expensive and with 70 cent cotton, you just can't grow it for that." 
Survival strategies 
Crumpler said 2023 will be about survival. "Hope for the best and hope the markets get up where these guys will have an interest to plant. They don't even have an interest in planting cotton because they can't grow it for 70 to 80 cents.  
"And we've still got cotton. We have bales that aren't sold, and we've talked to a lot of people in the industry who are in the same boat. There's a lot of cottonseed still in barns because the dairies aren't buying the seed and California got out of the markets. It's like it stalled out." 
Crumpler, who also co-owns and manages City Gin Cotton Warehouse, said it's been a "crazy year," there as well. "We didn't start shipping cotton until about a month ago. We had a lot sold but they just weren't picking it up. It's tough." 
Subscribe to receive top agriculture news
Be informed daily with these free e-newsletters
You May Also Like
---