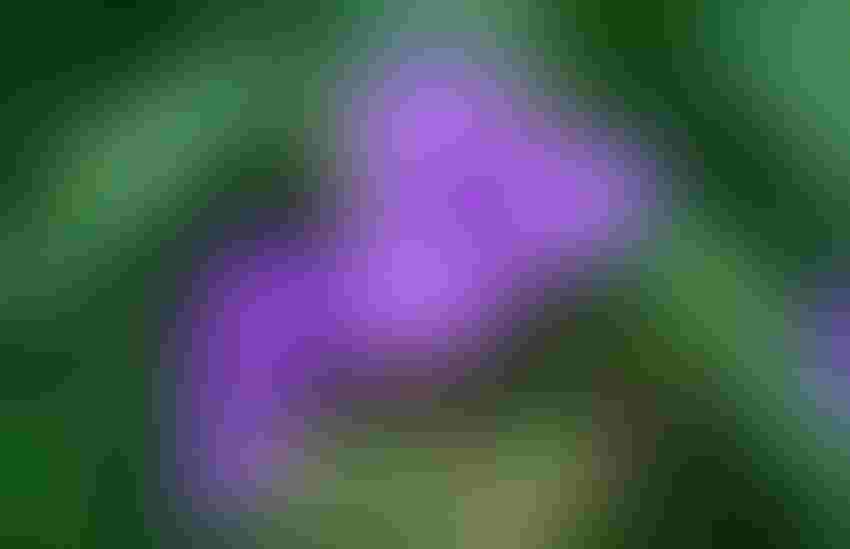 NICKKURZENKO / ISTOCK / GETTY IMAGES PLUS
At a Glance
This weed along with morningglory has the potential to be your kryptonite.
By Stanley Culpepper, UGA Extension Weed Specialist
For three years in a row, tropical spiderwort has regained its status of being a major pest for many Georgia cotton farmers.
The main reason for the weed to be on the move once again is likely due to the adoption of "weak" dicamba systems underutilizing effective residual herbicides and the lack of applying conventional chemistry as a layby directed spray. Interestingly for those who hate to slow down and take the time to run a layby rig or hooded sprayer through the field as cotton nears row closure, this weed along with morningglory has the potential to be your kryptonite.
Tropical spiderwort is a federally noxious, exotic weed that can spread quickly. Upon initial observation, tropical spiderwort appears to be a grass. While not a grass, it is a monocot (in contrast to broadleaf weeds, which are dicots) with leaves and stems usually fleshy and succulent. The stems will creep along the ground and root at the nodes.
Vegetative cuttings from stems are capable of rooting and reestablishing following cultivation. Tropical spiderwort will produce seed above and below ground. In May, spiderwort was present in some South Georgia fields and is expected to emerge more aggressively moving into early May with emergence potentially lasting through frost, even after cotton row closure.
To be successful, one must understand the importance of placing effective residual herbicides strategically throughout the growing season starting at planting. Numerous effective programs exist as long as one understands the concept of overlapping residual herbicides and is timely with those applications.
As always follow all herbicide label restrictions and reach out to your Extension Agent if you would like additional information.
EDITOR'S NOTE: According to USDA, tropical spiderwort, also called Benghal dayflower, is one of the world's worst weeds, economically affecting more than two dozen agronomic crops. Originating in Asia and Africa, it was first detected in the U.S. in Florida in 1928. It has spread to Alabama, California, Georgia, Hawaii, Louisiana and Mississippi. According to Clemson University, it has been documented in the Virginia-Carolina region also. Naturally tolerant to glyphosate, it became a problem in cotton when growers shifted production practices to glyphosate-tolerant cotton technology.
This article appears in the May 2023 UGA Cotton Newsletter.
Subscribe to receive top agriculture news
Be informed daily with these free e-newsletters
You May Also Like
---