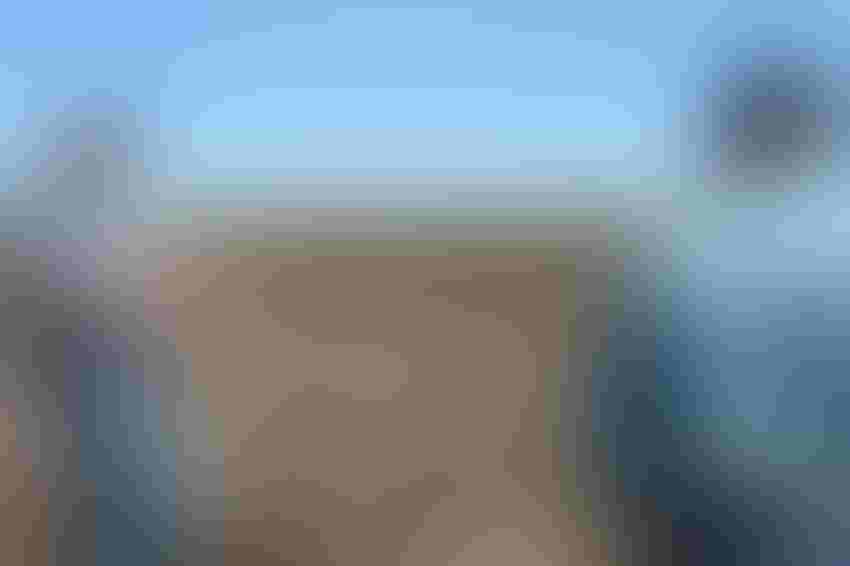 Texas AgriLife Extension Cotton Specialist Seth Byrd visits with a High Plains producer about the drip-irrigated field trial at the Texas AgriLife Halfway/Helms Farm. Byrd says the cotton in the central Plains area, including where his trial is located, has really progressed after being behind much of the season.
If there is one region of the country that's consistently growing in cotton acres, it's the Southwest, says Lubbock AgriLife Extension Agronomist Seth Byrd. And while he may be leaving the largest cotton patch in the U.S. at the end of April, he'll be staying on the forefront of Southwest cotton production in Stillwater, Okla., as he takes over the helm for Cotton King Randy Boman.
"Other regions have more options than we do and they can shift acres a little bit more fluidly than we can here in Texas, Oklahoma and southern Kansas," says Byrd. "Those three areas are really growing in acres and that's where we've seen the most growth in the past couple of years, so it's an exciting time to be getting in on the ground floor of what could be the number two cotton state in the country with not a whole lot more growth."
Oklahoma is predicted to plant 680,000 acres of cotton in 2018 — up 16 percent from 2017, according to the USDA National Agricultural Statistics Service report published March 29, 2018. Nationwide, cotton producers intend to plant 13.2 million acres, a 7 percent increase from a year ago.
Byrd, set to replace Boman April 30, says it's an honor to follow the cotton specialist but also a challenge.
"He was a big leader of not only the station in Altus, but he really led the cotton industry as a whole for a long time," says Byrd. "Randy is a big name when it comes to cotton in the Southwest. He's done a lot for me — he's done a lot for cotton in the Southwest."
Byrd's position will differ somewhat from Boman's in that he'll be working in Stillwater on the Oklahoma State University campus rather than Altus. Byrd says the increase in cotton acres in the Panhandle and along I-40 and the Kansas border, moving east of Altus, has fueled the change.
"That will give me better access to some of these other cotton regions and access to the faculty at OSU that are doing research," says Byrd, who adds that there's some "really cool" research going on at OSU in response to the acreage increase. "Having someone on campus that's just cotton is going to help foster some relationships with other researchers to get some more ground covered on things that not only our established growers need to know but our new producers are going to need to know pretty quick."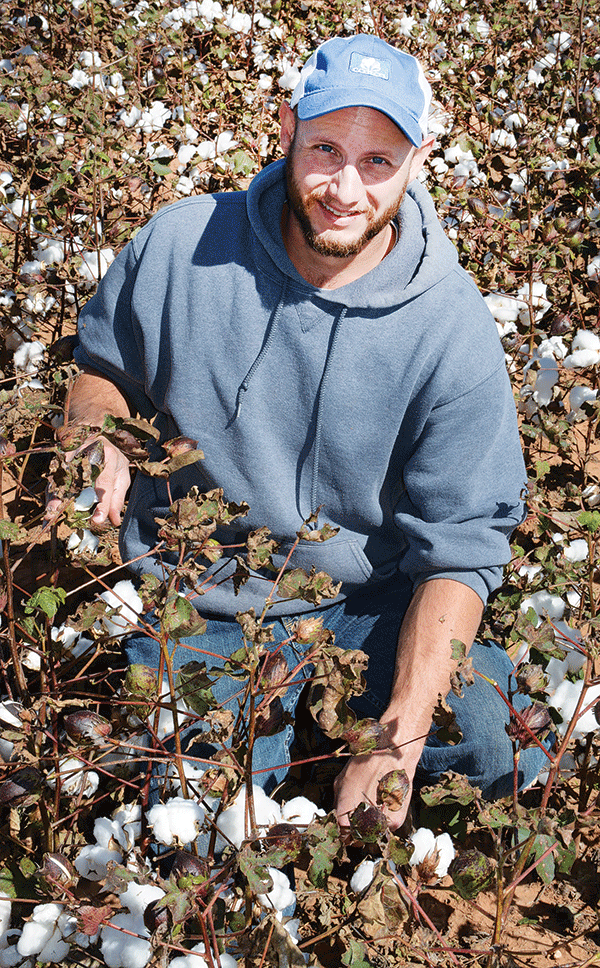 "There are a lot of challenges when you move from a grain crop, more of an annual crop, to a crop like cotton, which is a perennial. The growth pattern is different, so the management and the schedule of that management is different —the amount of inputs that we're using and when we are using them."
Because cotton is a complex crop to grow, Byrd says OSU's soil fertility and irrigation specialists will play a major role in educating new cotton growers as well. "Irrigation and fertility are two of the main things that's going to differ a lot between corn and cotton or wheat and cotton. So getting some basic, fundamental agronomic practices and schedules out there for production will be key."
Establishing trials in the areas where cotton has not been grown will be a priority as well. "We don't have to reinvent the wheel; we just need to take the wheel to the people that haven't seen it before. There's going to be a lot of research in the background but in the forefront outreach — getting some base knowledge out there and having trials that are Oklahoma-based so that in two-to-three years from now we can say, 'Here's what happens when you do this Oklahoma, in your area.' So, it's important to establish research where the cotton's being produced."
But a personal interest in OSU's small grains Extension weed specialist Misha Manuchehri, is drawing Byrd to Stillwater as well. In September, Manuchehri and Byrd, who met in graduate school, will marry. "That's a huge benefit to being in Stillwater," the groom admits. "She does a lot of great work and the wheat growers there love her. It will be nice to join that team as well."
While Byrd looks forward to his new adventure, he admits there's nothing easy about leaving Lubbock.
"You qualify for these jobs having a Ph.D., and that gets you a job. But I would say 95 percent of what I've learned about cotton I've learned in Lubbock. It's been a tremendous experience. As agronomists, we kind of feel like we are general people when it comes to the science — we don't specialize in a certain discipline. When you come to Lubbock you learn every side of cotton, it's not just the science, it's a whole new way of looking at the crop when you have access to merchants, commodity groups, everybody that has a hand in the business from start to finish."
As he recognizes several coworkers and organizations that have partnered with him during his two-and-a-half years in Lubbock, Byrd, who worked in cotton in the Southeast prior to coming to the High Plains, also credits his growers. "Working in cotton on the High Plains is pretty intimidating and the growers here have been amazing. They have opened their doors and taught me a lot.
"What they do here is amazing. I don't think people from other regions realize how hard it is to grow cotton here. The fact that these guys do it every year and do it so well, is really a testament to how good they are as farmers."
Subscribe to receive top agriculture news
Be informed daily with these free e-newsletters
You May Also Like
---