Bourland began his work when a class in cotton breeding sparked his interest in 1969.
Ryan Mcgeeney, University of Arkasas
Fred Bourland still hand picks a lot of cotton. He's been at it for a little over 50 years.  
As a cotton breeder he has spent a lot of time walking cotton fields, selecting varieties to advance in successful breeding programs. 
"There's a lot of stories about how fast he picks cotton," said Bill Robertson, cotton agronomist at the University of Arkansas. "He understands the cotton plant. He understands it agronomically. He understands farming from the farmer's point of view." 
That, and the fact that he has advanced productive lines of cotton and ways to evaluate the cotton plant, are a few of the reasons he has been selected to receive the A. L. Vandergriff Cotton Pioneer Award from the Southern Cotton Ginners Association for 2021. 
"It was a total surprise," said Bourland modestly, despite also having received other prestigious awards over the years.  
Because of his innovative cotton breeding achievements, in 2010 he was named International Cotton Researcher of the year by the International Cotton Advisory Committee. In 2015 he was inducted into the Cotton Research and Promotion Hall of Fame for developing valuable plant measurements and techniques that have initiated the release of cotton lines in the Mid-South.  
It's obvious that the most important thing for Bourland is focusing on his work and ensuring that cotton yields and qualities advance. 
The beginning
B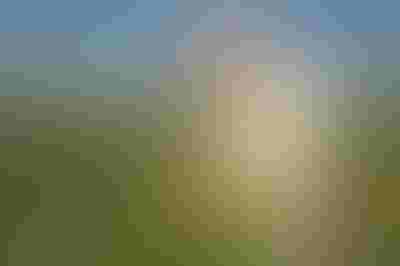 ourland inspects cotton in one of his breeding plots. (Fred Miller) 
He began his work when a class in cotton breeding sparked his interest in 1969. He received his Bachelor of Science in crop science a year later and his master's in plant breeding in 1974 from the University of Arkansas. In 1978 he received his doctorate in genetics from Texas A&M University. He then was on the faculty at Mississippi State University for 10 years before returning to Arkansas in 1988.  
In that time, he has released more than a hundred germplasm lines and varieties that began as conventional lines. Some of that material has been used by other seed companies and breeders to advance their lines and used commercially in varieties grown today.  
"One of my primary interests has been breeding techniques," Bourland said.  
Over the years he has developed several ways to rate leaf and stem pubescence. He continues to work on rating yield components and a way to index fiber quality. Earlier on he worked on seedling vigor.  
"We developed some techniques to identify and quantify different things I can see," he said. "I think those techniques are being widely used."  
He said that this is a contribution that will go on long after he leaves his work and his germplasm is replaced. 
Bourland places a great deal of emphasis on his collaborative work. 
Collaboration and COTMAN
"I was very fortunate to be involved with a team here at the University of Arkansas that developed the COTMAN program," he said. "This included doctors Mark Cochran, Derrick Oosterhuis, Phil Tugwell and myself." 
COTMAN is a system built upon reading the fruiting of the plant and then responding to it. It helps give researchers and growers a better handle on what is going on in the plant throughout the season. 
"That was just a great privilege and highlight," he said. "There are four of us that were professors at Arkansas with different disciplines. We got our heads together and we'd have lunch every Monday together over at the student union." 
His leadership style is leading by doing according to Bill Robertson. 
"He's one of those guys who leads by example," he said. "I've noticed that a lot of breeders are in the field all the time. He's out there all the time. And I don't think he would ask anything of his people that he wouldn't do himself." 
Ray Benson, Staff Chair at University of Arkansas Cooperative Extension Service in Mississippi County said Bourland has been a valuable resource for cotton growers in Arkansas. 
"He has been a pretty steady resource for consultants and cotton farmers in this state for as far back as I can remember," Benson said. "And in addition to the expertise he has in the crop you'll never find a better person. He's just an incredible man." 
Benson points to a plant crossing project with school aged children. 
"I asked him to help with a 4-H or Ag in the Classroom cotton crossing project," said Benson. "We would take kids into a school greenhouse and teach them how to cross pollinate plants. He got very involved in that. I thought that was really neat that some of these kids received a hands-on, one-on-one lesson from such a renowned expert." 
Bourland's enthusiasm for his work, expertise, work ethic and the help he has provided cotton growers across the cotton belt is why he has been chosen to receive the Vandergriff Award. 
About the Author(s)
Subscribe to receive top agriculture news
Be informed daily with these free e-newsletters
You May Also Like
---