Boll weevil bottled up in Texas' Rio Grande Valley
Boll weevil bottled up in Texas' Rio Grande Valley
• The struggle against the boll weevil will continue until officials get a handle on boll weevils coming out of Mexico.• A big problem for the Valley is that the cotton plant never dies, making stalk destruction efforts a vital part of the eradication program.• Wind turbines make aerial application and eradication difficult in the Valley.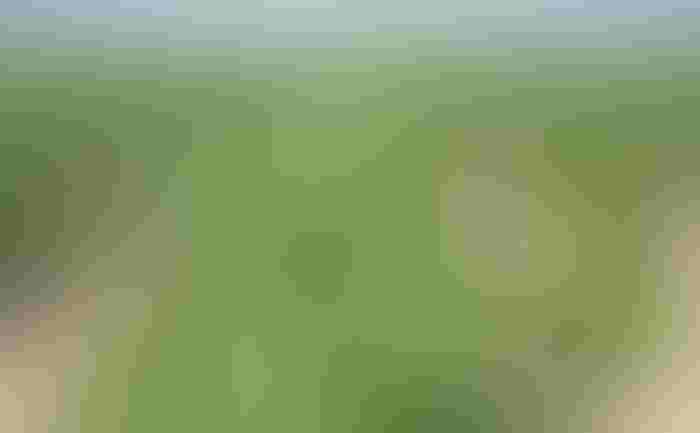 The Lower Rio Grande Valley remains the last bastion of boll weevil infestation in the country, and the decades-old eradication program continues to deplete the pest's numbers there, but as long as a viable population exists, cotton farmers cannot rest.
"In 1892, the boll weevil entered the United States," says Larry Smith, Texas Boll Weevil Eradication Foundation program coordinator. "It took just 29 years to get to the Virginia coast and people did not move around as they do today. That's why we must cut off weevils in the Valley."
Smith, speaking at the recent Blackland Income Growth (BIG) Conference in Waco, said the rest of the state is in good shape, with weevil numbers ranging from about 40 to zero. But some of those trap catches result from "hitchhikers" moving out of the Valley. "That's why we continue trapping," he said.
(Meanwhile, the entire cotton industry is tuned into the situation for fear the pest could re-infest other areas that are currently weevil-free. To read more, see Boll weevil-free status must be guarded to prevent re-infestation).
 "We have a corridor of weevil movement in the Valley. We will continue to struggle with that until we get a handle on boll weevils coming out of Mexico."
Eradication efforts in Mexico have gone backwards the past few years. "In 2004, Mexico averaged more than 40 weevils per trap per week," Smith said. "That number dropped a lot, but has built back up since 2009."
Several issues complicate eradication efforts along the border. "We have 4,000 acres of cotton between the fence and the river," he said. That hinders control efforts.
"We are getting reproduction from cotton in Mexico. "With even a few plants left in a field we get weevil reproduction. We have to get rid of every plant.
"We've had a lot of issues with the fence, but the 4,793 acres of cotton in Mexico is the biggest problem in the LRGV." Weevil numbers on that acreage are increasing.
"In 2009, Mexico had no cotton," Smith said. "They had been bringing weevil numbers down, but after 2009, numbers went back up."
Most of the weevils caught in the LRGV are caught along the river. "A lot of the northern area has reduced weevil numbers." When the eradication program first started in the LRGV, weevil numbers topped 3 million. That's now down to less than 300,000.
Also, wind turbines make aerial application and eradication difficult in the Valley.
Stalk destruction
So does the climate. "A big problem for the Valley is that the cotton plant never dies, making stalk destruction efforts a vital part of the eradication program." Growers have a Sept. 1 plow-up date. "But it's often difficult to get it out on time," Smith said. Further complicating the effort is volunteer cotton emerging in other crops — grain, sugarcane, even in residential areas and roadsides. Those plants must be destroyed in a timely manner to prevent boll weevil survival and reproduction.
Some producers have had to spray for boll weevils in sugarcane fields where volunteer cotton is established. "Cotton can survive in sugarcane for a long time," Smith said. "We also have to trap other crops planted in fields where cotton had been planted before."
Farmers face fines — $5 per acre per week up to $7 per acre per week, for commercial cotton fields — for failure to destroy stalks. The fine is $5 per acre per week for non-commercial fields.
Smith said boll weevil numbers had been declining in the Valley since eradication began. "But numbers were a little higher last year."
Quarantines
Cotton farmers also must respect quarantine regulations. The Foundation website offers the following:
Cotton harvesting equipment and other equipment associated with the production and transport of cotton, as well as gin equipment, may be moved to or through a restricted area provided the equipment is free of hostable material, seed cotton and boll weevils in any stage of development by one the following methods:
a. removal by hand;
b. high-pressure air cleaning;
c. high pressure washing; or
d. fumigation of regulated articles as prescribed by the Texas Department of Agriculture.
"A piece of equipment that moves from the LRGV to the Blacklands or from there to West Texas must be cleaned," Smith said. Farmers or operators may clean equipment themselves or have the Boll Weevil Eradication Foundation clean it.
"We were inspecting equipment as late as January this year."
Progress across the rest of the state has been good. The Northern Blacklands (NBL) zone trapped no weevils in 2011 or 2012. "And we don't expect to see any this year, either," Smith said. The Southern Blackland (SBL) zone caught two weevils in 2012, probably hitchhikers. "Again that's why we need to keep trapping."
The SBL represents a lot of territory. "Acreage varies from a high of about 167,000 to 122,000 last year. We expect acreage to be down even more in 2013."
Smith also expects as much as a 30 percent acreage reduction in the NBL in 2013.
NBL weevil numbers have dropped from 346,439 in 2005 to zero for the last two years. "We've also reduced employee numbers from 40 to less than 10," Smith said. "We have begun saving growers money, and we are working ourselves out of a job."
The Upper Coastal Bend (UCB) zone has reduced weevil number significantly with none caught last year.
The South Texas-Winter Garden zone trapped 34 weevils in 2012. "We think those came up from the Valley. Most catches were single weevils. Overall, numbers in this zone are down dramatically."
Weevil update
The Texas Boll Weevil Foundation website offers the following update for 2012.
Boll weevil eradication activities were carried out in all Texas and eastern New Mexico cotton fields, on a total of approximately 6.7 million certified land cotton acres. For the year, boll weevils were captured in only three of the 16 Texas eradication zones. Of the three remaining zones, boll weevil numbers were reduced substantially in the South Texas Winter-Garden (STWG) zone and the Southern Blacklands (SBL) zone. The Lower Rio Grande Valley (LRGV) zone captured approximately the same number of boll weevils in 2012 as were captured in 2011.
In the 5.89 million land acres that make up the 11 West Texas zones in 2012, no boll weevils were captured and no acres were treated. All 11 West Texas zones have been declared functionally eradicated.
The South and East Texas zones planted approximately 890,000 acres in 2012. All boll weevils captured in the state of Texas and all acres treated were within these zones in 2012. Through the first part of December 2012, 208,678 weevils were captured compared to 209,294 in 2011.
Only three of the five zones captured weevils in 2012. The Upper Coastal Bend zone and the Northern Blacklands zone did not capture a weevil in 2012. The number of acres treated in two of the South and East Texas zones decreased in 2012. The Southern Blacklands zone treated 60,752 acres in 2011 and treated 3,902 in 2012. The South Texas Winter Garden zone treated 42,651 acres in 2011 and treated 21,491 in 2012. The increase in treatments occurred entirely in the LRGV.
In the STWG zone, 34 weevils were captured in 2012 compared to 174 weevils captured in 2011, or an 80.4 percent reduction in boll weevil numbers. Most of the weevils captured in STWG were captured near the border with the LRGV zone. In the SBL, two weevils were captured in 2012 compared with 28 in 2011, or a 92.8 percent reduction in boll weevil numbers. The two weevils were captured in separate months with the last capture occurring in July. The Foundation failed to find any fields with reproduction in the  SBL during the 2012 season.
The Lower Rio Grande Valley of Texas decreased acreage 27 percent in 2012. Boll weevil numbers remained relatively the same with 208,642 weevils in 2012 to 209,092 in 2011. Acreage treated for boll weevils also increased from 780,027 acres in 2011 to 899,870 in 2012.
The LRGV zone continues to experience challenges in the program. Some of the high weevil count fields are located in drug trafficking areas and there are safety issues associated with trap inspection and treatment. Most weevil captures are occurring in the border area along the Rio Grande River. Northern Mexico did not plant cotton in 2009 and the LRGV experienced greatly reduced numbers at that time. Since then weevil numbers have failed to decrease substantially. The National Cotton Council has initiated an International Technical Advisory Committee to improve communication and enhance program progress on both sides of the border.
Those and other efforts must continue, Smith said, to make certain the boll weevil is bottled up in the Valley for now and, as expeditiously as possible, eradicated from every cotton field in the country.
The history of the boll weevil's migration from Mexico into South Texas and then across the entire Cotton Belt before modern transportation made movement significantly easier and much more frequent should serve as a cautionary tale to producers.
The boll weevil is resilient; farmers and eradication personnel must be even more tough-skinned and committed to removing the pest for good.
Subscribe to receive top agriculture news
Be informed daily with these free e-newsletters
You May Also Like
---