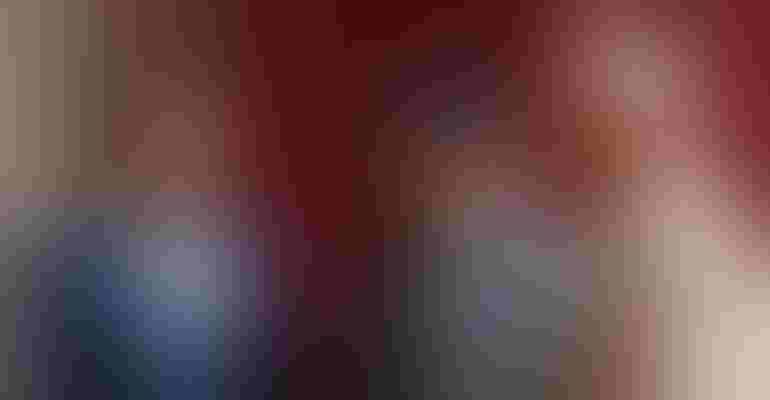 Congressman Jodey Arrington visits with South Plains producers Bryan Curry and Walt Hagood at PCG annual meeting.
Congressman and South Plains native Jodey Arrington told cotton growers and industry professionals at the 61st annual Plains Cotton Growers meeting in Lubbock, Texas, that he stands by President Donald Trump for calling China out on trade.
"China cheats," stated Arrington as he addressed the crowd. "I heard you guys tell me the same thing when I ran for this office. I remember how you'd tell me China stockpiled, dumped and manipulated the market, and how we got 60 cents on the pound and they got a $1.20 because they mass subsidized their growers.  I didn't forget that. So, let's not forget, that if it's our aluminum guys, our steel guys, our coal miners or our cotton farmers, we are America first."
More than 200 people attended the half-day meeting which coincided with the Texas Cotton Ginners' Association Annual Meeting and Trade Show. Arrington praised the president for, "calling out bad actors and folks that don't play by the rules like the rest of us.
"Today it may be the aluminum manufacturers and fabricators, tomorrow it may be you guys — he's trying to do right by this country. It doesn't mean it will be easy. It doesn't mean there won't be some pain in the short run. But we are not going to let China put America out of the business of making things — not food, not fiber, not war machines," Arrington stated. "All of this works to not only strengthen our economy but national security and I'll stand with those guys and I'll ask them to stand by me on farm bills and Title I fixes. America first guys. The president is right on this one."
But as the congressman added, you can be right on principle and wrong on application. "You can do the right thing and do it the wrong way and still get sideways, real fast," he says. "What we have to do is help the president thread the needle and hold China accountable while mitigating against any unintended, adverse implications to agriculture, to automobile manufacturers, and to our economy as a whole."
To do that, Arrington said the United States needs to get in the game and increase free trade. "We are all for open markets and free trade but free trade and fair trade are inextricably linked; you've got competition, you've got free market competition, free tariff trade competition, which serves our economy, our consumers and serves the world well.
"But that all implies that you have rules, a referee, and participants playing by the rules. And we've got one big bad actor that's got to be taught a lesson at some point. And the only country that I know of that has the will and the ability to do that is the United States of America."
To relieve the U.S. of trade pressure with China, Arrington suggested the U.S. pursue more free trade agreements and open markets, such as going back to the table with the Trans-Pacific Partnership — a trade agreement between Australia, Brunei, Canada, Chile, Japan, Malaysia, Mexico, New Zealand, Peru, Singapore, Vietnam, and United States that was never ratified.
Between concerns about NAFTA and the possibility of adding tariffs to production costs, Arrington acknowledged growers' fears and irritation. "I get that frustration. Let's get this NAFTA deal done and let's open more markets — that's the best way to put pressure on countries like China."
Farm Bill
Arrington said the best way to advance the farm bill has been completed: getting cotton and dairy back in the program. Other issues that need to be addressed are a safety net for ranchers on disease prevention, drought, fire and other disaster relief.
But the congressman, who grew up in rural Texas, said establishing infrastructure for small communities is a priority as well. "Without infrastructure you have no sustainability in these rural communities. That's why we fought so hard for rural community hospitals — if you don't have healthy communities, you can't sustain them, and if you can't sustain them, you won't have families, you won't have labor and we'll lose in a different way in the agriculture community."
Crop insurance falls under the "do no harm" category of the farm bill, and, according to Arrington, needs to be fully funded. "It's working, let's protect it."
The sticking point, and 85 percent of the farm bill, is food stamps. "We're not going to do a farm bill without reforming food stamps. People in this country that receive government assistance ought to be in the workplace or be being trained to be in the workplace — if you're an able-bodied adult, you ought be out working or looking for a job," Arrington said.
"It's not good for the people who are trapped in the cycle of poverty. It's not good for their families.  It's not good for people that are created in the image of God who should enjoy the blessing and the dignity of a hard day's work and it's not good for our economy that has 6 million unfilled jobs. And by the way, it's not good for our taxpayers, for the folks that get up work, pay taxes and play by the rules."
Subscribe to receive top agriculture news
Be informed daily with these free e-newsletters
You May Also Like
---